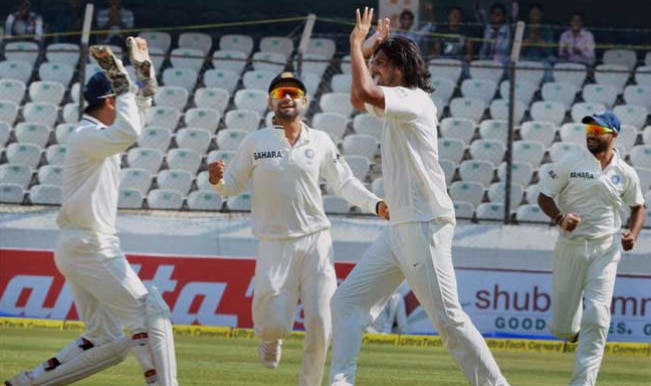 (India takes on England in the 1st Test match in India's Tour of England at Trent Bridge, Nottingham. Catch all the Live Score Updates and Live Cricket Action here.)
India 167/3 after 48 overs, Virat Kohli 8* Ajinkya Rahane 18*
Although there were some points of concern for the Indians after the fall of the 2 quick wickets in succession, but Virat Kohli and Ajinkya Rahane have made sure that there is no further harm done to them. The match seems to be moving in the direction of a draw, but stranger things have happened in cricket. None can be stranger than the last wicket from each team adding more than 100 runs from the last wicket, not to mention the best partnership as well.
India 140/3 after 41 overs, Virat Kohli 0* Ajinkya Rahane 0*
After a partnership worth 91 runs, the duo that had settled down and was looking good to make a move has departed of successive deliveries trying to play high risk shots. India now stands in a very a tricky situation and another wicket or two will mean that they are in a heap of trouble.
India 126/1 after 37 overs, Murali Vijay 51*, Chesteshwar Pujara 42*
Indian Batsmen have managed to play without any major issues so far in this innings and the game is certainly moving towards a draw. All that can be done now is to wait for a rather attacking innings from someone that can change the match, or a superb bowling spell from someone.
India 78/1 after 20 overs, Murali Vijay 27*, Chesteshwar Pujara 19*
The going has been slow after Tea here and the match seems to be moving towards a draw. Pujara and Vijay are still at the crease and seem to be in no hurry whatsoever. On the contrary, the ball seems to be doing quite a bit suddenly with Ben Stokes extracting more than enough bounce and pace from the dead wicket that has been provided.
India 57/1 after 13 overs, Murali Vijay 19*, Chesteshwar Pujara 8*
India got off to a brisk start after coming in to bat in the second innings and their openers were looking in good touch. But just when they looked like being well set and ready to make a move, Shikhar Dhawan played a shot that he will regret quite a bit as he was dismissed on the spin bowling of Moeen Ali. Murali Vijay though looks set again and Cheteshwar Pujara ahs always had a good record in pressure situations.
England 496/10 after 145 overs, Joe Root 154* James Anderson 81*
After a huge struggle and a partnership that has lasted approximately 198 runs, Bhuvaneshwar Kumar has finally managed to get the better of James Anderson for 81. Its India's turn to bat now and hopefully they come out all guns blazing. A great innings from both the english Batsmen.
England 485/9 after 140 overs, Joe Root 143* James Anderson 81*
It has been a fantastic sessions for the English last pair as they not only have managed to survive the session but has scored runs at the rate of knots and has been able to get a lead over the Indians, a possibility that was not even considered at this point of time yesterday. This is now the record 10th wicket partnership ever in test matches and India might just end up in a tricky position when they come out to bat. Meanwhile Dhoni as captain once again has let a chance to win an overseas test go by, something that ahs become  regularity as of late.
England 440/9 after 124 overs, Joe Root 116* James Anderson 64*
Life has been miserable for the bowlers so far in the day and its quite a surprise that after picking up the wickets of the frontline batsmen easily, the bowlers are struggling to pick up the wicket pf James Anderson, but one should not forget to mention the fact that he has played beautifully this morning. Joe Root on the other hand has gone on to get his 4th century in test's for England.
England 409/9 after 116 overs, Joe Root 108* James Anderson 47*
India has yet not managed to pick up the wicket of the last man and the partnership for the last wicket has been 111 runs, the same as what India's last pair added. This is very frustrating for the Indians but the bowlers are trying hard and bowling well. he pitch has little to no assistance for the bowlers and the match seems to be moving towards a draw.
India will face the English team in the first test at Nottingham and if we go by what the early signs suggest, this might just be a series that will develop the two participating nation's future teams. While India will be looking to avenge their miserable defeats last time around, England have a side that has faced scrutiny on multiple occasions; be it their captain of their defensive style of play and would to overcome their critics by repeating the result of the series from 2011.
When India was in their backyard the last time around, the English team played all over the Indians and managed to pull off a whitewash, a result that the Indian team suffered in 2 successive oversea's series. It is pretty evident that things have changed considerably in the past three years, and the Indian team that is touring the British Isles this time around seems to be a lot more comfortable against pace, bounce and swing than the team that toured the last time around.
After picking up the top order rather quickly, the tail of the English batting line up has haunted India  just like theirs did to the English bowlers. India would look to pick up the wicket that remains in the English innings and come out to bat in a positive frame of mind. But the pair of Anderson and Joe Root have held their nerves and not given anything away to the Indians. They will look to reduce the Lead that pends.