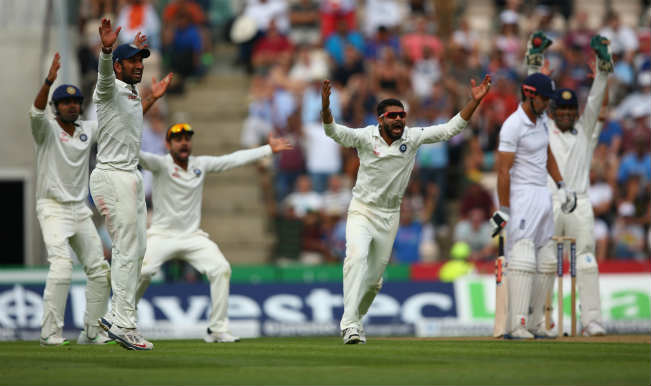 Coming into third Test both England and India made galore of changes to their respective sides. Ishant Sharma the hero of last match was not 100% fit and missed out on action as Rajasthan pacer Pankaj Singh got his Test debut, while Rohit Sharma replaced Stuart Binny. In England line-up there were three changes Chris Jordan, Jos Buttler and Chris Woakes came in for Ben Stokes, Matt Prior and Liam Plunkett. England after winning the toss opted to bat first and at stumps on day one are 247-2. Captain Alistair Cook and Gary Ballance were star performers for home team. In case you missed the action on the opening day of 3rd Test here are five interesting highlights of the day's play.
Openers gave England a solid start: Sam Robson and Alistair Cook were watchful and denied India wicket early on. The ball did some movement initially but England openers survived the scare and put on a half-century stand. Both Robson and Cook batted with determination to see off the new ball threat.
Mohammad Shami gets India breakthrough: India finally managed to send back first England wicket in shape of Sam Robson after a 55-run opening stand. The right-hander was caught at third slip off Shami's sharp delivery. A thick edge from his bat went straight to Ravindra Jadeja and he was dismissed for 26 runs.
Alistair Cook finally amongst runs: With every passing innings the pressure kept creeping on under fire England Captain Alistair Cook. The pressure was exactly mount high before this game for him and he responded well as did luck went his way. He was batting on 15 when Ravindra Jadeja at third slip dropped a regulation catch off the bowling of Pankaj Singh, Cook then did not looked back and scored a well compiled half century, his first in 10 innings.
Ravindra Jadeja strikes as Alistair Cook misses ton: After registering his half-century Alistair Cook kept playing positively and was marching towards his hundred, but MS Dhoni had him strangled with Ravindra Jadeja bowling continuously on middle and leg line. On 95 Cook edged the ball going down the leg which Dhoni caught superbly to end his knock and a 158-run stand between him and Gary Ballance for the 2nd wicket.
Gary Ballance notches another ton: Gary Ballance is fast proving to be an ideal replacement for Jonathan Trott at number three as the left-hander scored his third Test ton and second against India. After the first wicket loss Ballance joined hands with Cook to stable the innings and showed the maturity with a stiff knock. At the end of day's play Balance was unbeaten on 104 runs with Ian Bellon the other end batting on 16.