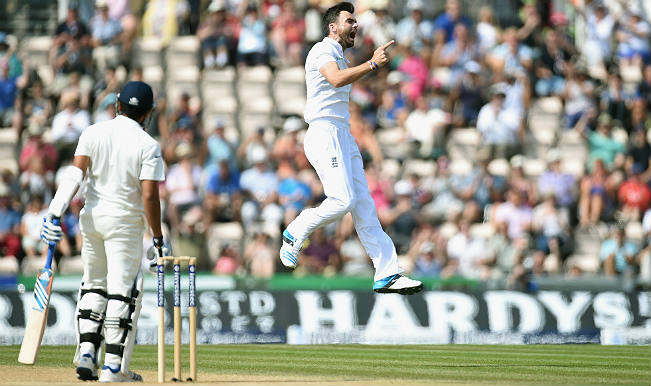 On day five of Third Test match at Southampton, India had to counter three sessions with six wickets in hand to save the match, but spinner Moeen Ali was wrecker-in-chief as he demolished Indian batting and handed England a much anticipated win. England outplayed India throughout the Test match to set up a 266-run victory and level the five match Test series 1-1, with two matches to go. In case you missed the action, here are five interesting highlights of the final day's play.
1. James Anderson jolts India early
Ajinkya Rahane and Rohit Sharma started the proceedings for India on day five morning and were hopeful of a fight back, but England's spearhead bowler James Anderson had some other ideas as he scalped two quick wickets to put India on back foot. He removed both Rohit Sharma and MS Dhoni in quick succession.
2. Moeen Ali trounces India
James Anderson and Stuart Broad were the assumed threat to Indian batsmen but Moeen Ali came in as surprise package as he bundled one of the best playing teams of spin. Moeen who on day four picked two wickets added four more wickets to his tally on day five to make it six. He kept it simple to claim his maiden five-wicket haul and made batsmen pay for their lack of concentration.
3. Lone ranger Ajinkya Rahane
Ajinkya Rahane once again remained focussed and tried to deny England a win but he kept running out of partners from other end and eventually India were all-out. Rahane who scored his fourth Test fifty, second of this Test remained unbeaten on 52 and looked like the only batsman with proper technique and temperament.
4. England's wait for Test win is over
England finally after 353 days and 10 Tests tasted the victory. After the Ashes debacle, losing to Sri Lanka at home and defeat in the second Test at Lords, England managed a win and that too impressively, after dominating the 13 sessions of play.
5. Man of the Match, James Anderson
James Anderson may be part of controversy but that seems not to be bogging him down as he enthralled with another match winning performance. Anderson who claimed five-wicket haul in the 1st innings ended the match with a total of seven wickets and helped his team level the series.