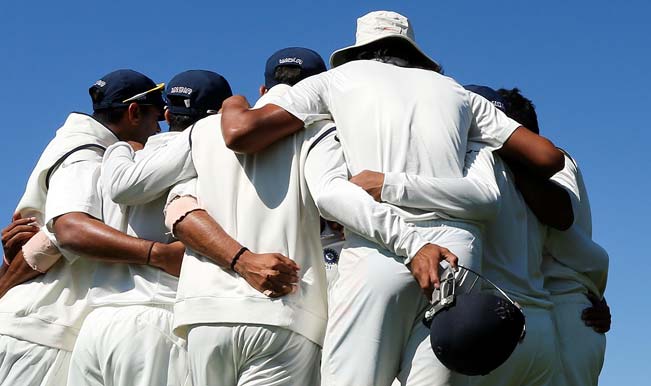 England continued their dominance against India and handed a shambolic defeat to visitors in the fourth Test to go 2-1 up in the series. Indian batsmen fell apart in both the innings of match and failed to get past even 200-run mark, to make things worse they were bowled out twice in 89.4 overs only. As England take anunassailable lead we take a look at three negatives for Team India in the fourth Test.
Opening worries: India dropped Shikhar Dhawan and brought in Gautam Gambhir for the fourth Test but the replacement did not work as Gambhir who was on comeback trail looked feeble. The left handed batsman scored 4 and 18 in respective innings to further put Indian think tank in spot of bother regarding the selection of opening pair. Murali Vijay too witnessed a failure he otherwise has been leading run scorer for India. Indian openers have not managed to stitch 50 or more run partnershipthis series and that is conclusive how susceptible Vijay's partners have been.
Spineless batting:Cheteshwar Pujara and Virat Kohli are two mainstay of Indian batting in Tests, but both the right-handers have failed miserably on this tour. Pujara has just one fifty to his name while Kohli has not even achieved that. Both the batsmen looked out of sorts once again and could not put up a fight. Now the situation is such that dropping Virat Kohli seems to be the only solution to end his struggle with the bat.Ajinkya Rahane had been the only hope in the middle order prior to this Test but he too looked reckless, he had a decent partnership in 1st innings with MS Dhoni but threw his wicket away chasing an outside off delivery and in 2nd innings deceived by Moeen Ali's he handed a straight catch back to the bowler.
MS Dhoni's decision to bat first backfired:Overcast conditions, there is a bowler (Bhuvneshwar Kumar) in your side who can nip it both ways and you have batting reservations. Any team with such factors after winning the toss will go in and bowl first, but same was not the case with India. MS Dhoni surpassed these aspects and decided to bat first assuming he has two spinners in playing XI and that will trouble England later in the fourth innings. A courageous decision one could say, but the kind of form your batsmen are in it surely was not worth risk taking. Eventually England did not need to bat in the fourth innings and Dhoni's decision back fired.