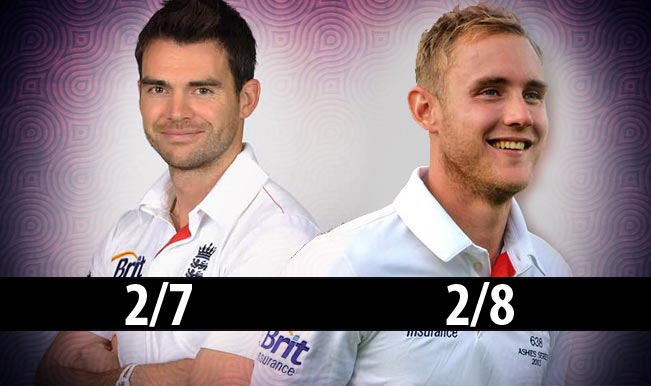 James Anderson continues to be the wrecker-in-chief for India, as the English pacer unleashed his ammunition to rattle the Indian top order and joining him in the party at the Manchester is baby-faced Stuart Broad. The English front line bowling pair double struck to take two wickets a piece – out of which Murali Vijay, Virat Kohli and Cheteshwar Pujara went out for duck while comeback man Gautam Gambhir scored 4 runs. India were struggling for 8 runs on scoreboard with four players back in the dressing room.
Coming from loss in the Southampton third Test, Mahendra Singh Dhoni would have expected a motivating performance from his side, but is left red-face and disappointed as the England side take an early upper hand right at the start of the fourth Test match in Mancester's Old Trafford. Indian captain Mahendra Singh Dhoni's decision to bat first after winning the toss went haywire on the quicker surfaces and the overcast conditions the toss and elected to bat in the fourth Test against England at Old Trafford on Thursday.
Call it judgmental error by Dhoni to go with his decision to bat, despite the overcast conditions, on a straw-coloured pitch renowned as one of the quicker surfaces in English cricket or the fashion in which the top order played, India certainly looks down and out at the moment. With Ajinkya Rahane and captain Dhoni himself, the onus would fall on the two to pull India out of the rut.
England came into the fourth Test match with an unchanged side from the side that won the third Test in Southampton by 266 runs — their first victory in 11 Tests — to level the five-match series at 1-1. That meant there was no Test recall for Middlesex fast bowler Steven Finn, with all-rounder Chris Jordan given another chance to prove his worth after a poor bowling display in Southampton.
Fast-medium bowler James Anderson was included after the International Cricket Council (ICC) confirmed Wednesday they would not appeal against the decision of judicial commissioner to clear him of charges he had had abused and pushed India's Ravindra Jadeja during the drawn first Test in Nottingham.
That left Anderson, 12 shy of Ian Botham's England record of 383 Test wickets, free to play at his Lancashire home ground. However, Anderson's Test record at Old Trafford is mediocre, with the 32-year-old having taken just 12 wickets in four matches at 35 apiece.
India, though, made three changes to their side. Opener Gautam Gambhir was recalled in place of fellow left-hander Shikhar Dhawan who has scored just 122 runs in six innings this series with a top score of 37. This match was Gambhir's 55th Test but first since playing against England in December 2012.
Meanwhile off-spinner Ravichandran Ashwin was brought in to play his first Test this year after all-rounder Rohit Sharma was dropped.
And in a bid to add extra pace to their attack in the ongoing absence of Ishant Sharma, the star of the tourists' second Test win at Lord's who has since been sidelined with an ankle injury, fast bowler Varun Aaron was selected for his first Test since making his debut two years ago in place of Mohammed Shami.
Pankaj Singh, who recorded the worst wicketless figures by a Test debutant — none for 179 — but bowled better than his figures indicated, retained his place. Early morning rain saw the scheduled start delayed by 30 minutes, with play now due to commence at 11:30am local time
(inputs from AFP)