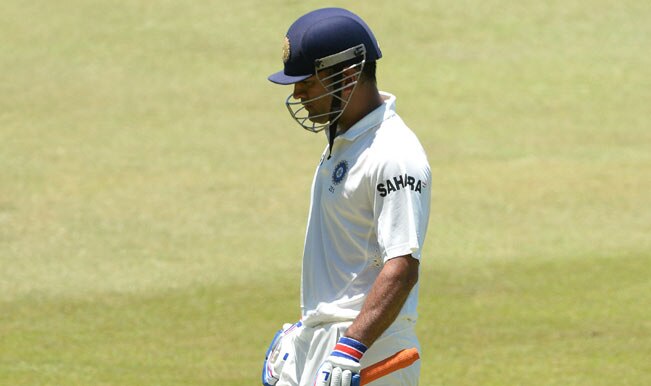 India won the toss against England here at Manchester and decided to bat first in the 4th test of the series. India began the day well by picking the right combination and including Gautam Gambhir, Ravichandran Ashwin and Varun Aaron in place of Dhawan, Rohit Sharma and Mohammed Sami. However, that was the only right decision that Mahendra Singh Dhoni made in the morning as India was shot out for 152 batting first. No doubt M S played one of the best knocks, taking the blows on his body and showing the rest of the batsmen how to bat in challenging conditions. He played and missed, looked lost at times; unable to judge the swing.He however did not give up and was up for the challenge.
The Indian skipper made a fighting 71 out of the total 152 runs scored by India. He batted for more than 3 hours and faced 133 balls hitting 15 fours on his way to fifty. He scored at a strike rate of 53.38; the second highest score in this innings was made by R Ashwin who scored quick fire 40 batting at number eight followed by Rahane's 24. Dhoni however committed some crucial mistakes on day 1 of fourth test which may cost India a match.
Let's now have a look at the 4 mistakes of Dhoni on day 1 that may let the match slip away from India –
1. Batting First: The Indian captain won the toss and elected to bat first on a damp pitch. His decision was baffling considering the fact that the pitch had a considerable amount of grass on it to assist swing and seam on the first day of the match.The pitch was covered for most part leading up to the test match due to persistent rain and overcast conditions, just ideal for swing bowling. The decision proved disastrous as India was soon reduced to 8-4 in 5.1 overs. Fielding first would have been an ideal decision as it would have given the Indian bowlers the best conditions to bowl at, especially considering the fact that the Indian bowlers are not as threatening as their counterpart.
2. Static Batting Order: The call of the situation for the skipper was to be street smart. Adverse situation call for innovative thinking, sadly that was not to be as the Indian captain chose to be stereotype. He kept the batting order static sending in vow fully out of form Virat Kohli in, at number four when Indians were reduced to 8-2 in 4.2 overs. This was a crucial mistake as Virat had to be shielded in testing conditions. Dhoni could have sent in Rahane or could have promoted himself to arrest the slide and send the signals across the English camp that he meant business. Changing the batting order was no rocket science; he just had to look at Saurav Ganguly who promoted himself few times to number 4 to shield Sachin Tendulkar when he was out of touch in West Indies few years back.
3.  Jadeja batting at 7 : Being stubborn is good but being overly stubborn could backfire and this is exactly what happened with Dhoni.After the fall of Rahane's wicket and being reduced to 62-5 in 23.2 overs, the need of the hour was to send in more technically sound batsman in the form of R Ashwin. However, the captain chose to send in Jadeja who got out for duck lasting just seven balls. There was no method in Jadeja's batting as he again fell to inswing delivery by Anderson to complete his horror run with the bat. Wonder what coach Duncan Fletcher is doing sitting at dressing room.
4. Slip Fielding: IfIndia's choice of slip fielders is surprising, their fielding is even more shocking! They let Robson off when he nicked one back and Dhoni let that go to Vijay at first slip. This was however Dhoni's catch but Vijay could have made a better attempt by going for it with both hands. The Indian slip fielders have so far dropped seven catches in this series. They had Kohli and Jadeja in slips and Ashwin and Pujara fielding in the circle. This should have been the other way round as the latters are better slip fielders and Kohli-Jadeja combo are live wires on circle. The duo could have easily stopped some singles and could have helped build pressure on English batsmen as their batters easily rotated the strike. Sadly that was not to be!