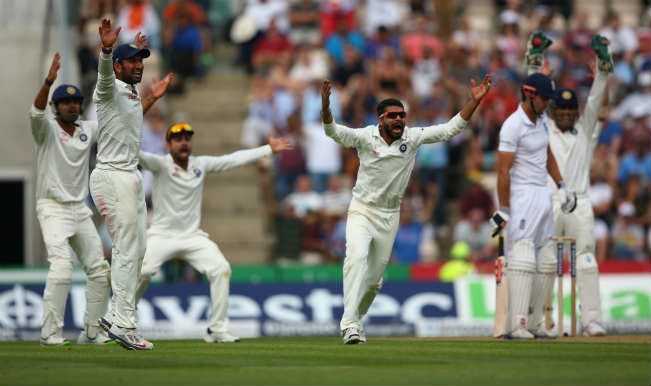 After a series levelling act England team will be buoyant when they take field in the fourth Test against India. Worries all of a sudden it seems have moved from England to Indian dressing room. Ishant Sharma is still unfit, fielding has been below par, most batsmen look out of sorts and bowlers failed to bowl out England twice while England camp is witnessing turn of the tide.
Alistair Cook and Ian Bell are back amongst the highest run scorers, Moeen Ali has been a surprise package and James Anderson is freed from charges of abusing Ravindra Jadeja. As the fourth test between India and England starts tomorrow at Old Trafford we take a look at five England players who can help their team take lead against India.
1. James Anderson: Now after being relieved from all charges England spearhead bowler James Anderson will be raring to have a go at Indians in the familiar surroundings at Old Trafford, his home ground. Anderson is 12 wickets away from Ian Botham's record of the most Test wickets by an England bowler and will be eyeing that. Reports suggest his new ball partner Stuart Broad might be rested for the fourth Test so it adds to Anderson's responsibility and he might respond to it aptly with that green top on offer. He currently is the leading wicket taker of the series.
2. Moeen Ali: England's plan to use Moeen Ali as a prime spinner seems to be working productively. Moeen has caught Indian batsmen napping and surprised one and all. He handed England a win after running through famed Indian batting line-up in the 2nd innings of third Test by scalping six wickets. Indian batsmen will obviously show more respect to this spinner as he is joint second highest wicket taker this series alongside India's lead bowler Bhuvneshwar Kumar and Moeen is solid middle-order batsmen as well so if not ball he can make his bat do the talking.
3. Ian Bell: Just like his Captain, Ian Bell too has found his feet with an imposing ton in the third Test. Bell smashed a century after the drought of 19 innings and perhaps at the time England desperately needed runs from his bat. Bell is a kind of batsman who is known for his consistency and he won't easily throw away the good form he has just hit.
4. Gary Ballance: In five innings against India Gary Ballance has already hit two centuries and a fifty which amass to 402 runs at an average of 80.40. The 24-year old Left handed batsman who replaced Jonathan Trot is solid batter and likes to spend time in the middle. India will love to see him back early otherwise he makes sure to score it big.
5. Sam Robson: England opener Sam Robson is our dark horsefor the fourth Test. He scored a half-century in the first Test at Trent Bridge but since then has went into shell and has failed to covert starts into big knocks. With England batsmen getting back in the groove we expect Robson to start contributing as well.