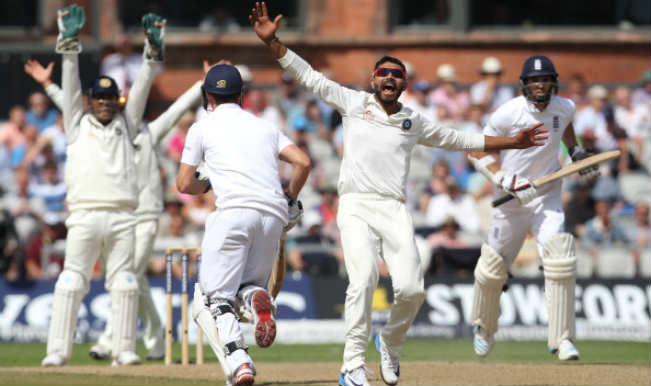 Indian team must be feeling the long way they have come from becoming the Lords in the second Test Match at Lord's to meekly squandering a valuable 1-0 lead to go down 1-2 after losing in the third and fourth Test at Southampton and Old Trafford respectively. The India's tour of England has been a roller coaster ride where India began on a positive note but later not only lost their way on ground but got involved in several controversies.
Going into the fifth and final Test at The Oval, a lot of demons would be playing on their mind – another away series slipping from the hands, under-performances, chink-in-armour of many batsmen and their inability to face world class bowlers on swift wickets and many more. The 5th Test match that is keenly foll0wed is scheduled for an 11 pm BST (3.30 pm IST, 6 am ET) start with live coverage on Star Sports 1, Star Sports 3 and Star Sports HD1 in India. Watch the interesting battle between India and England via live streaming online in India here. Catch the action in the UK on Sky Sports 2, with the option to live stream here. Viewers in the US can watch the game on ESPN 3 with the option to catch the action live online here.
At The Oval Test, India will have to start fresh and they should find momentum coming back to them with the return of Lord's Test match hero, Ishant Sharma. His absence after the second Test was widely felt on the quicker English pitches. His return should definitely boost the confidence in the morally down Indian camp.
From being called 'spineless' to 'shocking' performances as the Indian team were wrapped up in three day with England's main bowler Stuart Broad missing in action at the Old Trafford Test match, India will have to play out-of-skin to erase those bad memories from their fan's mind. There have been questions arising on the Indian team's strategy after Captain Mahendra Singh Dhoni opted to bat first after winning the toss on the swift wicket in the overcast conditions. Indian team will have to let bygones be bygones and display their best in this do-or-die battle.