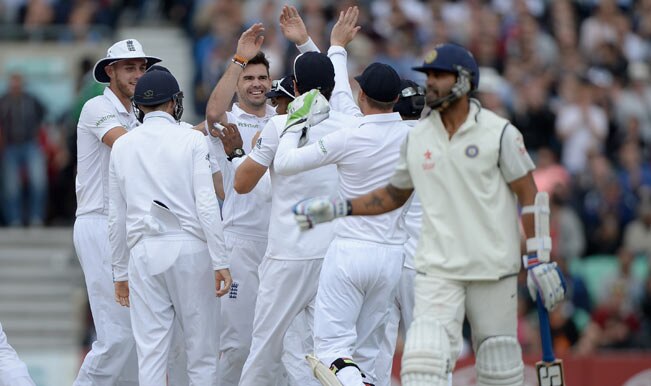 India repeats their horrendous performance once again to face yet another heavy defeat at the hands of England at The Kennington Oval. They lost the Test match by an innings and 244 runs under three days of time. With this win at the Oval, England take the five match series by 3-1. The Indian team flopped in all the departments – batting, bowling and fielding.
Day three started off on high note for the young English batsman Joe Root who knocked an unbeaten 149 runs to hand England a massive lead of 338 runs. Coming in to bat in reply of chasing the English first innings lead of 338, the Indian openers, Gautam Gambhir and Murali Vijay started off on bad note that has become synonymous with them. One expected a motivating opening partnership from the duo but English front-line pacer James Anderson was too quick for Murali Vijay and got him out at the score of 6. Gautam Gambhir's inclusion in the side proved to be one of the many by Mahendra Singh Dhoni as the left-handed batsman was out after a brilliant throw by Chris Woakes.
After losing the openers cheaply, the two sides got into an early lunch break due to the sudden rain bringing the match to halt. The overcast conditions helped the already lethal looking English pace batteries – Chris Woakes, Stuart Broad and James Anderson led by Chris Jordan who took four wickets by giving just 18 runs. The Indian top order was rattled by these four as it became a ritual for them to follow another to the dressing room.
Be it the out-of-form men Cheteshwar Pujara and Virat Kohli or Next Dravid, Ajinkya Rahane, none of the batsmen showed any kind of temperament required to save the Test. This time even Captain Mahendra Singh Dhoni could not carry his first inning form as he was out without a run scored.
The problem with Indian team has not been the fact they lost the match but the way they have executed the plans, if there were any!