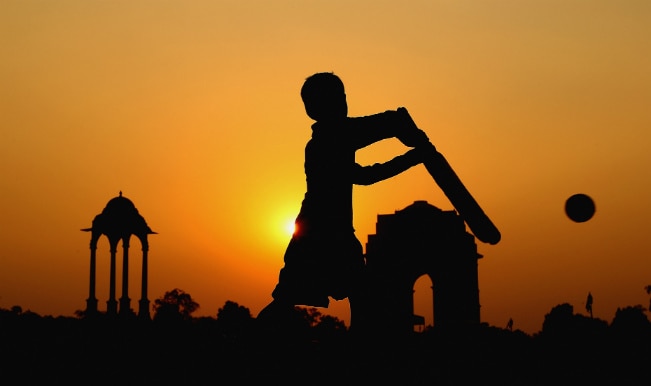 Over 66 years ago two nations were born. They have been at war with each other at the frontier or at hockey. Above everything there had been cricket — a frequent celebration now reduced to the obscurity of sporadicity. Victories have meant midnight celebrations and firing of rifles, while defeats have led to entire households spending long, cold nights in hunger. There have been moments of jubilation, ecstasy, heartbreaks, and along with everything else, controversies. Abhishek Mukherjee looks back at a history of on-field tussles that have punctuated the limited-over combats between the two nations.
Friendship. Terror. Camaraderie. War. History. Geography. Smiles. Tears. August 14. August 15. November 26. Wagah. Kargil. Kashmir. Gandhi. Nehru. Jinnah. Ghazals. Bollywood. The list goes on.
Can you imagine Israel taking on Palestine in hockey or The Axis taking on The Allies in football? Would USA have gone to the Moscow Olympics of 1980 or Soviet Union to Los Angeles in 1984? One wonders how it is even feasible for two countries to be at war and play cricket with each other as India and Pakistan did during the 1999 World Cup.
Work comes to a halt across borders; dinners remain uncooked; money is tossed around in millions; television sets get smashed; the huge windows of large outlets of electronic goods get swamped; and the small tea-stalls remain crowded, often with the spectacle of four boys sharing an umbrella under relentless, unforgiving rain.
This is, as they say in Hindi, the baap of all cricket encounters.
And when the countries have waged wars all along their short histories of co-existence, how can on-field controversies be far away? There have been numerous occasions, often taken by cricketers light-heartedly, but sometimes not so. On one occasion Javed Miandad had sledged Mohinder Amarnath from silly-point with a line that touched the Indian's patriotic cord, the response was spontaneous: "Dekh Javed, mujhay jo kehna hai kah, laiken meray desh ko kuch na kah." [Look, Javed, tell me whatever you feel like, but I won't take a word against my country.]
Miandad had understood. After all, the countries, however combative on and off the field, share sentiments across Wagah.
Let us take a trip down memory lane and revisit the spats between the Men in Blue and Green over time.
Bishan Bedi conceding match at Sahiwal, 1978-79
The earliest of the incidents dates back to an era when 50-over cricket was played in whites as well. With the series levelled 1-1, the teams had moved on to Sahiwal for the third ODI. After Pakistan put up 205 for seven in 40 overs India lost Chetan Chauhan and Surinder Amarnath, but Anshuman Gaekwad and Gundappa Viswanath took them to 183 for two in 37 overs.
India were all set to clinch the series: with Mohinder, Yashpal Sharma, and Kapil Dev waiting in the pavilion, it was all set to be a piece of cake for the tourists; Sarfraz Nawaz ran in to bowl, and, and — the ball soared way over the batsman's head, into the waiting gloves of Wasim Bari.
The batsmen looked up at the umpire, but to no avail. A wide was not called. Sarfraz ran in again, and the act was repeated; and again; and again. Bishan Bedi, the anger now building up inside him, realised the futility of the situation and conceded the match to Pakistan.
It was the first instance of a captain conceding an One-Day International (ODI). Sahiwal would not host another international match.
Crowd ruining Prabhakar's party, 1989-90
The first ODI at Peshawar had been called off due to bad light; the 20-over exhibition match that followed witnessed a young Sachin Tendulkar taking on Abdul Qadir. Pakistan won the second ODI at Gujranwala (curtailed to 16 overs) by seven runs, and by the time India reached Karachi, they were roaring to go at the hosts.
India played three seamers under seaming conditions, and the fifth ball of the match saw Rameez Raja being trapped leg-before by Manoj Prabhakar's absurd in-swingers that curled almost like a banana; Saleem Malik was bowled the next ball, leaving the Delhi man on a hat-trick. The hat-trick was evaded, but Prabhakar had Miandad leg-before as well, reducing Pakistan to 11 for three.
With Kapil Dev and Salil Ankola also coming good, Pakistan were left struggling at 28 for three in 14.3 overs with Shoaib Mohammad and Imran Khan hanging on grimly. It was then that the stone-pelting started: the Indian outfielders converged towards the pitch, but the spectators were relentless. Even Miandad, the local hero, tried to calm the crowd, but to no avail.
The match had to be called off. Prabhakar's magic figures of 5-2-5-3 had gone in vain.
Cricket in moonlight, 1991-92
India had won three matches in the tournament; Pakistan and West Indies, one each. Pakistan needed to defeat India in the last league match of the Wills Trophy at Sharjah and they began well: Aamer Sohail scored 91, Imran bludgeoned his way to a 24-ball 43, and Pakistan finished on 257 for seven.
To everyone's surprise, India gave them the charge: Ravi Shastri and Vinod Kambli added 124 for the first wicket, and though India were soon reduced to 134 for three, young Tendulkar gave Pakistan the charge with Sanjay Manjrekar accompanying him at the other end.
Wasim Akram came back to remove Manjrekar and Kapil in successive deliveries, but Tendulkar and Prabhakar kept the battle on in fading light. It grew darker and darker, and as the match approached its final stages the jewellery of the women in the stands glistened in the dark, Tendulkar and Prabhakar kept complaining about the light — but play went on.
Once Tendulkar fell it was not humanly possible for Prabhakar and Kiran More to score 12 off the last over against the pace of Waqar Younis: they still managed to add seven, and Pakistan reached the final without any intervention from the umpires.
A legend at his ranine best, World Cup 1992
It was the first World Cup match between the two sides (isn't it surprising, the way they had managed to avoid each other in the first four editions?). On a slow pitch, India had managed to score 216 for seven from 49 overs based on a solid foundation laid by Ajay Jadeja and Mohammad Azharuddin and some late hitting by Tendulkar and Kapil.
Inzamam-ul-Haq and Zahid Fazal perished soon, but Sohail and Miandad kept the fight going. As the Pakistani legend batted on, More, the livewire chatterbox went on blabbering from behind the stumps. When Tendulkar bowled one down the leg-side and More appealed vehemently without a trace of an edge, Miandad decided that enough was enough.
Miandad pulled away as Tendulkar ran in again: he complained to David Shepherd, but the plea fell on deaf ears. It did not help that More did not come up with anything remotely close to an apology. For once, the man who had been able to get under the skin of Ian Chappell had been ticked off.
He drove the next ball hard to mid-off, and had scampered back to his crease when the throw came in. More still dislodged the bails, and Miandad, probably in a moment's madness, forgot all dignity and took a few frog-leaps that have become part of World Cup folklore now.

Potato-gate, 1997
The Sahara Cup, instated as an annual contest between the arch rivals, took an ugly turn on that fateful day in 1997. Pakistan were bowled out for 116, but during their innings spectators (a person called Thind, in particular) kept on heckling Mohammad Azharuddin (they taunted him for divorcing his wife and marrying filmstar Sangeeta Bijlani) and Debasis Mohanty (they called him kaalia for his dark complexion), among others.
The Indians did not react, but things changed when Pakistan took field. Inzamam, who had been fielding at first slip, was sent to third man, which was when the problem began. The exact words Thind had uttered (armed with a megaphone, no less) were "Oye motte, seedha khadha ho. Mota aaloo, sadda aloo", which roughly translates to "Hey Fatty, stand straight, you fat potato!" The abuses continued till something snapped inside Inzamam.
Inzamam was ready. It is rumoured that he had asked a substitute fielder to wait outside the ropes with a bat, and the next time a similar word was uttered he grabbed the bat and rushed towards the errant party. The Guardian later wrote: "If not for the spectators and security staff curbing him [Inzamam], he would have broken the head of that guy. The guy with the megaphone was no match for Inzamam and got mauled. Even when Canadian police took Inzamam back onto the field, he was trying to get back to the stands."

Two spectators were arrested, and it took Tendulkar and Rameez Raja 40 minutes to calm the spectators down. Thind, on the other hand, filed a complaint against Inzamam: "I am bruised all over. My shirt got torn. But most of all I feel hugely insulted. How can someone just slap and assault me and get away with it?" He added: "Sachin [Tendulkar] and Azhar [Azharuddin] both said they would touch our feet to stop us from filing a complaint. I told Sachin [Tendulkar] that I could give my life for him, but that I would still file a complaint. I told them that even if the Prime Minister of India told me to forget it, I wouldn't."
Inzamam emerged unharmed from the incident, but seldom has a man been so incensed for being called a vegetable: it usually being called an animal that people react to. But then, not everybody is an Inzamam.
When the crowd cost the hosts a match, 1997-98
After Pakistan beat India comfortably at Hyderabad the second ODI at the volatile Karachi was all set to be a high-intensity clash. Pakistan batted first and Shahid Afridi piled up runs at a breakneck pace when spectators, for reasons known only to them, started pelting the Indian fielders with stones.
Sourav Ganguly, hero of the recently concluded Sahara Cup, became the fifth victim of stone-throwing in the 48th over. An incensed Tendulkar took his side to for the safety of his fielders, to which match-referee Ranjan Madugalle promptly agreed. Pakistan were going strong at 265 for four after 47.2 overs with both Inzamam and Moin Khan looking menacing: when play was called off their slog was cut short. It probably cost Pakistan the match.
Ganguly had his revenge when he masterminded the chase with a 96-ball 89 after a Tendulkar blitz and some solid support from Kambli. Robin Singh and Saba Karim took India to the brink, and Rajesh Chauhan settled things with an out-of-the-blue hoick for a six off Saqlain Mushtaq.

When the bat came in the way, 2005-06
Banking on Tendulkar's 100 and fifties from Irfan Pathan and MS Dhoni, India had managed to pile up 328. Pakistan were on track with the chase when something strange happened. With 40 runs to be scored off 41 balls Inzamam drove S Sreesanth to Suresh Raina at mid-off.
When Raina's throw came in, Inzamam, still outside the field, blocked the ball with his bat. The Indians appealed, and Simon Taufel consulted with Asad Rauf, and gave Inzamam out obstructing the field. An incensed Inzamam argued with Taufel and Rauf, but to no avail. The Indians were correct. Inzamam left the ground, fuming.

Two things need to be mentioned here:
- The anchor of the post-match presentations was Rameez, the first man to be given out obstructing the field in the history of the sport.
- A peeved Inzamam said that the act "was not made in a sporting manner". More interestingly, he cited the example of the Faisalabad Test, where he was run out under similar circumstances: on that day Steve Harmison had thrown the stumps down when Inzamam had moved out of the way.

A confused Inzamam complained that he had no idea what to do — whether to let the ball go and be ruled run out or to block it and be given out obstructing the field. Rushing back to the crease, you see, is never an option for the Inzamams of the world.
The dismissal that didn't happen
Five days after the Peshawar ODI the teams met at Rawalpindi. The second ODI was going on normally when Younis Khan gently drove a Zaheer Khan delivery to the off; Younis set off in a flash, and Shoaib Malik responded; and when Shoaib charged down the pitch he collided with Zaheer.
Both men got involved in a tangle of sorts, which was when it happened: Shoaib's boot hit the ball, which then moved beyond Zaheer's reach; the fielders objected, and Yuvraj Singh almost appealed, but the Indians did not want an encore of the Inzamam incident. The appeal did not happen: Shoaib survived.
Catch the Live Score of India vs Pakistan Asia Cup 2014 Match here