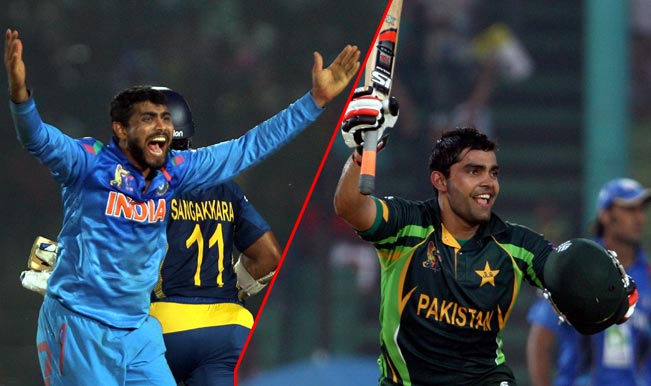 Arch rivals India take on Pakistan in the Asia Cup 2014 and it is going to be a fierce clash. Wait,does it sound like a cliché? No! Actually it does not. As India and Pakistan do not play each other that much or does it even matter if they play regularly? There is never a dull moment when it is India vs Pakistan.
Emotions will run high, people will be glued to TVsets and streets will look deserted as it is that time of the year when India will rub shoulder against their neighbours Pakistan and making it a blockbuster contest. Regarded as all-time high voltage drama, this latest of the drama will leave no stone unturned as it promises to be a belter.
India and Pakistan last time met in Champion's Trophy and former had the last laugh then. The two Asian giants will be looking to punch each other out, as coming into this match both have one victory and one defeat under their belt. So, both teams are levelled with advantage psychologically bending just in favour of green shirts as they have a bonus point in their bag.
India as always has best batting line up on paper with captain Virat Kohli in touch of his life. Shikhar Dhawan's timely knock against Sri Lanka will see some respite returning to Indian camp. Ajinkya Rahane who had mixed season so far will look to cease the momentum and further cement his place. Unlike Pakistan, India's bowling is a major concern for them. Seamers Bhuvneshwar Kumar and Mohammed Shami are not getting enough out the track and spinner R Ashwin even with a reformed bowling action has failed to catch eyeballs while Ravindra Jadeja has looked different from the pack with his decent bowling performance so far.
For Pakistan even though Dhaka wicket is expected to be a flat one, bowlers hold the key as they have one of the best bowling line ups in the game which houses the likes of Umar Gul, talented Junaid khan and world number one spinner Saed Ajmal. Not to miss boom boom Afridi and the professor Mohammad Hafeez who are as good as frontline bowlers. Pakistan has a fragile batting unit which can let them down. Unpredictability is the nature of their batting but thanks to Umar Akmal's recent run and consistency of their Skipper Misbah ul Haq they can get out of the jail.
Before this meeting India and Pakistan have clashed on 11 occasions in Asia Cup, India walking away with pride 5 times, Pakistan 4 times and no result possible twice. For both teams victory will not only mean almost a berth in the final but a chance to make their nation proud and earn accolades from their fans as well. So sit back and enjoy this riveting fixture on super Sunday.
Catch the Live Score of India vs Pakistan Asia Cup 2014 Match here
For updated points table and team standing for Asia Cup 2014 tournament click here