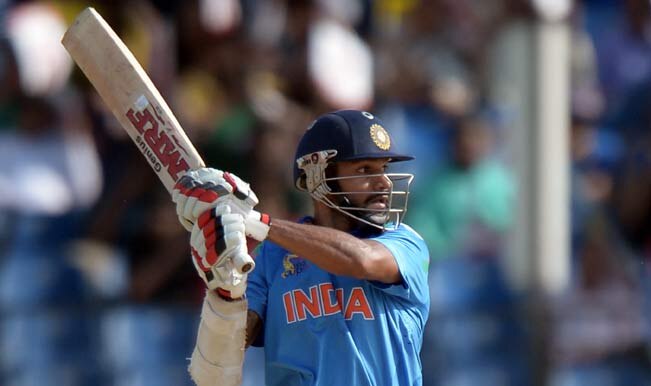 After a blistering start early on by Rohit Sharma, the Indian team lost their way in the middle overs and could only put up a total of 245 for the loss of 8 wickets mainly because of a blistering innings at the end by Ravindra Jadeja.
After losing Shikhar Dhawan early India were moving along nicely with Rohit Sharma looking to be in amazing form. But then once Kohli went to a slightly shorter delivery which bounced a little too much, India kept losing wickets at equal intervals and the end result was that India was not able to post the target that they would have in mind when the game started. Now the only question that arises is if this total is enough to win this do or die match.
Looking at the Pakistani batting line up, the fact that none of them except Umar Akmal looks to be in a good form helps India's case to a great extent. Also India is playing with five specialist bowlers today including three spinners, which given the slow nature of the pitch can be very useful later on in the day. The fact that both the regular spinners seem to have found form in the past two games will only help to cement the hopes of the Indian spectators.
But the fact that dew has been a major issue in all except one game in this series will prove to be a major head ache for the Indians. Also they would be hoping for Amit Mishra to deliver on the opportunity that he has received given that the 5th bowler spot that has proved to be a major concern factor for the Indian in the past two games. Even though the total looks to be under par Pakistan won't make the same mistake that Bangladesh did yesterday and take a casual approach to this chase.
Be pretty sure that we have a very exciting and mail biting finish on our hands considering all the factors. The wicket of Umar Akmal and Misbah ul Haq and Mohammad Hafeez are going to be the key as far as the Indians are concerned. On the other hand the Pakistanis would look to evade the spin trio without giving away too many wickets. All in all if India bowls well, this match will go down right to the wire.
Brief scorecard: India 245 /8
(Rohit Sharma 56, A. Rayadu 58, Ravindra Jadeja 52, Saeed Ajmal 3/40, Mohammad Talha 2/22)