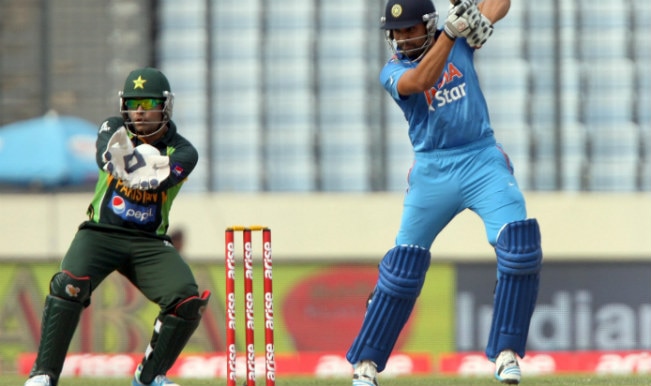 India lost a humdinger against Pakistan in the Asia Cup match at Mirpur. Abhishek Mukherjee provides his opinions on the match.
Yet again a captain decided to bowl first against India despite the pitch being conducive to spin.
As I have said before, it has been the trend of teams in the subcontinent against India. They let them score big and try to chase it down. The decision could have been different today, but I guess Misbah-ul-Haq backed his batsmen against India's bowlers.
Once again Cheteshwar Pujara was dropped…
Pujara has to be there in the side. I know Rohit Sharma and Ambati Rayudu have both got fifties, but really, fifties are not we are looking at. Virat Kohli cannot fire every time. Not only do you need to convert those fifties to hundreds, but you should also go for 150s. Remember, there is no MS Dhoni down the order to provide with the final onslaught, so there needs to be a platform for the later batsmen.
Pujara has the ability to get those hundreds. He has scored runs against pace and spin, and should be an asset India should look to groom, even in the limited-overs format. There is a general misconception that he is not an aggressive batsman: once on song Pujara can accelerate at an amazing rate.

Do you feel Rohit Sharma threw it away again?
This was the Rohit Sharma we have seen in November 2013. He was toying with the Pakistan attack, but he threw it all away after reaching his fifty. He was looking ominous, and a big innings could have changed things on its head.
How did you find Mohammad Talha?

Talha runs in nicely and bowls off a brisk pace, and seems one for the future. He is level-headed, is accurate, and bowls intelligently. We can only hope he does not go the usual Pakistani seamer way and fade into oblivion in a couple of years.
Ravindra Jadeja really lit up his 100th match!
I have been telling this for some time now: Jadeja is hugely underrated as an all-rounder, and with proper support he may turn out to be one of India's best. He can accelerate, has a cool brain, does not lose patience while bowling, has an excellent temperament and is electric on the field. He paced his innings wonderfully today.
The Pakistani spinners were brilliant today.

Oh yes. Saeed Ajmal, probably the finest spinner in the world right now, did exactly what was expected of him. He used all his guile and variations to tie down the Indians and was supported brilliantly by Shahid Afridi and Mohammad Hafeez. Ajmal uses his doosra judiciously, varies his pace, can almost control the ball on a leash, and can deceive any batsman on his day.
He got two cheap wickets in the 49th over, but in the end figures of 10-0-40-3 hardly bears testimony to his performance today.
What do you think of Sharjeel Khan and Ahmed Shehzad?
Both are talented batsmen, and are clean hitters of the ball. They did not run too well today, but that could have been due to Sharjeel's injury. The Indian seamers were largely ineffective with the new ball barring that peach from Bhuvneshwar Kumar in the fifth over that literally squared up Shehzad.
Virat got the spinners on early…
He really did not have an option at 56 without loss. Even Jadeja's first spell was an ordinary one (26 from three overs).
Do you think Ravichandran Ashwin has done some serious work on his carrom ball?
Maybe, or maybe he kept on aiming the footmarks. The one that bowled Sharjeel through the gate was a special one: it turned almost as much as a Shane Warne leg-break. Even if that had hit a spot, he had produced two encores — against Sohaib Maqsood and Saeed Ajmal.
The story of Indian bowling was, of course, Amit Mishra…

The moment we think Indian bowling does not have options, someone or the other crops up. Remember Bhuvneshwar's arrival; remember Mohammad Shami's advent; and now Mishra's comeback. They need to get someone who can deliver more consistently, though.
Mishra bowled beautifully today, with supreme control over line, length, flight, and turn. His leg-breaks and googlies were supremely effective, and his figures reflect that (despite the fact that his last two overs went for 12).
Why do you think Kohli changed his bowlers around so frequently?
As he himself said in the post-match presentation, Kohli did not want any Pakistani batsman to get used to a particular Indian bowler. Of course, he had made an exception for Mishra (whose first spell of 8-0-16-2 was too mesmerising for the Pakistanis to handle). However, one might feel that Mishra could have been bowled through: he might just have conjured a wicket out of somewhere.
But then, captains have to go by gut feelings at times. Kohli had a plan, had backed himself to execute it, and it had almost come off. The fans need to have faith in him.
So you think Kohli has been impressive today?
Definitely. You cannot really do things with Afridi on a rampage. Afridi himself is the only man who has ever been able to get himself out, and today he chose not to. Kohli tried things: he did not look clueless when wickets were falling; some of his moves came along well while some others did not. He looked honest and trying, and with some time he may be able to become a fine leader.
Hafeez's impact was crucial…
Of course. Like Afridi, Hafeez allows you to have the extra player in your side; having two all-rounders always help (add to that the fact that Umar Akmal keeps wickets). He picked up two crucial wickets, held two catches (but spilled a sitter), and top-scored with 75: it was that 87-run partnership with Maqsood that decided the match.
Ashwin and Karthik had come up with a plan, as you may have seen. Ashwin bowled around the stumps and let a carrom ball loose; Maqsood stepped out and was beaten, but Karthik missed the stumping. It was an encore of the Kumar Sangakkara miss against Sri Lanka: once again it may have cost India the match.
But India fought back well despite the Afridi blitz…
It was a topsy-turvy match once Hafeez and Maqsood fell. Afridi and Umar Gul played some strokes before they lost three wickets in five balls. Then Afridi hit those two monsters. You cannot really blame Ashwin for those: he hit the ball so hard today that even his mis-hits cleared the short boundaries.
So the bottomline is…
All strategies go for a toss when Afridi is on song.
Still, can India take some positives from the match?
Of course. We have seen Rayudu bat well, and Mishra come back with a bang. The leg-spinner, however, needs to deliver consistently on flatter tracks. We will find that out. He needs more chances, though.
Any suggestion for the Afghanistan match?
Pujara, Pujara, and for the third time, play Pujara. You need a man who can score those 130s if you need to post 300s on a consistent basis. Kohli won't deliver every day, and neither of the others is consistent enough to be backed for a big score (Rohit's double-hundred is not going to be repeated anytime soon). He may not be the most athletic fielder, but his batsmanship will definitely make a different.
(Abhishek Mukherjee is the Deputy Editor and Cricket Historian at CricketCountry. He blogs at http://ovshake.blogspot.in and can be followed on Twitter at http://www.twitter.com/ovshake42)