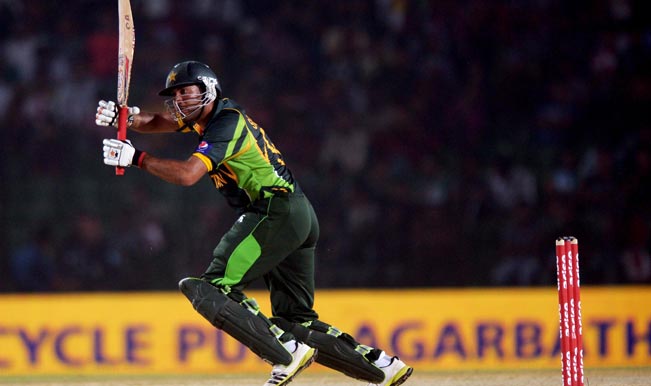 India faces Pakistan, their arch rivals in an electrifying match which is not only a matter of ego for both the teams and nations but a fight for retaining their spot in the tournament. India and Pakistan have lost one game each and now face each other with Pakistan leading in the points table with the advantage of one point over India but that will make no difference if India can defeat them today.
Shahid Afridi snatched victory from what looked like a certain defeat. He hit two consecutive six in Ashwin's last over to take his side to victory. His 34 from 18 balls included 2 boundaries and 3 sixes.
OUT: Saeed Akmal
OUT: Mohammad Talha
OUT: Umar Gul
Pakistan 203/6 | Overs 45: India gets two quick wickets but danger man Shahid Afridi is still there.
OUT: Sohaib Maqsood run out
OUT: Mohammad Hafeez.
Pakistan 179/4 | Overs 40: India looks for a breakthrough as Pakistan batsmen Hafeez and Maqsood take their team close to victory. 
We needs to take wickets. Hafeez bas bhai bas. Kar li na half century. Lalach buri bala hai. Now please go #IndvsPak

— Virat Viraaaaaaaat ♡ (@MissSmilie_) March 2, 2014
India should change its strategy, let the spinners open the bowling and seamers bowl the middle overs. Clear dip in economy rate #IndvsPak — Jameshubert  (@ImJames_) March 2, 2014
Pakistan 156/4 | Overs 35: Mohammad Hafeez 51 and Sohaib Maqsood 19 look set and giving tough time to Indian bowlers.
Pakistan 142/4 | Overs 30: Pakistan batsmen continue to hit the odd ball and keep the scoreboard ticking. Pakistan needs 104 runs required from 20 overs.
Pakistan 123/4 | Overs 25: Indian bowlers have managed to keep a check on Pakistan run rate. Amit Mishra continues to trouble Pakistan batsmen Mohammad Hafeez 38 and Sohaib Maqsood 4.
Virat Kohli is managing his spinners perfectly. Will have to think carefully about the PowerPlay, but very good so far. #INDvsPAK — Alternative Cricket (@AltCricket) March 2, 2014
OUT: Mishra strikes again. Claims the prized wicket of Umar Akmal caught Jadeja off Mishra, 4. Pakistan 109/3 | Overs 20: Mohammad Hafeez and Umar Akmal stabilize Pakistan innings after losing quick wickets. OUT: Misbah-ul-Haq run out. Complete confusion in the middle and Pakistan skipper pays the price with Mishra collecting Jadeja's throw. Pakistan 93/2 | Overs 15: Indian bowlers strike and claim two quick wickets. Openers Shaejeel Kamal and Ahmed Shehzad return to pavilion after giving a dream start to Pakistan. OUT: Amit Mishra claims Ahmed Shehzad's wicket. Ashwin makes no mistake in grabbing the straight hit. OUT: Sharjeel Kamal goes. Pakistan 67/0 | Overs 10: A dream start for Pakistan as openers Ahmed Shehzad 33 and Sharjeel Kamal 23 destroy the Indian bowling attack.
So this Mohammed Shami guy is the future of the India bowling attack, is that right? Seriously? #PakvInd #IndvsPak #AsiaCup — Asad Amjad (@KhanDiesel) March 2, 2014
Pakistan 24/0 | Overs 5: Openers Ahmed Shehzad 16 and Sharjeel Khan 6 punish Indian bowlers at will.
Pakistan 7/0 | Overs 1: Ahmed Shehzad and Sharjeel Khan give Pakistan a flying start.
Pakistan haven't chased down a target of over 242 in almost 2 years. India scored 245. Another close match on the cards. #Typical #IndvsPak

— Nihaar Shah (@nihaar_shah17) March 2, 2014
India 245/8 | Overs 50: India post a competitive 246 run target for Pakistan in their crucial encounter against the arch-rivals (Rohit Sharma 56, Ambati Rayudu 58, Ravindra Jadeja 52*; Saeed Ajmal 3/10, Mohammed Hafeez 2/38, Mohammad Talha 2/22)
OUT: Mohammed Shami returns without scoring a run.
OUT: R Ashwin is stumped by Umar Akmal off Saeed Ajmal
OUT: Ambati Rayudu 
India 195/5 | Overs 45: Ambati Rayudu brings up his 50 under trying condition. Giving him company is Ravindra Jadeja on 19.
India 168/5 | Overs 40: India struggling against Pakistan bowling attack. Ambati Rayudu 36 and Ravindra Jadeja 7 keep the scoreboard ticking.
OUT: Dinesh Karthik out on 23. Lobs Mohammad Hafeez delivery to Saeed Ajmal on short fine leg.
India 145/4 | Overs 35: Runs are coming slowly. Ambati Rayudu 29 and Dinesh Karthik 18 need to look for opportunities to score. No boundary for the last 9 overs.
BREAKING: Aamir Khan to take on India's poor batting in the next episode of #SMJ. #IndvsPak

— Pankaj Sabnani (@pankajsabnani) March 2, 2014
India 132/4 | Overs 30: Ambati Rayudu 23 and Dinesh Karthik 11 are rotating the strike and putting pressure on the Pakistan fielders.
India 113/4 | Overs 25: India lose quick wickets and Pakistan has managed to keep a control on the proceedings. Dinesh Karthik 2, Ambati Rayudu 12 have a big responsibility.
Congrats India fans. Few things in the world more comforting than the sight of Dinesh Karthik walking in to save your team. #IndvsPak

— Fake IPL Player (@_fakeiplplayer) March 2, 2014
OUT : Ajinkya Rahane out. Mohammad Talha gets his second wicket,
India 92/3 | Overs 20: India lose the important wicket of Rohit Sharma as he hands a simple catch to Mohammad Hafeez off Mohammad Talha who claims his first ODI wicket.
OUT : Rohit Sharma out
India 82/2 | Overs 15. At the end of 15 overs India is making steady progress with Rohit Sharma 53, Ajinkya Rahane 12.
India 60/2 | Overs 10. At the end of 10 overs India are without their star batsmen Virat Kohli and Shikhar Dhawan. (Ajinkya Rahane 4 , Rohit Sharma 39)
OUT : Skipper Virat Kohli edges Umar Gul to wicket keeper Umar Akmal's hands.
India 30/1 | Overs 5:  (Rohit Sharma 17, Virat Kohli 1)
Pakistan are second in the standings ahead of India on net run-rate. This is the semi-final before the final of the Asia Cup 2014.
India and Pakistan last time met in Champion's Trophy and former had the last laugh then. The two Asian giants will be looking to punch each other out, as coming into this match both have one victory and one defeat under their belt. So, both teams are levelled with advantage psychologically bending just in favour of green shirts as they have a bonus point in their bag.