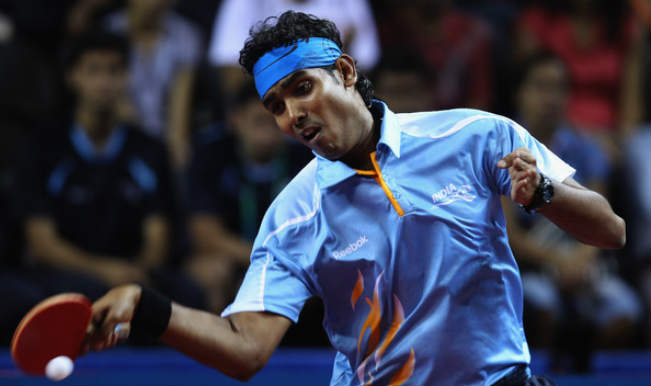 Indian paddlers Achanta Sharath Kamal and Anthony Amalraj had to settle for the silver medal in the men's doubles after they lost 1-3 to Singapore's Hu Li and Ning Gao in the title clash of the 2014 Commonwealth Games here Friday. Sharath and Amalraj lost 11-8, 7-11, 9-11, 5-11 in 33 minutes to the Singaporean pair at the Scotstoun Sports Campus. Another Singapore pair, Zi Yang and Jian Zhan won the bronze medal after they won the play-off match.
Indian Paddlers Sharath Kamal and Anthony Arputharaj taking on the tops seeds Ning Gao and Hu Li of Singapore in the Men's Doubles Final started off well to take the first game 11-8 and 1-0 lead in the best of five gold medal match. But in the second game it was the Singaporean pair Gao/Li made a brilliant comeback with a solid crackling play of game. Dominating the entire game they led 7-2 against the Indian pair and wrapped it up as Sharath Kamal made a rash return. They won 11-7. India tried their best opposite the Singaporean pair who displayed a lethal game of play. Singapore with this win also completed their perfect set of winning gold. They had never won gold in men's doubles.
Achanta Sharath Kamal will also be competing in the Men's Singles semi-finals match on Saturday after he defeated Paul Drinkhall of England by 11-7, 11-6, 12-10, 9-11, 11-6 in the quarters.
Get Commonwealth Games 2014 Complete Schedule of Indian Players Here