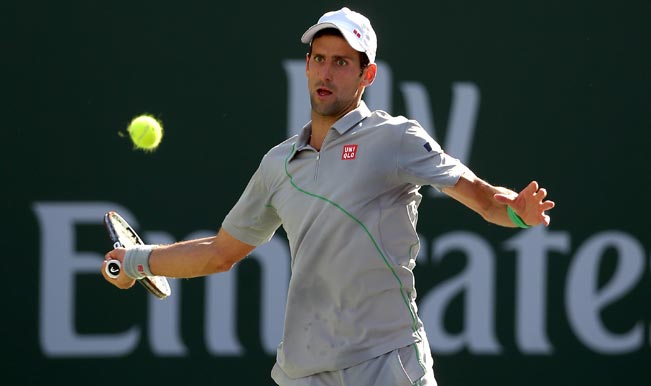 Novak Djokovic entered the Indian Wells 2014 BNP Paribas tournament with no title to his credit. Little did he know that he was about to make one for himself. And do more than just that.
He successfully beat his old rival, tennis great Roger Federer, and won the intense BNP Paribas Open final at Indian Wells. With his 3-6, 6-3, 7-6 (3) triumph, he earned himself a $1 million cheque, and his first title of the year 2014.
The Serbian ace tennis player had a shaky beginning in the match when he faltered in his opening service game, and then saw through the time he failed to serve out the match on his first attempt. He then went on to finally gain victory in the tie-breaker round.
Djokovic said that he doubted himself since he did not have any titles in the year so far, which led to fluctuating concentration in the opening rounds. However, he adds that he somehow managed to remain strong mentally and believe in himself, and this made the title he won special.
As he was presented with the winner's crystal trophy, he said that the match was extremely difficult, but added that it was always a pleasure competing against Federer. The victory at Indian Wells was his third in the same competition, and lifted his tally to 42 titles.
Federer, who experienced his first loss in this tournament final, had reached the final without dropping a set, and made a strong start against Djokovic, with support from the crowd. He tied the set at 6-6 to force a tie-break, but the latter somehow fought back to clinch the title after more than two hours.
After the match, Federer said that he was happy with the quality of play that he possessed at the moment. He also said that he would he liked to have won, but Djokovic made it tough for him, and deserved a congratulations for that.
In the opening game, Djokovic double-faulted twice. This led Federer to breeze through the first set in barely half an hour. However, the Serb then started his second set much better, by winning the opening point and locking in the continuous rallies that marked most of the match.
His Swiss opponent worked and gained enough mileage to force a tie-breaker, but made a couple of mistakes after that.
Djokovic got the early break again in the third set due to a forehand error by his opponent. He went on to serve and return with high-powered hits. However, a forehand error by the Serb this time allowed for the tying of the game.
In the course of the tie-breaker, Djokovic speeded to a 5-1 lead due to four errors from Federer. Then Federer gained a point but subsequently faulted again due to an ace. This ensured that Djokovic would win the match on his serve, which happened when Federer's shot landed in the net.
"I know he always comes out confident, aggressive…. He doesn't give you the victory; you have to earn it," Djokovic said. He added later that his winning strategy included stepping closer to the line and making Federer play an extra shot by changing the pace of the ball.
"I was able to just keep the pressure on Novak and show him that if he slips up, I will be there and I will make it a very competitive match in the end for him," Federer later said.