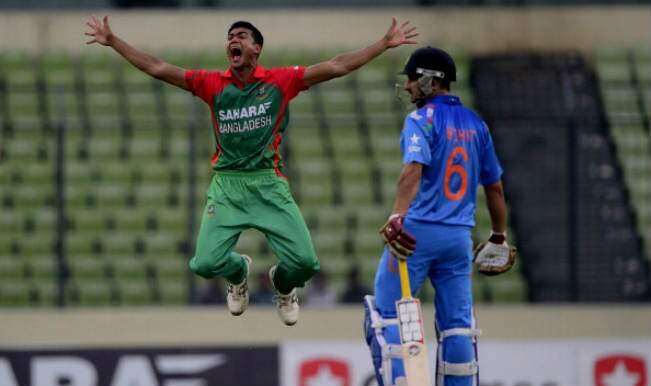 The third ranked Indian side led by Suresh Raina was put to shame by spirited Bangladeshi bowlers as the Men in Blue went down with a score of 105 all out. In a rain interrupted match, Indian side lost their opening batsman Ajinkya Rahane cheaply as Bangladesh's pacer Mashrafe Mortaza bowled brilliantly. India could never manage to get going after the slow start and the lack of strike rotation hurt them even more. With continuous fall of wickets India could not manage to score freely. Captain Raina was the highest scorer with 27 runs as the debutant Taskin Ahmed proved to the wrecker-in-chief.
With a score of 105 runs India posts yet another low total in its ODI history. We take a look at India's all time lowest totals in One Day Internationals:
India made 54 runs vs Sri Lanka in Sharjah, 29th October 2000
Playing at Sharjah Cricket Association Stadium on 29th October, 2000 Sri Lanka won the toss and decide to bat first against India. Sanath Jayasuriya made his highest individual score of 189 against Saurabh Ganguly side and posted 299 runs on board. In reply, the Indian side could only manage a score of 54 and went all out with Robin Singh remaining the only batsman to reach double figures with 11 runs.
India made 63 runs vs Australia in Sydney, 8th January 1981
Australia had it s arch-rivals India in tatters while playing at Sydney during the Benson & Hedges World Series Cup. Led by Sunil Gavaskar, the Indian side found itself struggling against the mighty Australians and could manage to post a score of mere 63 runs. Australia won that game by 9 wickets with 174 balls remaining.
India made 78 runs vs Sri Lanka in Kanpur, 24th December 1986
The Asian tigers Sri Lanka have always been fierce competitors for India. The hosts were in for trouble in an average scoring match as Sri Lanka posted 195 runs on board. Chasing a modest total, the Indian side lost its way and was all out for 78 runs in 24.1 overs. K Srikkanth was the high scorer for India with 17 runs off 42 deliveries!
India made 79 runs vs Pakistan in Sialkot, 13th October 1978
There is nothing better than watch an India vs Pakistan clash but Indian side famous for their batting stalwarts were shaken up by the fiery Pakistan attack. The hapless Indian side could make score of just 79 runs with Mohinder Amarnath being the saving grace with 35 runs. Pakistan won the match by 8 wickets with 139 balls remaining.
India made 88 runs vs New Zealand in Dambulla, 10th August 2010
The improved Indian side under the charismatic captain Mahendra Singh Dhoni was also in for some surprise as they played against the Kiwis. The Black Caps posted a score of 288 runs and it was assumed the famous Indian batting line will chase down the score easily but the trio of Tuffy, Mills and Oram thought otherwise. The great Indian batting fell down like house of cards and just managed 88 runs.
India made 91 runs vs South Africa in Durban, 22nd November 2006
The Proteas are invincible at their home ground and they proved it against India. The South African side posted a total of 248 runs riding on a brilliant century by Jacques Kallis. Coming into bat the Indian side with names like Tendulkar, Dravid and Dhoni could crawl up to make mere 91 runs. South Africa won the match by 157 runs.
Catch the Live Score Updates of India vs Bangladesh Match 2 of the 3 ODI series here