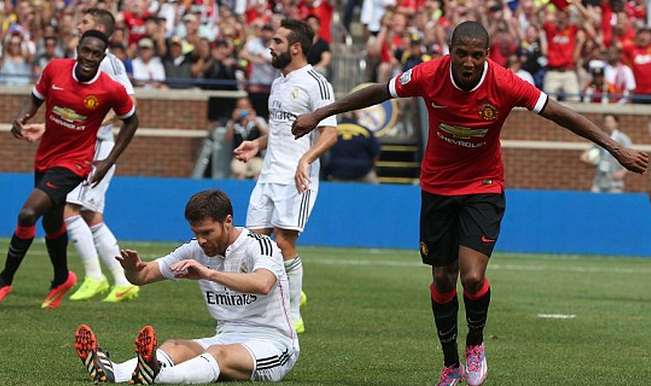 Top English football team Manchester United beat Spain's Real Madrid 3-1 to reach the finals of the International Champions Cup 2014 being held in USA. The win on Saturday, August 2 means United will now clash with Liverpool who are also in the final.
Real Madrid's star player Cristiano Ronaldo, who earlier played for Manchester United, began the match sitting on the bench and sulking. The star player of Manchester United was Ashley Young who scored two goals to lead 2-1 at half-time. The third goal for Man United was scored by Javier Hernandez in the 80th minute of the match.
The International Champions Cup football match witnessed a never before crowd at Michigan Stadium, with over 1,09,000 fans at the stadium – a record for the US which is known to fancy basketball, baseball and American football over soccer.
The International Champions Cup 2014 final Manchester United vs Liverpool match will take place on Monday, August 4 in Miami, Florida at the Sun Life-Stadium.