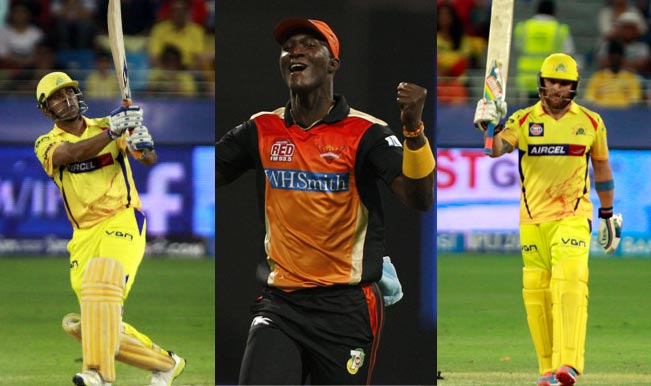 It is the war of the south in the second game today in the 17th Match of IPL 2014, as Chennai Super Kings play against Sunrisers Hyderabad in Sharjah. Chennai has been on the upper side of the table, standing second below Kings XI Punjab. Sunrises Hyderabad are still on the lower side of the table. This match might just help the charged up SRH to move up the table. With a strong team on Chennai's side and a confident team on SRH, the match is set to be impressive. Here are five players to watch out for in this clash of the south.
Amit Mishra
AN orthodox leg-spinner who fights the ball and makes it turn consistently, Amit Mishra is the star bowler of Sunrisers Hyderabad. This talented bowler has taken four wickets in the three matches of this season.
Darren Sammy
This West Indian all-rounder plays a pivotal role in SRH's fortunes in 2014. He has taken 2 wickets and scored 21 runs in the three matches that he has played. He took the wicket of Murali Vijay in their last match and helped the team to their first victory.
MS Dhoni
MS Dhoni has captained Chennai Super Kings to victory twice. He has contributed to his teams brilliant performance in this season, with some outstanding wicket-keeping and beautiful batting. He has scored 77 runs in the four matches that he has been a part of. He plays a vital role, both in the batting as well as fielding.
Dwyane Smith
This all-rounder has been the soul behind the teams victory in this inning. With 174 runs in the four matches and 2 wickets in his bag, he has shaped Chennai's path towards the upper side of the table.
Brendon McCullum
Brendon McCullum is another attribute to CSK's strong batting front. With his 153 runs in the four matches he has played, he has the capability of walking the team to victory and should be on the SRH's list.
IPL 2014 Points Table, Match Results and Team Standings
IPL 2014 Schedule: All Match Fixtures and Complete Time Table of IPL 7