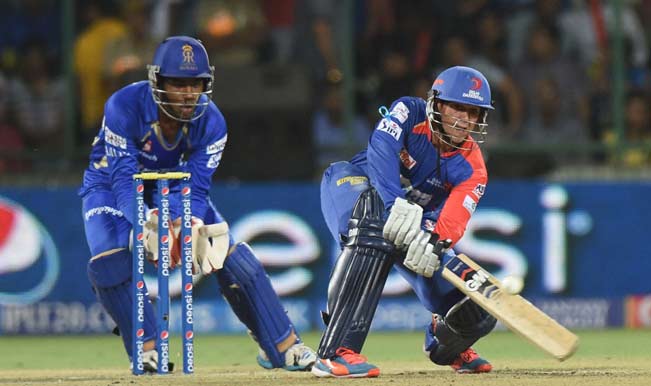 After winning the toss and electing to field first, the Sunrisers bowler got off to a good start with the ball as they dismissed the inform Quinton De Kock very early off the bowling of Dale Steyn. Although Kevin Pietersen who came into to open the innings in place of Murli Vijay was going hammer and tongs at the other end, the bowlers looked in control and captain Shikhar Dhawan introduced Amit Mishra in the 7th over.
The plot of bringing Mishra in the attack even though KP was going strong and at a strike rate of nearly 200 worked wonders as Mishra got rid off the English batsmen in his very first over restricting the scoring rate of the daredevils. Mayank Agarwal, who got a chance in the place of Murli Vijay played a good little knock. He got a good Start which he failed to convert into a big score and was dismissed once again by Amit Mishra.
Dinesh Karthik and Laxmi ratan Shukla tried their best to maintain the run rate and carry the innings forward without losing momentum, but the Sunrisers bowlers made it really hard for the home team to score the boundaries. After the interruption of the play due to rain, Karthik showed some intent and hit Karan Sharma for a boundary and a six of the very first over after the restart of the game. Just when Karthik looked like making the bowlers pay, he was dismissed due a tremendous catch by Dale Steyn at the long off on a full toss bowled by Moises Henriques. Shukla too was dismissed in the same over trying to do the same thing.
JP Duminy and Kedar Jadhav were left with the responsiblity of providing the daredevils with a perfect ending, But Irfan Pathan and Bhuvaneshwar Kumar bowled two supremely good overs at the end off the innings to stop the Daredevils from posing a score in access of 150.
The bowling was generally good by the bowlers except the parts when Pietersen was going strong at the start of the innings. Amit Mishra got his 100th wicket in the match, while Bhuvaneshwar Kumar and Dale Steyn also had a good outing in the field. They gave away just 22 runs in the last 5 overs, something that will be considered Exceptional in a T20 contest.