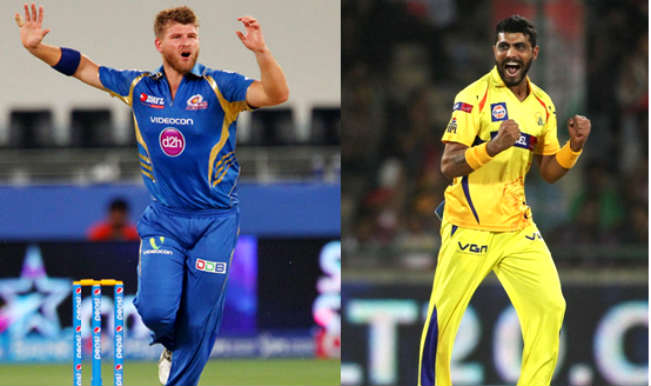 Mumbai Indians stormed into the Playoffs with an impressive run in Indian leg of the tournament, they re-grouped and clicked at a right time. While for Chennai Super Kings playoffs is a familiar territory and like in the past they managed to make it to the next round with superlative performances. As both teams get set to face each other in an Eliminator we take a look at some duels that make this clash mouth-watering.
Corey Anderson vs. Ravindra Jadeja
The architect of Mumbai Indians' win over Rajasthan Royals Corey Anderson will now be most feared by the opponent Chennai Super Kings as he has finally proved his worth. To stop him on a Brabourne pitch Ravindra Jadeja will be useful. He becomes more lethal on a track which assists even a little bit to spinners.
Jasprit Bumrah vs. Dwayne Smith
Dwayne Smith has followed an open strategy to go out and smash bowlers from the start and he will look to do same against MI as well. Jasprit Bumrah may not be that easy to score off early on as he has a good Yorker and more often he finds the block hole. Bumrah in last match bowled a maiden over to Shane Watson first up and will be on his toes to contain and dismiss dangerous Smith
Harbhajan Singh vs. MS Dhoni
The experience both Harbhajan Singh and MS Dhoni provide to their respective teams makes their role indispensible. Dhoni known for his finishing acts will be eyeing to attack Harbhajan who is MI's lead bowler. Harbhajan is a wicket-taking bowler and doesn't mind going for runs if he is picking wickets.