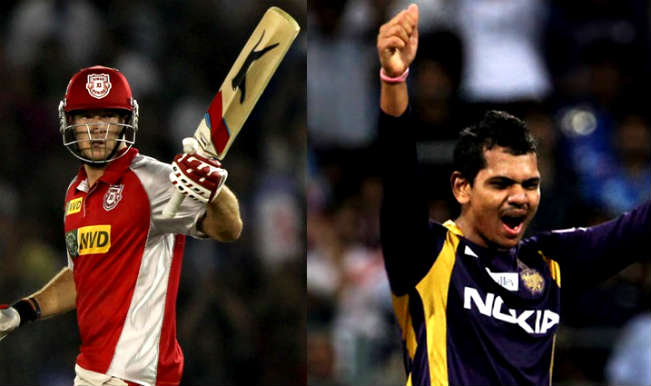 Kolkata Knight Riders face a stiff challenge as they grapple with Kings XI Punjab who are ruling the roost. KKR have lost couple of close encounters and have done well to bounce back next day. KXIP has had a smooth journey so far losing just one match. As two teams get ready to face each other we take a look at some on-field duels that make this competition interesting
David Miller vs Sunil Narine
David Miller has enjoyed his stint with Kings XI Punjab as he has been with the team for quite some time. Miller this has season has found an able partner in Glenn Maxwell and the duo are perhaps the most consistent middle order batsmen so far. ''Miller Killer'' as he is fondly called is one of the best aggressive batsmen playing the game. Now then KKR now all about his credentials and will be looking to curtail him with Sunil Narine. Narine is an asset to have in T20 format. He is amongst the wickets and economical as well. Miller vs. Narine could be the defining moment of the game.
Glenn Maxwell vs Jacques Kallis
460 runs, strike rate of 204.44 and three scores in 90's say it all about Glenn Maxwell. His story of murdering bowlers pops out every day and his inclusion in KXIP squad has vastly made the difference to the team. Veteran Jacques Kallis has various roles in KKR line-up he was used as opener/batsman in first few games and now as a seam bowler. That just shows how versatile Kallis is on cricket field. Now mix his versatility and experience he becomes a living legend. Will he stop Max(imum)well ?
Sandeep Sharma vs KKR Openers
Sandeep Sharma in his six games so far has five times gone on to provide early breakthrough for KXIP and in as many games he has bagged 13 wickets. In Top 5 most wickets list he is the only bowler with least number of matches. That would raise the alarm for KKR openers. Gautam Gambhir and Robin Uthappa. Gambhir as a pair have notched up century stand in their last two games and both of them have their work cut out to make sure Sandeep is kept at a bay.
IPL 2014 Schedule: All Match Fixtures and Complete Time Table of IPL 7