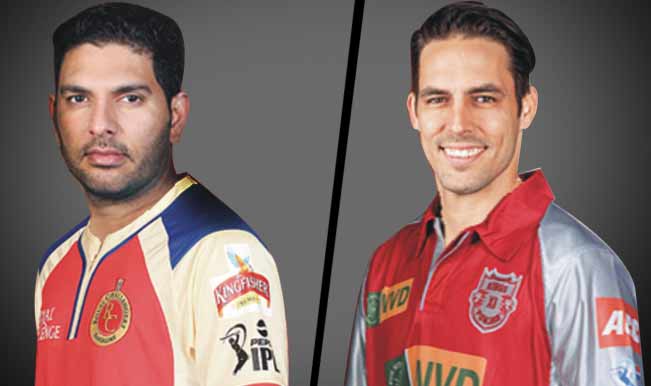 Unstoppable Kings XI Punjab pit against Royal Challengers Bangalore and will love to stay unbeaten before catching flight to India while RCB after losing two back to back matches will look to bounce back. Both sides have quality players to counter each other's strengths, we take a look at some of the battles that can possibly lit up the Monday night.
Yuvraj Singh vs Mitchell Johnson
Star Indian batsman Yuvraj Singh has in the past struggled against the Aussie pace spearhead Mitchell Johnson and Monday's encounter between the two could be another chapter in Yuvraj's scramble against the pacer. With Johnson coming back in his shape Yuvraj needs to be cautious against him.
Virender Sehwag vs Mitchell Starc
Virender Sehwag is slowly getting into the scheme of things, but Mitchell Starc in RCB camp has been bowling brilliantly, he is leading in the wickets column list for RCB this season and can put Viru in spot of bother early on.
Glenn Maxwell vs Yuzvendra Chahal
There is no stopping Glenn Maxwell and his ability to play unorthodox strokes right from the go makes him a dangerous customer. Spinner Yuzvendra Chahal with his googlies can trap Maxwell who is fond of reverse sweeping against the spinners.