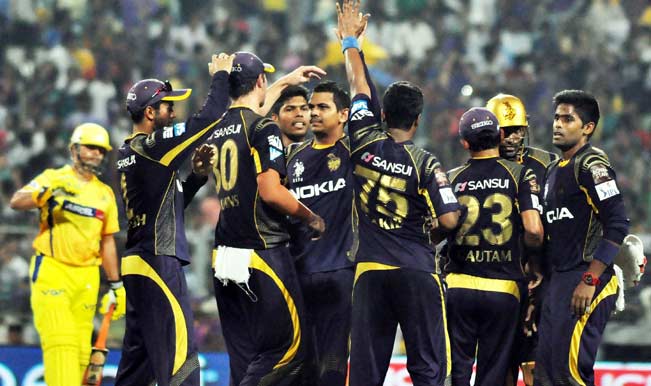 Kolkata Knight Riders comprehensively defeated Chennai Super Kings by eight wicketsthanks to Robin Uthappa's blitz at the top and Shakib Al Hassan's finishing act.
Lady luck seems to be smiling on Robin Uthappa who was dropped not once but twice early in his innings buthe made most of the opportunity and went on rampage to tear apart CSK bowlers with Captain Gautam Gambhircomplimenting him from the other end.
Openers once again laid a solid foundation for chase and notched up 64 in seven overs before Gambhir (21) was cleaned up off Ishwar Pandey giving CSK a much needed breakthrough.
Uthappa had no reason to bog down as he kept playing his strokes and belted the helpless CSK bowling. He brought up his half-century off just 29 ballsto see KKR maintain an upper hand throughout in the game.
Manish Pandey played a sensible role and made sure he kept his end tied up. Bulk of the runs came off Uthappa's bat while these two batsmen were out in the middle. Uthappa while trying tosmash Ravindra Jadeja was caught at boundary ropes in the process. He scored 39-ball 67 and his innings included 10 4s and a six. At his departure KKR were 98-2 and still much was required to be done.
Out came Shakib Al Hasan and he blew away CSK with his blazing stroke making. He scored a quick-fire 46 off 21 balls, hitting six 4s and two 6s. He did not let CSK bounce back in the game and dominated out rightly. Pandey (18*)played his part and keptgiving Shakib strike back. Both batsmen finished unbeaten to steer KKR home by eight wickets in hand and two overs to spare.
Ishwar Pandey (1-31) and Ravindra Jadeja (1-23) were the only wicket-takers for CSK.
Earlier, after Pat Cummins handed KKR an early breakthrough Suresh Raina took the attack to bowlers along with Brendon McCullum and FAF du Plessis. CSK at one stage were looking to score around 170-180 but couple of quick wickets towards the end slowed things for them and they managed to put 154-4 on board.
Pat Cummins, Sunil Narine and Piyush Chawla dismissed one CSK batsman each
Man of the Match: Robin Uthappa
Brief Scores: KKR 156-2(R. Uthappa 67, R. Jadeja 1-23) beat CSK 154-4 (S. Raina 65, S. Narine 1-24) by eight wickets.