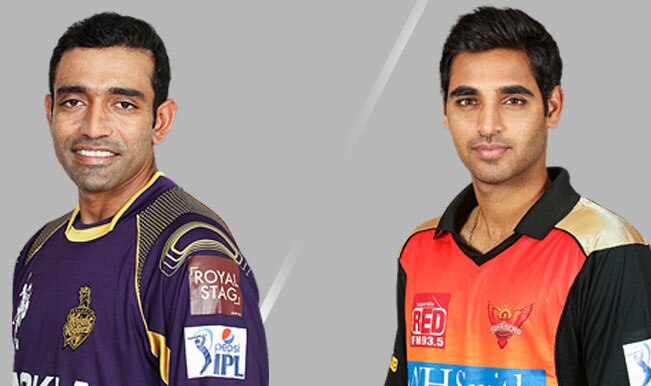 Kolkata Knight Riders have sealed their place in the playoffs after five successive wins and are on song  now while Sunrisers Hyderabad have done well to keep themselves alive in the tournament after some clinical performances. SRH needs a win and then wait for other results to go their way to qualify for playoffs. As KKR gets set to host SRH we take a look at some duels that make this game more exciting.
Robin Uthappa vs. Bhuvneshwar Kumar
Orange cap holder Robin Uthappa is at peak of his game. With eight consecutive 40-plus scores he has dominated and took game away from the rivals. Bhuvneshwar Kumar has as similar story with ball in hand. He picks wicket early on and sends shivers down the opposition. Both are in fine touch and this contest could be the match defining.
Sunil Narine vs. David Warner
Both Sunil Narine and David Warmer have been match winners for their respective teams and will be eyeing for another superlative performance. Narine is hard to pick while Warner with his hand-eye coordination takes on any bowler. It will interest to see how the battle of trump-cards unfolds as both are prominent players in their ranks.
Gautam Gambhir vs. Dale Steyn
This is another new-ball contest. Gautam Gambhir after some good performances has again failed to capitalise. He needs to be scoring consistently and now with playoffs coming up it becomes more important for him. Dale Steyn has not fired by his own standards. Its crucial game for his team and Steyn has to pull his socks up and deliver.