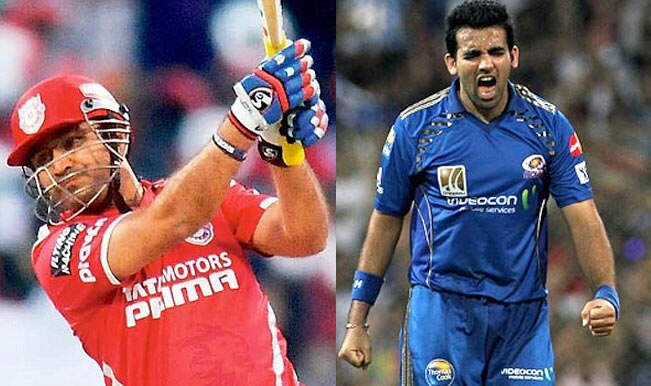 Five wins for Kings XI Punjab and five defeats for Mumbai Indians sums up how this season has folded for two teams so far. Now these divergent teams face each other and with no dearth of firepower in respective camps the match promises to bring up epic clash between the match-winners. Here is a look at duels that can be mesmerizing in match number 22:
Zaheer Khan vs Virender Sehwag
Old friends turn foes and this clash will undeniably leave spectators engrossed. Both these veteran Indian players are on comeback trail and so far have done well in their respective departments. Zaheer Khan will be looking to deliver early punch while Sehwag won't mind thrashing the left arm seamer in his trademark style.
Lasith Malinga vs Glenn Maxwell
This is the battle cricket fanatics would have been waiting for. Maxwell has been in touch of his life and he doesn't like to hold back against any bowler. Malinga on the other hand is a kind of bowler who hardly misses his length. It has to be a battle of nerves for sure between the two skilled players.
Kieron Pollard vs Mitchell Johnson
Kieron pollard is slowly getting back to his old ways and against Sunrisers Hyderabad he unleashed himself. Pollard now has a threat to face in shape of Johnson, who has been bowling with supremacy. Both these players will look to spoil each other's outing.          
IPL 2014 Schedule: All Match Fixtures and Complete Time Table of IPL 7