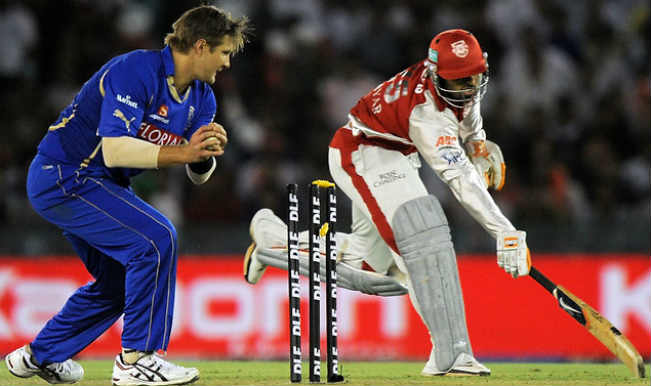 After achieving victories in their first game, Kings XI Punjab (KXIP) and Rajasthan Royals (RR) will face each other on Sunday evening and both the teams will be looking forward to maintaining their good form as the tournament progresses. The battle here seems to be between the Rajasthan bowling attack and the Punjab batting that consists of world class T20 players. Although the other way around i.e. the battle between KXIP bowling and RR batting, considering both nearly floundered in the first game will be also interesting to see.
Kings XI Punjab:
X Factor: Without a doubt Glenn Maxwell and his amazing form is the X factor for the Punjab Franchise's success. Maxwell helped the Kings XI chase a daunting total of 206 with much ease and if keeps up his form Kings XI will b hard to beat in the tournament.
Watch out for: Mitchell Johnson, Glenn Maxwell.
While Maxwell was the key to the Kings XI success in the first game, Mitchell Johnson failed to live up to his hype. But its Mitchell Johnson after all, and he will be dying to get out there and deliver some sweet chin music to his Royal counterparts. Maxwell as we all know has that batting style that will always make him the danger man for any opposition team. He shows no respect for bowling and that makes him a very dangerous prospect against even the best of the bowling line ups.
Weak point: The failure of the bowling department nearly led to the KXIP defeat in the first game. The bowling line up under the leadership of Mitchell Johnson needs to buck up and deliver a strong performance against the Royals.
Rajasthan Royals:
X Factor: The Rajasthan Royals bowling has traditionally been a very strong unit. Most of the victories for the Royals have been constructed by the Bowlers and the first game was none different. The bowlers would once again have a job to do against the power pack batting line up of the Kings XI.
Watch out for:  James Faulkner, Sanju Samson.
Faulkner finished the game against SRH under tensed situation and showed his worth with the bat as he has done on many occasions for Australia. He will prove to be the Trump card for the Royals as the tournament progresses. Sanju Samson on the other hand failed in the first match, but that does not hinder the fact that the boy has got amazing talent with the bat. Also his record against Mitchell Johnson is extremely good, how can you forget the Champions league final where he literally blasted Johnson out of the park on more a few occasions.
Weak point: The top order failed miserably in the first game and looked clueless against the pace and swing that the SRH bowlers had to offer. Considering the fact that even the KXIP bowling consists of the same kind of bowlers, the batting performance of the top order will be interesting to see.