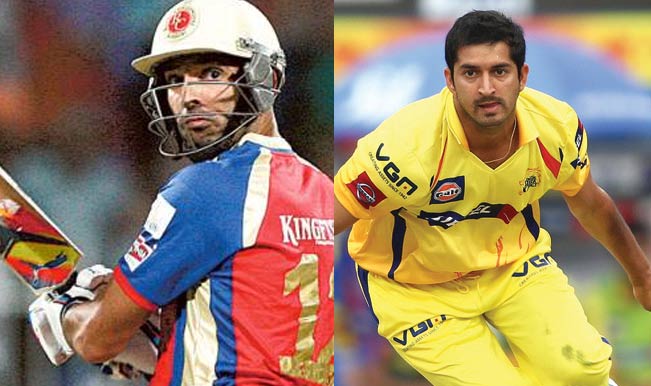 IPL is back after two days break and is all set for fresh battle between Royal Challengers Bangalore and Chennai Super Kings. Both teams have heavyweight players in their ranks and absorbing contest is on cards. We take a look at some of the duels within the main event that can make things appealing
Yuvraj Singh vs. Mohit Sharma
Yuvraj Singh is back with a bang and there is every reason that CSK should fear this stylish southpaw. Yuvraj is getting into his zone rather he is there now. One man MS Dhoni will look to deliver punch against Yuvraj is Mohit Sharma. He has been Dhoni's workhorse in tough situations and will once again be called up to do the task. Yuvraj in last two matches has belted the fast bowlers so this will be the duel worth watching.
 AB de Villiers vs. Ravi Ashwin
AB de Villiers is considered as a complete package batsman. He has every stroke in the book be it traditional or unorthodox. He has already won RCB few games and will be all pumped up for this crucial tie. Ravi Ashwin may not have been a regular feature in wickets column but he has managed to contain batsmen in most of the matches. AB de Villiers favours leg side and will be interesting to see if Ashwin continues to bow his leg stump channel or not.
Yuzvendra Chahal vs. Suresh Raina
Yuzvendra has been the stand-out performer for RCB with the ball. He has provided team with regular breakthroughs and has been economical as well. Chahal is not afraid of taking on big names and will be once again out there to puzzle Suresh Raina who plays spin pretty well. Raina has not been in best of his touch and that gives Chahal an upper-hand but will he maintain it?