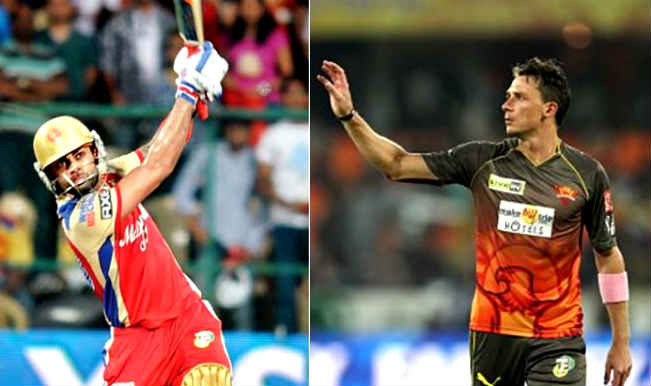 Both Royal Challengers Bangalore and Sunrisers Hyderabad are heavily packed with players who can demolish the opponents on their given day. As these two teams will be in action on Sunday evening we take a look at some duels that could decide fate of the match
Virat Kohli vs Dale Steyn
Best of both the departments on cricket field is on offer, one is the fiercest fast bowler and other is the modish batsman. RCB captain Virat Kohli and SRH spearhead Dale Steyn battle will tickle one and all. Steyn may not have been amongst wickets but he has been bowling his heart out while Kohli will be looking to dazzle once again in front of RCB's home crowd.
Chris Gayle vs Bhuvneshwar Kumar
Chinnaswamy Stadium has been a happy hunting ground for RCB's big guy Chris Gayle. He scored 175 not out at this very ground last year and will be hoping for a similar onslaught. SRH pacer Bhuvneshwar Kumar has a task to contain ''Gayle Storm'' upfront. Expect a fetching encounter between bat and ball.
Yuzvendra Chahal vs David Warner
Sunrisers Hyderabad batsman David Warner's assertive innings against Mumbai Indians announced his arrival to the form. He likes to smash spinners and Chahal the young prospect in RCB line-up can be under his radar. The rookie spinner has been economical so far and will make sure he continues to be so.  
IPL 2014 Schedule: All Match Fixtures and Complete Time Table of IPL 7