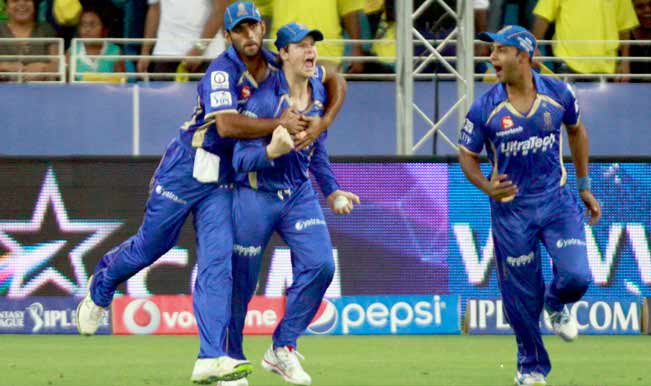 Sunrisers Hyderabad will face the challenge of the inform Rajasthan Royals at the Motera on Thursday evening, a game that is designated to be the home game for Rajasthan Royals. Sunrisers have made a habit of losing close games and the most recent of those was the crushing defeats at the hands of Ab De Villiers in Bangalore. Rajasthan Royals on the other hand have been in prime form recently. They have performed well in all the departments of the game and have secured 4 victories in a row now.
Rajasthan Royals
X factor: Rajasthan Royals is the probably the only team which features a player whose age is in excess of 40, is a regular part of the team and has on more than one occasions proved to be the reason for their success in the tournament. Pravin Tambe has been a revelation in this tournament so far and once again will be the key to RR's Success.
Watch out for: Shane Watson, Karun Nair.
Shane Watson played a very important innings in the last game and also bowled the over that changed the course of the match completely. Watson seems to be at his all round best at is more than a threat for the Sunrisers to deal with. Karun Nair looks a complete and very impressive player. He has given the Royals good starts along with Ajinkya Rahane and would look to continue that Trend.
Weak point: The new ball bowlers weren't able to get wickets up front which nearly cost the match to the royals. They will have to deliver against the top heavy batting line up of the Sunrisers.
Sunrisers Hyderabad
X factor: the opening bowling pair is one of the best in even world cricket right now. You mix the pace and aggression of Dale Steyn with the swing and canniness of Bhuvaneshwar Kumar and you come across arguably the most impressive bowling partnership one has seen in recent times.
Watch out for: Karan Sharma and David Warner
Karan Sharma was the leading wicket taker and the pick of the bowlers from the defeat against the Royal Challengers Bangalore. The fact that he didn't give much away even while bowling to De Villiers at his destructive best was something to reckon with. David Warner has seemed to be getting his touch back as of late. He has scored important figures for the Sunrisers as of late and will look to deliver once again on the promise.
Weak point: The batting lineup is very top heavy and even good starts are being wasted because of that. The batsman in the middle order will have to step up, specially the likes of Darren Sammy and VenuGopal Rao. It could very well make a difference of 15-20 runs to the final score card.