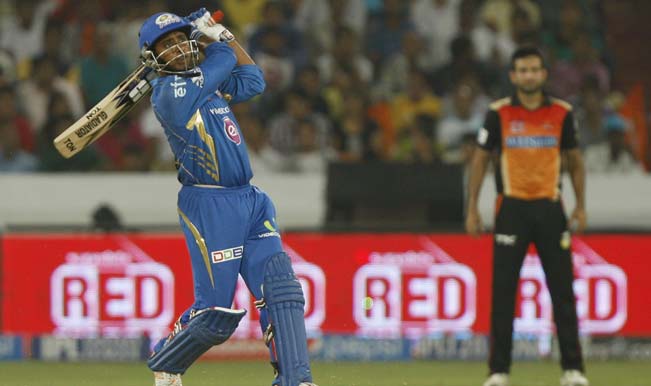 Century stand between Lendl Simmons and Ambati Rayudu handed Mumbai Indians their third win of the season as they beat Sunrisers Hyderabad by seven wickets.
MI's chase of 158 began on a sorry note when Bhuvneshwar Kumar struck in his first over dismissing CM Gautam (1). This was Gautam's second consecutive failure at the top and Bhuvi's another scalp in his first over.
Lendl Simmons and Ambati Rayudu then set on a 130 run partnership for the 2nd wicket. Simmons struggled first up and looked like will make mess of this opportunity. Shikhar Dhawan brought Irfan Pathan into the attack in 5th over and that was whereSimmons got going. He hammered Pathan for 16 runs clobbering two 6s and a four. Before Pathan's over Simmons had scored seven runs off 14 balls and after it 23 off 20 balls.
Rayudu and Simmons then took on leg spinners Amit Mishra and Karn Sharma to approach near the target. After being punished in first over Pathan came back for his second spell and that did not change anything for the left-armer. He was taken for 13 runs with Rayudu hitting him for a four and a six.
Both batsmen complimented each other well and completed their half-centuries at around same time. Simmons' maiden IPL fifty came off 39 balls while Rayudu who notched up his 10th IPL fifty took 34 balls to do so. Simmons and Rayudu kept going at a nice pace with SRH losing on few chances to separate the pair.
Bhuvneshwar Kumar then came back in 16th over to end mammoth stand between the two. Simmons who scored 68 was cleaned up on Bhuvi's length ball, during his stay he had hit five 4s and four 6s.
In next over Moises Henriques took a superb return catch on second attempt off his own bowling to dismiss Rayudu (68).His innings lasted for 46 balls wherein he hit seven 4s and two 6s. Damage was already done when SRH snipped Rayudu's innings as MI needed only 17 runs from 19 balls.
Rohit Sharma (14*) and Kieron Pollard (6*) then performed the final rituals and sealed the game for MI with seven wickets in hand. Rohit smashed three fine boundariesduring his brief stay.
Amit Mishra (0-33) was once again wicket less and expensive in three overs he bowled. Irfan Pathan (0-29) was pounded in his two overs while Bhuvneshwar Kumar (2-21) fittingly retained the purple cap. Moises Henriques (1-23) was the other bowler to pick wicket and Dale Steyn (0-29) was economical.
Earlier 63 run partnership for the 3rdwicket between Aaron Finch and David Warner gave Sunrisers Hyderabad much needed momentum to post a decent score. The duo took charge in second half of SRH inningsand their stand lasted till 19th over. Both Finch and Warner got to their half-centuries. Lasith Malinga was the only MI bowler to pick wickets.
With this win Mumbai Indians moved one place up to 6th on the points table.
Man of the Match: Ambati Rayudu
Brief Scores: MI 160-3(Rayudu 68, Bhuvneshwar 2-21) beat SRH 157-3(Finch68, Malinga 2-35) by seven wickets.