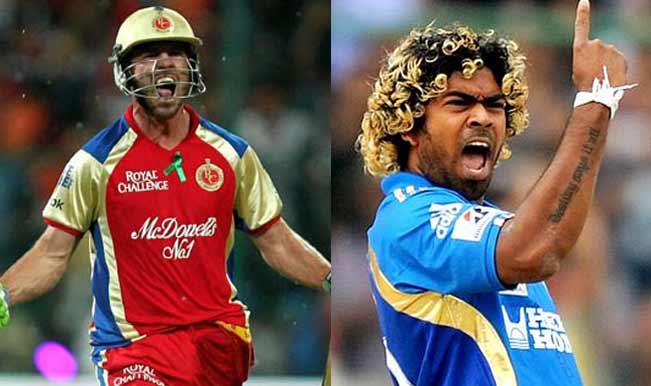 IPL has entered an interesting phase and teams who keep the wining momentum intact stand better chance of advancing to next round. Mumbai Indians and Royal Challengers are on the track after winning their respective home games. There are mighty players where ever you look in both the camps and here we take a look at the possible clashes that could erupt during the game.
AB de Villiers vs. Lasith Malinga
It was AB de Villiers show one night back that took Sunrisers Hyderabad by storm and now Mumbai Indians will be wary of his credentials. MI has Lasith Malinga as their main weapon to neutralisede Villiers' attack while RCBcamp will be hopeful of another AB spectacle.
Virat Kohli vs. Harbhajan Singh
A rare duck in last match for Virat Kohli will only push him to comeback hard against Mumbai Indians and Harbhajan Singh with all his experience will be looking to stop Kohli. RCB captain will be aware of how dangerous Harbhajan can become at times.
Mitchell Starc vs, Kieron Pollard
Royal Challengers Bangalore will be happy that Mitchell Starc has been bowling well so far as he leads their attack. He now has a challenge to face in shape of Kieron Pollard who has played two back to back commanding innings and looks confident.Both these players have task cut out todominate each other.