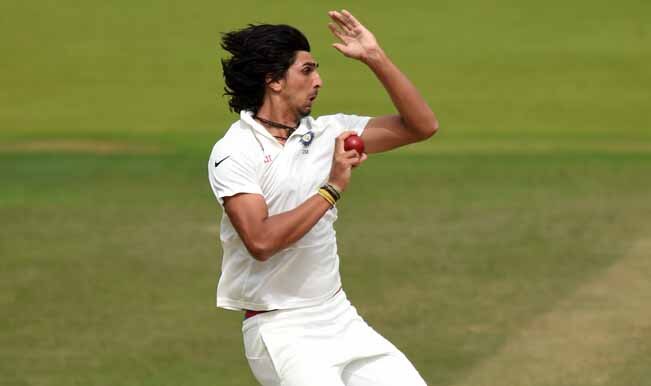 Ishant Sharma, the former butt of all jokes, has just stumped everyone with his stellar performance in the India vs England Test Match at Lord's where he took his career best 7 wickets for 74 runs in the second innings if the match literally handing the match to India.
England lost out to India by 95 runs after Ishant Sharma tore through the English defence but he has not been the go-to bowler for most of his career. Ishant Sharma's rise seemed imminent after a fantastic performance in IPL 7 where he was most likely guided and groomed by Dale Steyn. Whatever maybe the reason, Ishant Sharma has finally come out of the rut in his career and hopefully this will only be a foot note in his future career.
Ishant Sharma seemed to be the wrong choice when Joe Root slammed him around at a time when every other bowler was putting a lot of pressure on England but MS Dhoni stuck to his decision and his confidence in Ishant Sharma paid dividends with Ishant Sharma bowling the most illustrious way of his Test career till date.
Indian media has hailed the happy turn of fortune of the tall fast bowler as he stunned the England batting with his bouncers which has been very aptly, though repetitively, in their headlines be it the newspapers or the TV news channels. The Indian media has focused on the dramatic victory, the long awaited overseas Test Match win and most importantly, the victory in a Test Match at Lord's after 28 years.
The British media has obviously not taken too kindly to the England side with potshots taken at Alastair Cook for his unsatisfactory captainship and the fact that the English side could very well have spun the game around especially after the wrong decision to keep Moeen Ali at the crease to bring the win but the England lost all their wickets with 95 runs still needed to win.
While the British media is slamming the England batting order for not being effective and Alastair Cook for not being able to utilize the full potential of the team which led to the loss while the Indian media is showering words of praise for Ishant Sharma, breathing a sigh of relief, critics have their foot in their mouth about MS Dhoni's tactics.
Haters are still taking potshots at Ishant Sharma saying that those who saw the match live are lucky as they are mostly never going to see such a brilliant performance from Ishant Sharma ever again. This kind of attitude feels very misplaced that despite such a life altering performance, Ishant Sharma is still being poked at but we can't give in to a one time charm either now, can we? We can just hope that Ishant Sharma's new found form continues and that he can finally justify his place as the lead pace bowler for the Indian side.