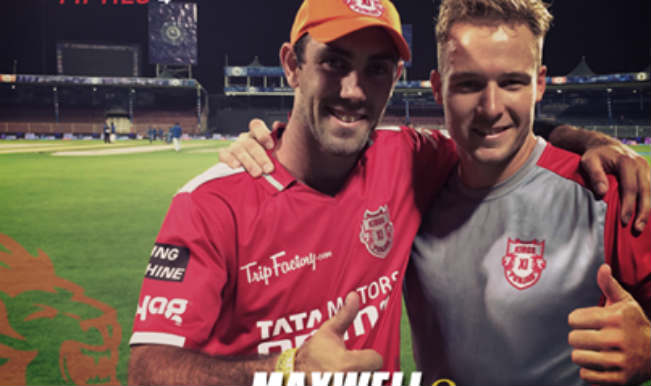 The Kings XI Punjab will face the extremely strong bowling of the Sunrisers Hyderabad in their upcoming clash in Sharjah. The match promises many individual battles as the competition between Bat and ball will be at its best. Punjab, who seem to be like the best batting line up this IPL will face arguably the Best bowling line up on paper in the tournament. Maxwell and co. have managed to put away whatever the opposition bowlers have had to offer so far, can they do it once again against a bowling attack that features Dale Steyn, Bhuvaneshwar Kumar and Amit Mishra.
Here we take a look at some of the prominent battles that we will get to see in this game. Battles that will entertain us to great extent.
Glenn Maxwell vs Amit Mishra
Glen Maxwell has been able to put away every bowler that he has faced so far in this tournament. But Amit Mishra is a whole new deal. Maxwell, as we all know is at his best when he is attacking, and Amit Mishra likes it when a batsmen attacks him. The Leg spinner can turn the ball a mile even on the flattest of the tracks and also boasts of good number of variations. This battle is a certain blockbuster for sure. It is not going to get any better than this for cricket fans.
Dale Steyn vs Virender Sehwag
Virender Sehwag has not been able to impress in this IPL 2014 so far, but the fact that he boasts of the second highest strike rate, second only to Chris Gayle and that too not by much cannot be underestimated. It only takes one innings for a batsmen of the caliber of Sehwag to leave an impression and you never know if this might just be the innings we have been looking for. Dale Steyn on the other hand is, well Dale Steyn. He loves when a batsmen is struggling and literally plays with their confidence. It would be a terrific face off knowing that Sehwag has always been able to get the better of Dale Steyn.
Mitchell Johnson vs David Warner
Johnson showed signs of the much acclaimed fast bowling fury during the end of the innings against the Royals in their last match. He struggled during that point of the game, but that blow to the head of James Faulkner might just well be warning to batsmen in upcoming games. Warner on the Other hand failed to impress in the only opportunity he got with the bat. He spent a good amount of time on the wicket and just like Sehwag, he just needs that one inning to get going. Also Warner might just know a trick or two against  Australian team mate.