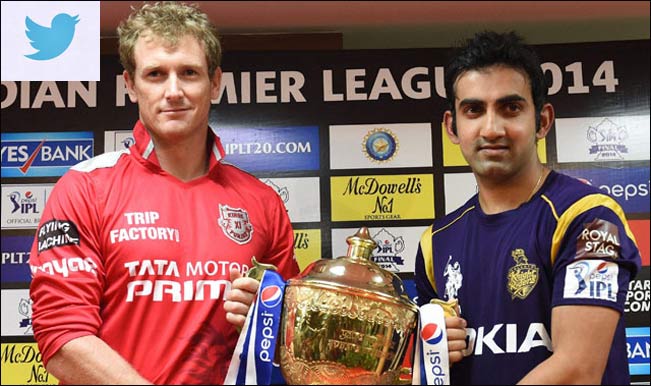 Kings XI Punjab taking on Kolkata Knight Riders in the IPL 2014 finals is expected to be one starry affair. And there are way too many reasons for it, be it their Bollywood celeb franchise owners in form of Shahrukh Khan for KKR and Preity Zinta for KXIP or the maddening fan following of both the owners and teams. The IPL 2014 final could not have asked for better teams taking on each other. Both the sides have some heavy-duty names that have the caliber to take the match single-handedly.
Skippers of both the side be it the always smiling Geroge Bailey for Kings XI Punjab or the aggressive Gautam Gambhir for Kolkata Knight Riders realize the pressure of huge expectations from their fans. It is all more for KXIP that have made into the finals for the first time in seven editions. Another major highlight of the match apart from the celebrity fights are the two players – Kolkata's Yusuf Pathan and Punjab's L Balaji, who are on the brink of winning their third IPL title.
The 2012 champions Kolkata have always enjoyed fan support right from the inaugural season while Kings XI Punjab have also painted the nation red with their phenomenal rise in this IPL season 7. Well it would take few more hours to find out who gets to lift the prestigious IPL 7 trophy but the supporters are all out on Twitter for their sides. Read some of the best tweets supporting their team.
#NinjasticIPL Wow Set Max !! Veer Zaara – The Epic Movie.. right before Veer vs Zaara – The Epic Final !! Gdluck @iamsrk #MegaIPlFinal

— Amit Jha (@amit_jha2008) June 1, 2014
We have seen those few matches where players turned Ninja this IPL. Yousuf Bhai ye apke liye nahi tha. #NinjasticIPL

— Kamran (@MrWittyIndian) June 1, 2014
Dil Se he died. Veer-Zaara jailed for 20 years Kal ho naa Ho he again Died. Time for good revenge. #NinjasticIPL #VeervsZaara #KKRvsKXIP

— vivek mishra (@ivivekm) June 1, 2014
I had a strong feeling that today @Gmaxi_32 will play loud from his bat #NinjasticIPL

— Vaibhav Rai (@ivaibhavrai) June 1, 2014
Yusuf Pathan was part of the winning #IPL final playing XI in 2008 (RR) & 2012 (KKR) Can he be the first with 3 finals win today #KKRvsKXIP

— Mohandas Menon (@mohanstatsman) June 1, 2014
I never expected #IPL finals in last 6 editions will be finals SRK vs Preity zintha excited today #KXIPvsKKR

— Raghavendra (@raghava4mahesh) June 1, 2014
While ppl r talking abt Veer-Zaara , Preity Zinta will take revenge of Kabhi Alvida Na Kehna. #iplfinal #kkrvskxip #kxipvskkr #ipl7 #ipl

— Madhuchhanda (@madhu27) June 1, 2014