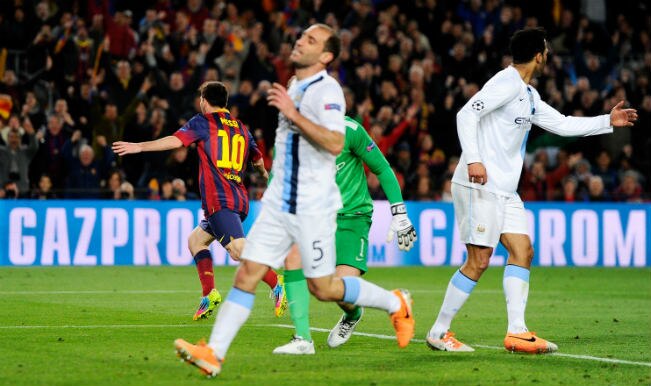 Manchester City's season dealt a huge blow as the EPL giants were knocked out by the Lionel Messi led Barcelona. The Spanish giants beat a determined Manchester City through goals from Lionel Messi and Daniel Alves in the second-leg of the Round of 16 in the Champions League. (Check out the action in pics)
Manchester City needed to win through more than three goals after their defeat in the first-leg at the Etihad Stadium three weeks ago. The Barcelona vs Manchester City game was pretty much a cagey affair at the first half with no one able to guess who was going to open the scoring. But Manchester City were let off the hook as a goal scored by Neymar was cancelled as Jordi Alba was adjudged to have been offside.
The second half began with Sergio Aguero being replaced by Edin Dzeko who impressed instantly, having a right-foot strike saved by Victor Valdes early on into the second half. Manuel Pellegrini watched his side threaten Barcelona for a while until Lionel Messi finally eased off any concerns with a cool finish to make it 1-0. (Read: Barcelona stars are Simpson-ized)
Manchester City were left dejected after going a goal down and their night got worse as the referee denied them a blatant penalty on Edin Dzeko and immediately sent off Pablo Zabaleta for his constant heated protests. Vincent Kompany then pulled one back for the visitors to make it 1-1 before Brazilian right-back Daniel Alves finished it off to again give Barcelona the lead. Barcelona go through to the quarter final of the Champions League 4-1 on aggregate.
(Have a look at the UEFA Champions League Fixtures and Results up until now)