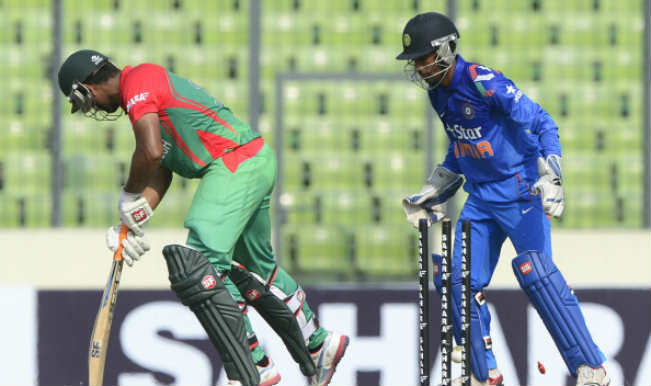 India and Bangladesh clashing in the second One Day International of the 3 ODI series of India tour of Bangladesh, 2014 has not been very motivational for the host nation. In the opening match at Sher-e-Bangla Stadium in Mirpur, India won the rain interrupted match comfortably riding high on the opening partnership between Robin Uthappa and Ajinkya Rahane. Both the batsmen added 99 runs in the first wicket partnership in mere 16 overs against the hapless Bangladesh bowlers. India won the first One Day by 7 wickets with 7 balls remaining as per the debated Duckworth-Lewis method.
Coming into the second match, the morally down Bangladesh will look to save the series while India, who is high on confidence will look to clinch the 3 ODI series in Mirpur. India have given opportunity to young players like Akshar Patel, comeback man Robin Uthappa in this series.
Suresh Raina-led side saw shining performances from Ajinkya Rahane who made a brilliant half-century while Robin Uthappa continued his sublime form carried from the IPL days. The fitness of Mohit Sharma may be the only concern for India and he may be replaced by Vinay Kumar in the playing-11. Suresh Raina would like to ensure a series win and go into the third match looking for a white-wash. Catch all the action and live score of India vs Bangladesh Second ODI here.
OVER 17.4: Bangladesh 58 all-out
Stuart Binny starts the 18th over to look at bundling up the innings. And that's it, Al-Amin Hossain gets bowled to end the Bangladesh innings and give India the win.
OVER 15: Bangladesh 54/7
Mohit Sharma comes into the attack. Shakib Al Hasan and Ziaur get dismissed in the same over to give India an advantage in what looked like a walkover for Bangladesh.
OVER 10: Bangladesh 39/2
Stuart Binny comes into the attack for the 10th over. A tight line being bowled on by Bunny as he gets 4 dot balls with Mithun Ali not being able to get a single shot away. A brilliant over from Stuart Binny especially under the circumstances where India has to defend a really low total like 105 runs as he bowls a maiden over.
OVER 5: Bangladesh 19/2
Mohit Sharma comes back to bowl the 5th over. A maiden over by Mohit Sharma as the pressure of the early wicket and tight lie of bowling stops Bangladesh to get any runs.
OVER 1: Bangladesh 5/1
Mohit Sharma starts the bowling attack for India. Bangladesh has Anamul and Tamim walk out to start the batting attack. Tamim smacks the ball away for 4 and the if they score in this way then India will lose fast. Mohit Sharma strikes with the second ball and gets Tamim caught out by Wriddhiman Saha.
—END OF 1st INNINGS—
OVER 25.3: India 105 all-out
Umesh Yadav continues his defiant batting and swings wildly but his streak is ended as he gets caught out by Nasir Hossain and India are all out for 105 runs.
OVER 25: India 98/9
AL-Amin Hosain comes into the attack with India left with just one more wicket before the side is all-out. Umesh Yadav is putting up a fight and swings widly for two deliveries with no runs and gets one right off the bat for a smashing 4. Umesh Yadav is putting up a last wicket fight and an death batting defiance as he slams a 6 to deep mid wicket.
OVER 20: India 80/7 
Al-Amin Hossain comes into the attack for the 20th over to try and finish things for Bangladesh as they inch their way to humiliate India. A very good over for Bangladesh with just 3 runs scored off it and a good over for India as well with no wickets falling.
OVER 15: India 59/4
Mashrafe Mortaza comes into the attack. Mortaza has bowled a tight line this over conceding just 4 runs in 5 balls. One delivery ;eft to go and it ends with a dot ball.
OVER 10: India 29/3 
Taskin Ahmed comes into the attack for the 10 over. What a start to the over for Banglades as the first delivery gets Ambati Rayudu LBW. Rayudu is shaking his head in disappointment because it was plumb onto the stumps. Suresh Raina comes out to replace Ambati Rayudu and stabilise the Indian innings which seems to have hit stranger tides with the fall of 3 wickets under 30 runs scored for India.
OVER 5: India 14/1
The second over bowled by Al-Amin Hossain right after the successful over from Mashrafe Mortaza is good ploy by Bangladesh captain. Hossain starts his first bowling spell against the new batsman Cheteshwar Pujara with a bit of movement and lots of bounce. Pujara not very comfortable against Hossain as the second over goes without any score added to the total. The third over brings in Mashrafe Mortaza again who is swift and acccurate with his bowling. In his second over he gives mere single run taking the total at end of third over to 9/1. The fourth over saw Uthappa take FOUR off Hossain taking total runs to 14/1 after 4 overs.  Mortaza returns with fifth over maintaining superb line and length and keeps pressure on India batsman. End of fifth Over has India at 14/1.
OVER 1: India 8/1
Ajinkya Rahane OUT for a golden duck. As Robin Uthappa survived a close call on the first ball by Mashrafe Mortaza, Ajinkya Rahane loses his wicket on the peach of a inswinging delivery first-up . The call by Umpire Dharmasena was quick. India on with a wobbling start.
Bangladesh win the toss and elect to field first.