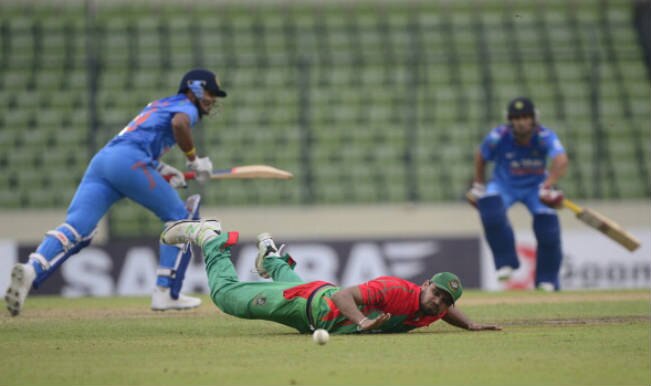 India takes on Bangladesh in the third ODI at Dhaka with the series already under their grasp after a memorable victory in the previous ODI. Bangladesh have their pride ate stake and the daunting prospect of going down 0-3 to a second string Indian side will be a matter of great concern for the home side. Indian will look to go second in the ICC ranking with a win in Dhaka today and hence the encounter is not a dead rubber as it is made out to be.
The Bangladeshis began the tournament hoping to give their countrymen something to cheer about after a series of losses at home. But things did not pan out well for Bangla tigers as some hopeless batting coupled with a mediocre bowling (barring the last match) attack left a lot to be desired.
The Indians on the other hand led by a resurgent Suresh Raina are firing on all cylinders. A memorable victory in the last ODI which saw one of the finest individual performances in Stuart Binny gave the fans a lot to cheer about. Mohit Sharma has been an important figure for the Indians and their batting has been boosted by their batting mainstay Ajinkya Rahane. The fans will be hoping for another good show from their team and a whitewash does loom large for the Bangladesh.
RAIN AGAIN! It has started to rain again at Mirpur.  The covers are rushed in by the groundsman. The showers are heavy and it seems like the viewers are in for another over-cut. Read on this space for more.
 OVERS 30 – 35: India 119/9
Stuart Binny keeping India's hopes alive by ticking the scoreboard slowly. Binny is on 24 and is well proving his all-round skills. The other end is hold tight by Mohit Sharma. India lose their 9th wicket. Mohit Sharma OUT lbw b Sohag Gazi on  1 run. Umesh Yadav walks in the middle.
 OVERS 25 – 30: India 104/8
After the long struggle at crease Cheteshwar Pujara heads towards pavilion dejected with his dismissal scoring 27 runs. Twice lucky in the innings, Shakib Al Hasan, gets Pujara OUT LBW. Akshar Patel is the new man in. The match seems to be heading in the same way as it did in the second ODI. Another wicket fells as Akshar Patel is OUT caught behind the stumps. Akshar Patel c Mushfiqur Rahim b Taskin Ahmed for 1 run. The Indians have carried the appalling batting form in the third ODI too.

 OVERS 20 – 25: India 89/6

After the departure of Suresh Raina, there is lot of pressure on Cheteshwar Pujara who has played 58 deliveries so far. He is batting with Wriddhimann Saha who has certainly accelerated the run scoring quickly reaching to 14 runs off 18 deliveries. He punched Nasssir Hossain for back-to-back boundaries. Much needed boundaries we must say! But Shakib Al Hasan comes back to take his second wicket as WP Saha is BOWLED. Wriddhimann Saha b Shakib Al Hasan for 16 runs.
OVERS 15 – 20: India 66/5
India reaches its half century in the 16th over after taking 2 runs of Mortaza's over. As for the trouble seems to be not ending for India with both Taskin Ahmed and Mortaza bowling from both the ends. Looks like no respite for them yet as Taskin gives another four run over finishing the 17th Over. Two runs added to the miniscule total as 18th over wraps up. There is introduction of spin after the pacers doing a commendable work for Bangladesh. And looks like spinner Shakib Al Hasan does the trick as he gets Suresh Raina OUT. Suresh Raina c Mushfiqur Rahim b Shakib Al Hasan for 25 runs. Half way through the Indian innings as India manages 66 runs with half the players back in the dressing room.

OVERS 12.3 – 15: India 49/4
Taskin Ahmed finished his remaining deliveries to give just one run post break. With match to be played only for 40 overs this is yet another match that is not sparred by rains. Mortaza continues with good bowling line and length as Raina and Pujara depends on getting ones and twos at the moment. Taskin and Mortaza are bowling in tandem and not providing any loose deliveries to the India batsmen.
Latest updates from the third One Day International at Mirpur: Match has been reduced to 40 Overs a side with 20 minute break. The match will resume at 5 pm.
OVERS 10-12.3 India 37/4, Rain stops play again

Taskin Ahmed takes the eleventh over against Suresh Raina and Pujara. He merely gives two runs in the over. But Captain Suresh Raina smashes three consecutive boundaries off Al-Amin Hossain in the 12th over. And there is heavy rains again and the match has been stopped.
OVERS 8.3-10: India 17/4

Just after the match resumed after a brief break, courtesy rains, India lost another wicket. Manoj Tiwary OUT as Indians continue to wobble after the start. Al-Amin Hossain strikes another blow as Manoj Tiwary c Anamul Haque b Al-Amin Hossain for 2 runs. It brings the Captain Suresh Raina to the crease.
The covers are coming off and the match is about to resume. There are no news of the number of overs being cut short, so we have a full 50-over a side match at hand.
OVERS 5-8.3: India 13/3; Rain stopped play
The beginning of the new over by Al-Amin Hossain gives another setback to India. Ajinkya Rahane OUT India loses its second opener as Ajinkya Rahane tries to hit Hossain. Ajinkya Rahane c Nasir Hossain b Al-Amin Hossain for 3 runs. The fall of back to back wickets brings two new batsmen on crease Ambati Rayudu and Cheteshwar Pujara. The beginning of ninth over by last ODI hero for Bangladesh Taskin Ahmed gives another jolt to India batting line up as Ambati Rayudu OUT. Ambati Rayudu c Mushfiqur Rahim b Taskin Ahmed for 1 run. Rain has again marred the 3rd ODI as covers have been called with Taskin Ahmed bowling to the new batsman Manoj Tiwari at over 8.3.

OVERS 0-5: India 8/1
Mashrafe Mortaza started the proceedings for Bangladesh as the Indian openers Robin Uthappa and Ajinkya Rahane walked in the middle at Mirpur. The last ODI saw Rahane removed easily by Mortaza for a golden duck, will we see a similar thing again? The two batsmen played the strike bowler well to take 4 runs in the opening over. India has began quite slowly throughout the series managing few runs in the initial overs. The fifth over saw Mashrafe Mortaza strike with big scalp in form of Robin Uthappa OUT Robin Uthappa c Nasir Hossain b Mashrafe Mortaza for 5 runs.
India won the toss, elected to bat