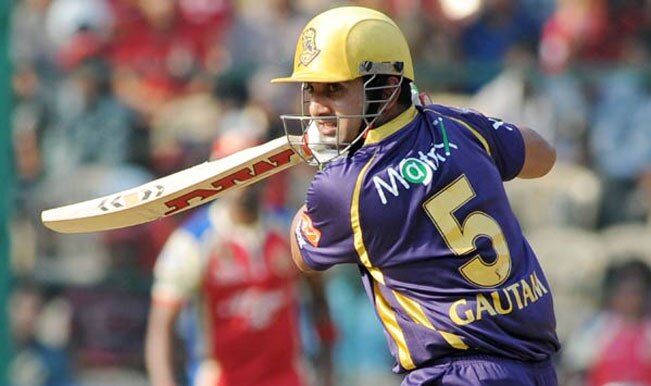 (Delhi Daredevils take on Kolkata Knight Riders in the 28th match of IPL 2014 at Ferozeshah Kotla Stadium in Delhi on Wednesday. Catch Live Scores and Live Updates of the match here)
KKR have lost 4 games in succession and DD haven't had much success lately in IPL 2014 but all that can change for one team. Kolkata Knight Riders need to find the right stride in their batting which has been below average and their bowling has tried to save face but failed due to the dismal batting performances.
Gautam Gambhir has been scoring runs but still needs to lead KKR better and get them victories. Their previous game against Rajasthan Royals should have been their lucky break but Gautam Gambhir's 54 runs went in vain as 6 quick wickets within a span of 2 runs crumbled the KKR attack.
Sunil Narine is depended upon too heavily by the Kolkata side and he needs to be given breathing pace by the rest of the team performing well. Delhi Daredevils is relying heavily on home game victories to get out of their slump and climb the points table quickly.
Kolkata Knight Riders win by 8 wickets with 10 balls remaining
OVER 18.2: KKR 161/2
Needing only 5 runs off the 12 deliveries, Jacques Kallis hits a crackling FOUR. He runs a single off the next one and Kolkata Knight Riders win the match by 8 wickets with 10 balls remaining. The knock of 69 runs by Gautam Gambhir is the highest by any captain this IPL season 2014.
OVER 18: KKR 156/2
Wayne Parnell, DD's most successful bowler of the day takes the eighteenth over. Gautam Gambhir tries to hit one in the block-hole off to a biggie but fails. And the next one he hits and what a catch by Dinesh Karthik and Gautam Gambhir is OUT. It looked like the ball got stuck in his gloves. Gautam Gambhir walks way back to pavilion looking dejected. But the big question remains, is it the start of the end for KKR? Hope not as Experience Jacques Kallis cuts one for a FOUR. Nice Shot. He did not get the placement as desire but runs come easy and that what matters.
OVER 17: KKR 151/1
J P Duminy takes the ball for seventeenth over. Gautam Gambhir chases a wide ball to hit for a boundary, has to be satisfied with a single. Hard to believe Delhi is coached by Gary Kirsten. In the meanwhile, Manish Pandey whacks one FOUR in the cover areas. Pietersen has not only been out of sorts as batsman but also looked clueless as the captain of the side. gautam Gambhir is finding it all easy as hit one above Duminy's head for the maximum SIX. Great shot by the KKR captain. With this score of 150 runs made. Gambhir takes a single.
OVER 16: KKR 138/1
Siddarth bowling his third over gives two runs to Manish Pandey in the first delivery. It follows with a bad fielding by Murali Vijay who lets the ball slip allowing the batsman to cross for another two runs. There were several half chances for Delhi today that if converted would have helped them make a match of it. Delhi Daredevils were not a great fielding side, spilling near chances, bad judgements and slip-ups. And Murali Vijay is guilty again to give a FOUR, slipping at boundary! Seriously.
OVER 15: KKR 128/1
Needing 36 runs off 36 deliveries, can we expect one bizarre incidents from KKR. Looks Like Gautam Gambhir is looking to finish the match as early as possible as he tries to hit one over mid wicket, cannot connect goes to fielder. It follows with a chance of run out had it been hit directly. Gambhir is back on strike. Shami has been so far the most economical bowler for DD but he need to get wickets for the side. Drive by Gautam Gambhir stopped by Duminy at the point. Just 2 runs off 5 balls, good over. Gambhir finishes wit a two.
OVER 14: KKR 124/1
No change in KKR's fates design as the first delivery after the time out is hit for a FOUR by Manish Pandey. Looks like there is not going to be a repeat telecast of Kolkata's fall of wickets. It was hilarious as it looked like one was watching the highlights of the match with KKR's wicket falling one after the another. Well as for today, Gambhir is making sure such a mess is not repeated again in today's match. Gautam Gambhir seems to be in some kind of trouble with his eye. The game is stopped for some time. The runs and deliveries are equal at 37, very comfortable situation for KKR.
OVER 13: KKR 116/1
Gautam Gambhir plays the inside out shot to Nadeem and takes two runs. He nudges the next one and completes his half century. Well played by the captain for his side. Manish Pandey times the shot beautifully and is equally well stopped by Jadhav to save his side one run. Gautam Gambhir with this half century is the highest made by an individual (22). STRATEGIC TIME OUT called.
OVER 12: KKR 107/1
Both the batsmen are inching toward their half centuries with Uthappa at 46 and Gambhir at 44 are playing the needed innings. The two will like to finish off the things themselves and not depend on the coming batsman. The difference between runs and deliveries are reduced to just six now with KKR needing 58 off 52 deliveries. Kevin Pietersen is one concerned captain who looks clueless at the moment. Parnell has managed to stop the run flow but not able to get wickets, which is important to win the match. And he does it, gets Robin Uthappa OUT on the fifth delivery. Manish Pandey comes in takes single to get off the mark.
OVER 11: KKR 102/0
Kolkata Knight Riders needing 71 runs more look a happy side. Gautam Gambhir is one lucky man on field as he hits a shot gets top edge but falls just short of spinner Nadeem. He runs a single and give Uthappa the strike who hits Nadeem for consecutive fours.
OVER 10: KKR 90/0
Not a great delivery to start the over for Siddarth Kaul as he is swung by Gautam Gambhir for a FOUR. So many bowlers have been tried by Delhi but not one has been able to prove effective against the KKR openers. Kaul's yet another delivery is hit between cover and mid-off for a FOUR. Gambhir again runs for a single to end the over. Ten overs gone and KKR stand at 90 runs with no wicket down.
OVER 9: KKR 77/0
Mohammad Shami has been given the ball back by skipper Pietersen to get quick wickets. But the morale of the team looks down for DD side. Shami has give 14 runs off his two overs is bowling a decent line and length but has not been able to produce the wicket taking delivery so far. With the runs to chase falling less than 90, the pressure is definitely building on the Delhi side. Great fielding by Pietersen saves a definite boundary. Such efforts will lift the side's spirits. Such acts have to come more often. Single to end the over by Gambhir.
OVER 8: KKR 72/0
Gautam Gambhir fearlessly walks down the crease, picks up Nadeem's delivery and crashes it over the mid-wicket for one bounce FOUR. Bravo! Nadeem changes the bowling side and Gambhir nudges, called Leg Bye by umpire. Uthappa and Gambhir are not letting build the pressure and rotating the strikes after getting one or two biggies.
OVER 7: KKR 63/0
If Delhi Daredevils are under the impression of KKR falling like domino in today's match, that scenario looks a little difficult as the two batsman. Kevin Pietersen will quickly have to introduce some changes in the bowling attack to get the breakthrough. As for now Duminy comes in for his first over and has given 4 runs off  4 deliveries. What an all-rounder he is turning into for his side. But alas ends up on the losing side. Robin Uthappa does not like the dry over as he send one flying off to a SIX.
OVER 6: KKR 52/0
The first two deliveries gives a two runs courtesy a bad fielding and one delivery running behind for a FOUR. Gautam Gambhir is playing easily as he strikes the next ball by Kaul for two runs that was racing away for boundary. Gambhir playing on 18 and Uthhappa on 22 look in no hurry as they are maintaining the required run rate. STRATEGIC TIME OUT called.
OVER 5: KKR 42/0
Robin Uthappa should be feel lucky as the top edge from Shukla falls in no fielder area. Uthappa has quickly raced to the score of 18 runs and what a mix-up between DD pacer L Shukla and Robin Uthappa for a chance of run out. Lot of drama in over as the Shukla appeals for leg before wicket. Gautam Gambhir plays the slower delivery for cut short, stopped equally well by DD fielder for a two. But that does not stop Gambhir from striking the last delivery for a SIX.
OVER 4: KKR 30/0
The equations are in favour of Kolkata Knight Riders needing 134 runs off 102 balls. This looks possible provided KKR batsmen do not fall as pack of cards like their last match. Gautam Gambhir and Robin Uthappa in their last match made the best partnership but went on to lose their way. The combination of left and right hand batting seems to work for KKR.
OVER 3: KKR 27/3
Some smiles getting off DD players face as Robin Uthappa hits an unorthodox shot behind the keeper's head for a FOUR. Mohammad Shami is bowling beautifully but not getting the results of the hard work. He goes for an expensive 12 runs over in his second after the tidy first over.
OVER 2: KKR 15/0
Wayne Parnell takes the chrage to bowl the second over. Gautam Gambhir gets into good position and hits a FOUR off Parnell second delivery in the gully. Running for single, Gambhir keeps the scoreboard ticking. What a shot by Robin Uthappa for the second FOUR off the over straight back to the bowler's side. Robin flicks on the leg side for yet another FOUR. Umpire gives it leg byes.
OVER 1: KKR 2/0
Delhi Daredevils side look in good spirits after the good finish of their innings by Duminy and Jadhav. Mohammad Shami charges in with a beautiful delivery to KKR opener Robin Uthappa. Slight movement in the delivery. In IPL 2014, teams batting second have won 15 of 27 matches, one was tied. Gautam Gambhir flicks one to Murali Vijay and the direct hit could have got the KKR captain out. 4 runs off the five deliveries, KKR start their chase on a cautious note. Another play and miss for Uthappa.
End of first innings: Delhi Daredevils set the target of 161 for Kolkata Knight Riders
OVER 20: DD 160/5
Sunil Narine bowling his and innings last over has been tidy with the first three deliveries. He is not giving any room for the batsman to play their shots. J P Dunimy likes playing over the mid-wicket but has so far not being able to get it. Great bowling under pressure by Sunil Narine who gave just 6 runs in five balls but could only watch as the  last delivery goes for a SIX.
OVER 19: DD 148/5
Sunil Narine bowled the most expensive over of the DD innings giving 17 runs off it. The last two overs have set the momentum for Delhi Daredevils who would look for a target of 160 plus. J P Duminy's late strike off Jacques Kallis goes for a SIX. It lands way in stand. he is striking hard now, as the on drive fetches a single. Kedar Jadhav finds himself amongst runs as he tries to hit a pull shot, misses miserably but runs down for a FOUR. Nicce comeback by veteran Kallis with no run in the last ball.
OVER 18: DD 136/5
The main problem is Sunil Narine but is caught on J P Duminy's firing range as he hits a SIX. Good shot over the mid-wicket as the South African batsman picks it up well. Duminy runs down a single giving Jadhav strike who hits a back to back FOUR behind the wicket-keeper. Nicely waited and played.
OVER 17: DD 119/5
Great last over by Sunil Narine and the wicket of Laxmi Shukla gets him the Purple Cap from Pravin Tambe. Both have 12 wickets but Narine gets on basis of better economy. Jadhav hits the first delivery by Vinay Kumar to a FOUR. Vinay Kumar bowls a dot ball but can watch helplessly as the third ball is hit for a huge SIX hitting the stand. He has really hit it a long way.In his previous match he hit Mohit Sharma for some biggies. Some tensed faces of KKR as Kedar Jadhav sweetly times for a single. He made a 29 not out in just 18 deliveries against CSK. Already 11 runs off the over, Duminy drives for a single. Jadhav is back on strike, but could not connect it properly, runs a single.
OVER 16: DD 106/5
DD will look to accelerate their innings in the last five overs but face the challenging Sunil Narine bowling his second over. In what is to be seen as tough task for DD, Sunil Narine almost gets his job done with L Shukla'a catch is spilled by Shakib-Al-Hasan. He is definitely unplayable for any side. And after much struggle Laxmi Shukla is OUT, bowled beautifully by Sunil Narine. Kedar Jadhav takes Shukla's place.
OVER 15: DD 103/4
Shakib-Al-Hasan has been very responsible for KKR be it bowling or quick batting in the slog overs. With a single, Delhi Daredevils reaches their hundred mark. They would like to get fifty odd runs more in coming five overs. The task does not look daunting provided Delhi daredevils don't keep losing their wickets in regular intervals. Umesh Yadav in his last over is doing the routine work. Umesh Yadav gives 4 runs in his last over. With this STRATEGIC TIME OUT is called.
OVER 14: DD 99/4
Delhi still has few batsman in side with L Shukla on crease and K Jadhav to come next. Jadhav has had a fine domestic season and will look forward to cash on it. As far as J P Duminy is concerned he has been the best bet for Delhi Daredevils so far. With two half centuries and several not outs, if J P Duminy remains till the end, Delhi Daredevils can look for a competitive total. They also know the psychological battle KKR side is fighting after losing from winning position in their last match against Rajasthan. The over has been very slow for DD with no boundaries and just 5 runs coming in.
OVER 13: DD 94/4
Except for Kevin Pietersen, all the three batsmen de Kock, Murali Vijay and Dinesh Karthik got off to start but could not capitalize on thse starts. They threw away their wickets in playing some reckless shots. It has been one of the many problems of Delhi Daredevils side. Now DD batsmen Laxmiratan Shukla and J P Duminy are on crease facing Umesh Yadav who is bowling a decent over till the last one goes for a FOUR.
OVER 12: DD 85/4
The last over by Jacques Kallis was the one DD would be hoping for to repeat in coming overs. Dinesh Karthik and J P Duminy have built a partnership of 21 runs. But Shakib-Al-Hasan breaks the budding partnership getting Dinesh Karthik OUT.
OVER 11: DD 82/3
Dinesh Karthik's ability to innovate with his shots has been very impressive. And he does it again as he hits Jacques Kallis for SIX. What a player Delhi has acquired. The important aspect of his batting is the timely rotation of strike and beautifull decoration with boundaries. He hits yet another FOUR and wow goes for another FOUR.
OVER 10: DD 66/3
The problem with Delhi Daredevils batting hass been the poor judgement and bad shot selection, just as displayed by Murali Vijay. Now on crease are the men in form- JP Duminy and Dinesh Karthik. If Delhi has to post a respectable total, one of them will have to last till the end of Delhi's innings.
OVER 9: DD 61/3
Delhi's one of the prized cricketers Dinesh Karthik has lived up to the expectations. He score a half century in his lasts match against good CSK bowling attack. He looks to in good touch and Delhi supporters would be hoping to continue the good form as the side are still to get over the loss of early wickets of de Kock and Pietersen. A great piece of fielding by Doeschate could not stop a FOUR. Murali Vijay is OUT as he tries to repeat and goes aerial, caught staright by Sunil Narine. STRATEGIC TIME OUT
OVER 8: DD 53/2
Vinay Kumar comes in to bowl his first over and appeals for leg before wicket confidently but turned down by umpire. Murali Vijay uses his strength to hit a massive SIX over the head of the bowler. The mighty hit would remind Vinay Kumar of the hammering he received in his last match against Rajasthan Royals. Delhi Daredevils showed of great batting display in their last match against Chennai Super Kings but their bowlers could not live up to it. Dinesh Karthik hits another FOUR.
OVER 7: DD 39/2
Umesh Yadav is continued to bowl his second over. In his very opening over he removed the dangerous looking Quinton de Kock caught by Gauatm Gambhir and now not allowing the DD batsman any easy runs. Dinesh Karthik who came in after the fall of Pietersen's wickets will have plenty of damage control to do. Delhi's regular captain Pietersen has been struggling to return to form ever since making comeback after the injurt in IPL has 26 not as the best score. Not very good for the cricketer of his stature. In the meanwhile Karthik does well to get 10 runs this over.
OVER 6: DD 29/2
The first delivery by Shakib-Al-Hasan almost got Kevin Pietersen out as the batsman walks down the crease but quickly returns back. But what a horror in the next delivery as Kevin Pietersen is RUN OUT. The batsman runs without looking at his partner Murali Vijay and makes a mess of things.
OVER 5: DD 26/1
KKR's wrecker-in-chief Sunil Narine takes the fifth over and with his first delivery itself he seems to have put Kevin Pietersen in difficulty. But the former England batsman copes the pressure well to hit an on-drive for a FOUR. But still the over looks good from KKR's point of view with only six runs coming from it.
OVER 4: DD 20/1
Gautam Gambhir quickly introduces the left arm spinner Shakib-Al-Hasan against the Delhi Daredevils captain Kevin Pietersen. The Delhi skipper will have to play the captain's knock today. Shakib-Al-Hasan was brilliant in his last match against Rajassthan Royals when he gave just 25 runs in his quota of four overs.
OVER 3: DD 18/1
Umesh Yadav, KKR's spear-head comes in for the third over and does the trick for his side. He removes Quinton de Kock OUT after delivering two dot balls. The fourth delivery again got Murali Vijay in surprise with the Delhi opener swinging hard and missing. He hits the next for a FOUR. Great way to answer back the onslaught.
OVER 2: DD 14/0
Batting all-rounder Jacques Kallis who was left out of the squad in last match makes his return in the side. He takes the ball for the second over and has taken 67 wickets so far in IPL. De Kock shows aggressive game and hits Kallis for full FOUR. Not too many runs leaked so far with Kallis conceding only 5 runs in 4 deliveries.
OVER 1: DD 8/0
The Kolkata Knight Riders team is out on the field and follows them are the Delhi Daredevils openers Murali Vijay and Quinton de Kock. Murali Vijay who played for Chennai Super Kings till last season boasts of healthy strike rate of 126.9. KKR are beginning the attack with Suryakumar Yadav and the first delivery is hit for a FOUR by de Kock. Yadav is opening the attack for the first time this IPL 2104. De Kock runs a single. Murali Vijay faces his first delivery. And in the second delivery almost manages himself to get bowled but survives. S Yadav came back well after the first boundary.
Delhi Daredevils and Kolkata Knight Riders captains Kevin Pietersen and Gautam Gambhir walk in with Ian Bishop for the toss. Kevin Pietersen wins the toss for Delhi Daredevils for the first time and he opts to bat first and set a total for Kolkata Knight Riders. Delhi have won the first toss in eight matches.
Toss Awaited at Ferozeshah Kotla Stadium.
IPL 2014 Schedule: All Match Fixtures and Complete Time Table of IPL 7