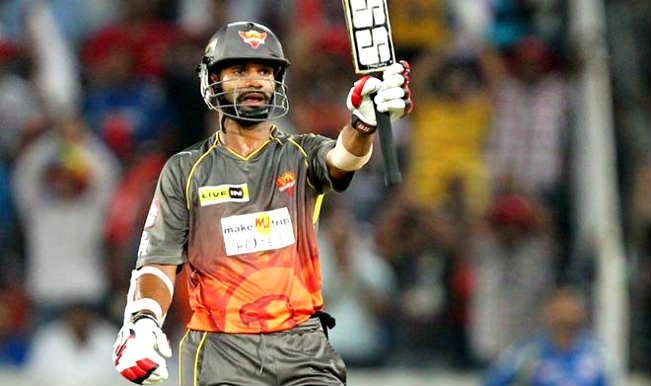 Sunrisers Hyderabad will  take on the Delhi Daredevils at the Ferozshah Kotla in the first game of the double header this Saturday. Delhi who have been through a terrible run of form have lost 3 straight games at the Ferozshah Kotla i.e. their home games. Sunrisers on the other hand are off the back of a great victory against the Rajasthan Royals where they defended a very low total against the mighty Rajasthan batting lineup with their pin-point bowling.
Delhi will hope for its batsmen to come to the party foe once in the tournament. The batting has been heavily depended on the efforts of JP Duminy, who while coming really low in the batting line up has scored more runs than anyone else. Kedar Jadhav has also been a good addition to the team and if the top order batsmen can make some decent contribution the team can very well register their third victory this season.
Sunrisers batting is without a doubt top heavy, but their bowling can make up for that. the opening bowling pair of Dale Steyn and Bhuvaneshwar kumar is by far the the best in the tournament. Shikhar Dhawan looked in good touch in the last game and the Sunrisers will have to promote David Warner up the order to really make a difference against the Daredevils.
Both the teams have good chance to win this match and move up the table on virtue of their points. Once again all eyes will be on how well does the Delhi batting fare against the mighty Sunrisers bowling attack.
Sunrisers Hyderabad win by 8 wickets
OVER 4.2: SRH 44/2
Sunrisers Hyderabad does not take much of time in getting the six runs . They do it in style as they hit a big SIX to chase the re-revised target of 43 runs in fashion in 4.2 overs.
OVER 4: SRH 37/2
R Shukla comes in to bowl against Aaron Finch and David Warner. Bowling at the speed of 142.5 kmph he is doing a good work. Warner takes a single to give Finch the strike. And Aaron Finch is OUT. New batsman Naman Ojha walks in place of Aaron Finch. The next deliveries get a FOUR and a SIX.
OVER 3: SRH 24/1
The match is back with more revised targets. Time has come to bring in some new changes in the rules for the match. The target had been revised to 43 runs. Looks like an easy cake walk for the Sunrisers Hyderabad batsmen.
Rain stopped play again.
OVER 2: SRH 17/1
The match resumes with the revised target given to chase 97 runs off 12 overs. Starts off with dot ball after the rain-break. He is bowling well and he gets the prize of the hard work as SRH captain Shikhar Dhawan is caught at the point and is OUT. He finishes off giving many extras and the last delivery sees a lot of drama with David Warner surviving a run out chance.
The second over begins with Siddarth Kaul bowling a good delivery. And the rain comes down pouring heavily . Looks like yet another break for the match.
OVER 1: SRH 10/0
In the rain-shortened match Sunrisers Hyderabad have been given a revised target of 117 runs off 15 overs. In short 115 runs off 90 deliveries. SRH opener Aaron Finch gets off the mark. The powerplay has been reduced to five overs form 1 to 5. Great bounce by Shami but not in control gives SRH their first boundary over the keepers head. Shikhar Dhawan facing his first delivery hits a neat FOUR. Not the kind of start from Shami on the day of small total. Lasst delivery was brilliant, a dot ball.
End of First Innings: Delhi Daredevils set a target of 143 for Sunrisers Hyderabad
OVER 20: DD 143/7
Now that is called dramatic fall. How does Delhi manage to shock their fans with news lows again and again. As for Sunrisers Hyderabad, what command over their game. They were in danger of chasing a lot more than what DD is heading towards. But brilliant over by Bhuvneshwar Kumar helps them narrow down the target. And still taking singles, Delhi Daredevils have only themselves to blame for the mess they are in. And K Jadhav is OUT on the last ball of the innings. Just 22 runs in the last five overs.
OVER 19: DD 139/6
Good yorker to start the over for Bhuvneshwar Kumar. Duminy digs it get a single. And it follows with a dot ball. Bad decisions are denting Delhi Daredevils side as yet another dot ball follows. Duminy cannot do much than see from the other end of the strike. Duminy need to be exposed more as disaster follows with yet another dot ball. And now even a a score of 150 looks difficult. Duminy on strike and is BOWLED!
OVER 18: DD 137/5
It is to be seen how much J P Duminy can help Delhi Daredevils score in the last 18 balls. There is not much for Duminy in these last overs  as Irfan Pathan is doing his routine job of bowling good deliveries. Well and what commitment from Dale Steyn to stop the ball from going for a boundary. Just four runs from five balls and another single added.
OVER 17: DD 132/5
What a catch at the boundary line to remove Dinesh Karthik on the first delivery of the over of Henriques by David Warner. Dinesh Karthik is OUT after making 39 runs off 30 balls.  The next ball is hit for a FOUR by L Shukla followed by dot ball.  Yet another dot ball. The problem is not being able to rotate the strike after getting the boundaries. And after wasting two deliveries, L Shukla perishes on the third slow ball. L Shukla OUT after making 21 runs off 22 deliveries. Bad!
OVER 16: DD 128/3
Bhuvneshwar Kumar comes in to bowl his third over has given 14 runs so far with no success so far. Sunrisers Hyderabad have been so far quite swift in fielding. They have been stopping the boundaries and cutting down on any extra runs. As for Delhi Daredevils are still in search for that one over that would up their momentum. J P Duminy is among the highest scorers in IPL 2014 with 280 runs but he is still in the dug out..
OVER 15: DD 121/3
After some showers and one hour of delay, it is nice to get match back on track. Irfan Pathan bowling his second over is keeping things tight for the Delhi and currently DD is dealing with ones and twos as Delhi's main player Duminy is still in dugout. This is where Delhi's think tank is lacking miserable. Another half chance lets Dinesh Karthik survive. In fact the ball dropped right in front of David Warner leaving no chance.
OVER 14: DD 115/3
Match Resumes.  The great news from the field is there would be a full over match as Karn Sharma is hit for a huge SIX by Dinesh Karthik. Dinesh Karthik takes the aerial route and hits the last delivery for a crackling FOUR. Great shot by the DD wicket-keeper batsman. He reverse sweeps to take two more runs.
Karn Sharma bowled the first ball and with this covers are roped in as rain interrupts the match. Match Stopped for the time being.
OVER 13: DD 102/3
Delhi Daredevils will have to score more than the current run rate and they do it by hitting Dale Steyn for a SIX. Great shot by Dinesh Karthik. More of such shots will help the cause. It is quite courageous of Karthik to take on Dale Steyn. DD need one more run to get to their hundred run mark. They should play fearlessly as fair amount of batting is left down the order in Duminy and Jadhav. The present batsmen on crease should take their chances. They complete their 100 run mark with the leg-bye. As for SRH what bowling department they boast of and good 0ver for DD with 11 runs.
OVER 12: DD 91/3
Irfan Pathan takes the 12 over changing from the spinners – Amit Mishra and Karn Sharma. With more nine overs to go, Dinesh Karthik will have to start the onslaught if they have to post a challenging total. Dealing in two and singles might just give them an average score. And there was a half chance for Amit Mishra to catch but misses.
OVER 11: DD 84/3
It is difficult to understand why Delhi Daredevils are playing JP Duminy so late in the batting order. This has been the problem with DD's think tank as Duminy is their main in-form player. With half way innings through, it does not make sense playing L Shukla ahead of J P Duminy as in the meanwhile their is an appeal for stumped and ruled in favour of L Shukla. L Shukla plays the next with the turn to go for a SIX.
OVER 10: DD 75/3
Another leg-spinner Karn Sharma continues the bowling from the other side. Pretty unlucky for Amit Mishra not to be given easy out of L Shukla. Dinesh Karthik has just played seven deliveries so far and made 7 runs.
OVER 9: DD 73/3
The first ball by Amit Mishra is hit for a FOUR by Mayank Agarwal.  He has been previously with Royal Challengers Bangalore. He has been doing so far till he got himself caught at the boundary by David Warner. Mayank Agarwal OUT and goes after making 25 runs.
OVER 8: DD 67/2
Kevin Pietersen would be very disappointed after getting out with the kind of flying start he has got. It will be on the young Mayank Agarwal and Dinesh Karthik to steer the innings. Henriques meanwhile would be breathing a sigh of relief as he was hot around for plenty in his last over. He has had quite a decent over so far.
OVER 7: DD 60/2
Yet another bowling change with spinner Amit Mishra. Kevin Pietersen looks a different player in today's match. But looks like his good innings is cut down by Amit Mishra. Pietersen OUT after making 35 runs off 19 deliveries. Good show by DD captain but short-lived. Walks in vice-captain Dinesh Karthik.
OVER 6: DD 52/1
Not the kind of welcome SRH bowler Henriques would have expected as he he is hit for a SIX on his first delivery. Kevin Pietersen hits one FOUR after the biggie. Superb start to the over as DD captain runs a single. First dot ball of the over as Mayank Agarwal defend one. Pietersen can be very aggressive player of he finds the groove and so can Agarwal who hits one more boundary of the over. Quite an expensive over by Henriques with 15 runs. dot ball to end the over. STRATEGIC TIME OUT called.
OVER 5: DD 37/1
Delhi Daredevils have a fairly good batting line-up in form of Karthik and Duminy to follow. The first change in bowling attack is seen with the introduction of Karn Sharma. After the quite two first deliveries, Pietersen hits the third one for the maximum for a SIX. Kevin Pietersen gives himself some room on the fifth delivery and hits another FOUR. Karn Sharma does no good in giving a WIDE. A quick single to end the over.
OVER 4: DD 23/1
Kevin Pietersen facing Bhuvneshwar Kumar in the third over, hits his first boundary. He backs it with second FOUR in the third man area. Good show of confidence by Pietersen, but he needs to continue the good work for the side.
OVER 3: DD 14/1
Steyn continues his first spell as de Kock survives one delivery that was so close to the off-stump. Three dot balls by Dale Steyn shows the great command of the pacer, who only flunked once against AB de Villiers in the match against RCB. And the pressure turns to be too much for de Kock as he is OUT. He tries to go across and caught straight at covers.The new batsman in is Mayank Agarwal and the first ball he faces is appealed for caught by wicket-keeper. And he hits the last ball beautifully for a FOUR.
OVER 2: DD 10/0
The first ball from Bhuvneshwar Kumar hit by Kevin Pietersen for a single that could have been a chance for a run out. But no direct hit helps the Delhi captain. Shikhar Dhawan chases the next delivery hit by de Kock to DD player's dug out and saves one run for the side as DD openers run for three runs. It is difficult for De Kock to hit Kumar freely. As far as the wicket is concerned, the pitch looks great for pacers.
OVER 1: DD 4/0
Kevin Pietersen again lost the toss again. Well not very surprising but they would really hope a turn-around in the finals match results. Delhi Openers Quinton de Kock gets off the mark with a two runs. It is nice captain Kevin Pietersen has come out to open the innings for Delhi daredevil as he faces a good delivery from Dale Steyn. An upright swing from the South-African pacer. Pietersen hits on in the fine leg for his first run. Great over comes to an end for Dale Steyn.
IPL 2014 Schedule: All Match Fixtures and Complete Time Table of IPL 7