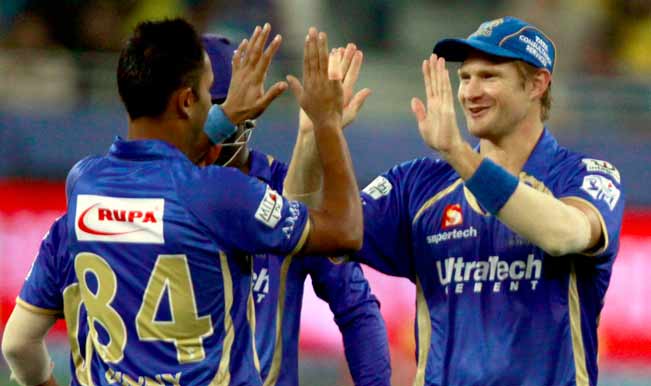 (Kolkata Knight Riders takes on Rajasthan Royals in the 19th match of IPL 2014 at Abu Dhabi on Tuesday. Catch Live Scores and Live Updates of the match here)
Kolkata Knight Riders take on Rajasthan Royals in a bid to break each other winning streak as both team come into this contest having won their previous match. Shane Watson has had a better journey in IPL 2014 as compared to Gautam Gambhir as a player but as the skipper the statistics are the opposite.
The last game for both teams of the UAE leg of IPL 2014 will see an epic match between KKR and RR as they will aim at making this last game in Abu Dhabi a memorable one. Kolkata Knight Riders has been performing well mainly because of their strong line up that has provided the timely breakthroughs as they did so in their match against Kings XI Punjab by taking David Miller and Glenn Maxwell out for meager scores. Gautam Gambhir has to perform in this game after 3 ducks and a single run to show in IPL 2014.
Rajasthan Royals has been the most balanced team in the tournament so far with good performances in batting, bowling and fielding. Sanju Samson didn't get as many runs in their previous game as he and the team would have hoped for but he is still the player to be rooting for in the Rajasthan side along with the variations of Pravin Tambe who has spun the opposition off its feet.
Rajastha Royals win a stunning game after a tie in the Super Over too but winning due to their boundary count advantage.
SUPER OVER : Rajasthan 9/0
Sunil Narine bowls the Super Over for Kolkata Knight Riders. Sunil Narine has to restrict the Rajasthan Royals' batsmen to under 10 runs for KKR to win the match. Steve Smith and Shane Watson will try to get the runs for Rajasthan Royals in the Super Over. Shane Watson starts the proceedings with a single. RR need 3 runs from 1 ball. The Super Over has been tied but Rajasthan Royals win the match on account of more boundaries scored. Smart batting from Steve Smith to get a couple of runs and tie the score which is in favour of Rajasthan Royals.
Rajasthan Royals need to score 12 runs off of 6 balls in the Super Over bowled by Kolkata Knight Riders.
SUPER OVER: Kolkata Knight Riders 11/1
James Faulkner bowls the over for Rajasthan Royals. A chance of a run out and the replay shows that the first ball gets Suryakumar Yadav run out. Manish Pandey slams a 6. Faulkner responds with a brilliant ball. Sanju Samson shows great athleticism and runs out Shakib Al Hasan.
OVER 20: Kolkata 152/8
The match has been tied and will be decided by a Super Over.
 OVER 10: Kolkata 59/2
Rajat Bhatia comes into the attack. Kolkata Knight Riders need 102 runs to win from 65 balls now.
OVER 1: Kolkata 7/0
Stuart Binny comes into the attack for the Rajasthan Royals while Manvinder Bisla and Gautam Gambhir open the batting for Kolkata Knight Riders.
 OVER 20: Rajasthan 152/5
Vinay comes into the attack. Rajasthan Royals finish the innings with a score of 152/5 and set a target of 153 runs for the Kolkata Knight Riders to win.
OVER 10: Rajasthan 63/2
Piyush Chawla comes into the attack. Ajinkya Rahane has anchored the innings but the other end is running of players. Shane Watson, the skipper is out with the opener to stabilize and start hitting the aggressive shots.
OVER 1: Rajasthan 7/0
Ajinkya Rahane and Karun Nair come in to open the batting for Rajasthan Royals. Vinay Kumar comes in to open the bowling attack for Kolkata Knight Riders.
Rajasthan win the toss and elect to bat first
Shane Watson and Gautam Gambhir have come out to the middle for the toss.
Toss Awaited
Check the IPL 2014 Points Table, Match Results and Team Standings here
For the complete IPL 2014 Schedule, Match Fixtures and Complete Time Table of IPL 7 click here.