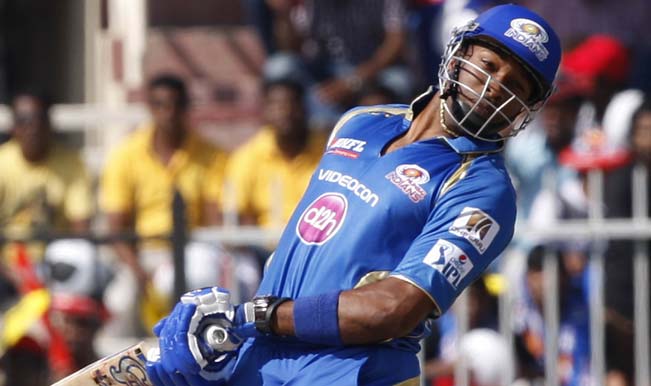 (Mumbai Indians take on Chennai Super Kings in the 33rd match of IPL 2014 at the Wankhede Stadium in Mumbai on Saturday. Catch Live Scores and Live Updates of the match here).
After suffering five successive losses in the UAE, current champions Mumbai Indians are back to winnings ways and now face the challenge of two-time title winners Chennai Super Kings at the Wankhede Stadium.
OVER 19: Pollard is on! And he's at it again! He has bowled a wide-ball! Ashwin who came on Manhas has immediately started running thanks to Dhoni who demands nothing less! Dhoni bags a double with some quick running. Dhoni then hits Pollard's third ball for a six with a powerful stroke. Pollard is really losing it for Mumbai, no doubt. Runs for everyone when he's bowling. Dhoni then hits it out for four to wrap up the win. Poor bowling from Pollard. CHENNAI SUPER KINGS WIN BY 4 WICKETS
OVER 18: CSK 147/6
Malinga will try to make it as difficult for Chennai to grab an inevitable win. First delivery sees Dhoni grab a single. The second ball sees another single. Dhoni then takes 2 runs on the third. Important moment for both teams. Can Mumbai steal it? Dhoni then grabs another single which gets him his 10 runs for the night. OUT! The FIFTH BALL SEES ANOTHER WICKET! WHAT DRAMA! Jadeja bowled by Malinga! Mithun Manhas is on strike. Manhas and Dhoni get greedy for two runs and Gautam catches Manhas out. Another bit of drama. Might be run out! YES! IT IS OUT! Manhas is run out. Malinga gets another wicket!
OVER 17: CSK 141/3
It's that time of the match, where no one is allowed to take toilet-breaks. Bumrah is on for the over and he gives one run to Dhoni on his first ball. Second ball sees Jadeja score a four. The third sees Dhoni get back to strike as Jaddu gets a single. 2 runs from the next. Bumrah then bowls a wide. Making it difficult for those who REALLY want to take a toilet break.
OVER 16: CSK 131/4
Malinga is on again. Great hair by him. Sorry, great ball by him for the first as it's a wide. His second attempt for the first ball of the over sees one run scored. The third sees Plessis grab another. OUT! The fourth ball sees him grab a beautiful wicket! Plessis is bowled! Malinga's afro is really a great weapon! Great yorker. Jaddu is on now. The fifth ball looked like it was an LBW but the umpire gives it for a leg bye. 27 runs needed from 18 balls.
OVER 15: CSK 124/3
Kumar on to bowl. The second ball sees a great six scored by Smith. He really wants to wrap it up. OH NO! The party is over! OUT! Smith's effort is caught out by Simmons. The beast made 57 runs. Dhoni is on now. Plessis then scores a four. Dhoni then faces his first ball of the night and scores a single.
OVER 14: CSK 112/2
6 overs left! Bumrah is on. One run from the first. Another from the second. Good fielding from Mumbai to restrict Chennai as much as possible. 50 needed from 31 balls. Dwayne Smith then gets pumped up to score another 4 today. He must want to finish it off as quickly as possible. Maybe he wants to head to the gym to lift some weights after the match.
—TIME OUT—
OVER 13: CSK 104/2
Corey Anderson who helped Mumbai get a few runs in the last over of the first innings, is now on to bowl. 2 runs from the 1st ball, 1 from the second. None from the third. Fourth ball sees one run. BUT OH MY GOD! The fifth one sees ANOTHER SIX! Anderson made runs for Mumbai, and is now giving them away FOR FREE! What's going on? Last ball sees Plessis score 2 runs. 12 runs from the over. Someone should bowl well for Mumbai, or it's over.
OVER 12: CSK 92/2
Bhajji comes in again. First ball is a good one, no runs from it! Plessis manages to get one run from the second ball though. The third sees no run again! The fourth sees an ALMOST leg-bye, Chennai just can't steal any runs from Harbhajan's one. OH! SPOKE TOO SOON! Dwayne smashes the last one for a six! Making it 333 sixes in the IPL 2014!
OVER 11: CSK 85/2
Malinga walks in to scare the Chennai batsmen with his weird but effective hairstyle. Can his bowling here do the job? Plessis gets one run from the first ball. No runs from the second. Another single run from the third though. Another run lost later. Good over by Malinga.
OVER 10: CSK 82/2
Harbhajan must've grabbed the ball away from poor Pollard. Terrible bowling from him. Harbhajan bowls and gives away 2 runs before giving away a four (scored by the FAF). Plessis then scores one more run before Smith taking it easy with no runs.76 needed from 54 balls.
OVER 9: CSK 75/2
Pollard back with an over. Hoping that he can lose less runs and get more wickets this time. But oh! Too soon! Smith smashes it for a four on the third delivery! Pollard is really giving the runs away! MUMBAI STOP HIM! Smith scores another four! Then a six! A six on the last ball of Pollard's over! SMITH HAS SWITCHED ON HIS GOD MODE HERE!
OVER 8: Harbhajan back for another over. Plessis and Smith both get one run each from the first two balls. Few more single runs scored by Chennai! WILL THAT BE ENOUGH? THAT'S THE CRORE RUPEES QUESTION! 98 runs required from 11 overs.
OVER 7: CSK 66/2
Pollard coming on for his first over! His first one is a wide. Not a good start for the beast. The next delivery sees Raina hit a four. Raina then grabs a quick run. Dwayne Smith then grabs a double before he grabs another single. Raina then makes it worse for Pollard as he smashes his delivery for a four. The next ball sees drama! IS RAINA OUT? CM Gautam catches Raina out! YES! OUT! It IS a wicket! What drama? Is it just me? Or is this match REALLY interesting? Raina made 19 runs from 11 balls. Pollard gets a wicket from the expensive over. Some respite for him surely! Another ball left for Keiron Pollard though. No run.
OVER 6: CSK 42/1
Harbhajan Singh coming on to spin everyone's heads with his bowling! Can he spin the match in Mumbai's favour? Let's see! His first-two deliveries result in no runs lost but his third ball sees one run picked up by Raina. Another run from Smith. And the last ball sees Raina pick another run for himself. Not a bad over from Harbhajan.
OVER 5: CSK 38/1
Bumrah comes to bowl again, looking for the second wicket! He bowls but gives away 4 runs away only. An affordable amount of runs to give away but we're all still wondering what can happen in the match!
OVER 4: CSK 34/1
Praveen Kumar comes on for his second over for the night! Can he help Mumbai? OH YES HE CAN! OUT! He grabs an important wicket through his third ball!!! McCullum is hit on the front pad as he tries to pull. LBW! Raina then comes on to give Chennai to smile about! He hits a four on his second ball against Kumar.
OVER 3: CSK 29/0
Bumrah comes in to show what he's got up his sleeves! His first delivery goes for a leg bye with McCullum on strike, one run. His fourth delivery is smashed for a superb six from McCullum. The batsman then can't control his smashing form as he hits the next for a four! Wow! Great!
OVER 2: CSK 14/0
Kumar comes on for his first over and restricts Chennai to only 2 runs from the over. Lovely bowling at such an important time in the match. Nerves all over the place. What is going to happen in the match? NO ONE KNOWS!
OVER 1: CSK 12/0
Malinga opens the innings and bowls to McCullum, no run for the first ball. Malinga then bowls to Smith for his last ball and loses 1 run, full and swung away late towards off stump.
–END OF THE FIRST INNINGS: MUMBAI INDIANS SET A TARGET OF 157 for CHENNAI SUPER KINGS–
OVER 20: MI 157/6
Chennai Super Kings are sitting pretty in second place with an incredible six wins from eight games. Hence Mumbai Indians face a daunting task to brush off what MS Dhoni has in store for tonight. Mumbai's recent back-to-back victories over table toppers Kings XI Punjab and Royal Challengers Bangalore should bode well for Mumbai's confidence. Add to that the advantage of playing in front of the home crowd, we have a cracker on our hands! The last ball sees Tare trying his hand for a six but is caught out by du Plessis! UNLUCKY! Mumbai Indians score 157. Not too shabby!
OVER 19: THE LAST OVER OF THE FIRST INNINGS. Pandey bowls to Corey Anderson, and the batsman sneakily manages to get two runs from the first. After the next delivery deemed for a wide, Anderson then smashes out a six! He has scored 9 runs from 3 balls. Could it be an expensive over for Mr. Pandey? Anderson doing all he can as he manages to grind out 2 more runs with 3 balls left. Anderson might well be Mumbai Indians' saviour! He goes for another six and it gets caught by Ravindra Jadeja. BUT WAIT! He catches the ball and runs out with it! It's a six!
OVER 18: 139/5
Rayudu out! 59 for him tonight! He goes for the audacious but doesn't get the right connection and is caught out by Jadeja! Mohit Sharma gets his first wicket of the night! Tare comes on for Rayudu and instantly scores a four! He then gets another four on the fourth ball. And then one run from Mohit Sharma's last ball of hislast over of the night.
OVER 17: Rohit Sharma tries to score a gutsy six but is OUT! CAUGHT OUT BY RAINA! Pollard comes on for Sharma and it brings something in Rayudu as he blasts it out for a crazy six! Rayudu then takes one run, bringing on Pollard at strike. Pollard then tries to go for the oncredible and is then caught out by Raina!
OVER 16: MI 118/2
M. Sharma first three balls of the over gives away one run each. Rayudu is now playing without his helmet. What a mad man! Sharma keeps delivering good balls! And the last ball sees a heroic save from Faf out at the boundary to save it going from a six! Only two runs scored then! Wow! Spectacular fielding!
OVER 15: MI 111/2
Jadeja now comes into the play. His first ball sees no loss in runs, but his second is smashed for a six by Rayudu! The rest of his over sees 3 more runs for Mumbai Indians. RIGHT NOW Jadeja has given away the most number of runs through his deliveries. Mumbai are picking up their runs now!
OVER 14: MI 99/2
Mohit Sharma trying his hand at the Mumbai batsman! First delivery goes out for a single run. Second ball – no run. But MY WORD! WHAT HORRIBLE FIELDING FROM PANDEY! The third ball goes for a four! Rohit Sharma scored that lucky four. After the four, Mohit loses only one more run.
OVER 13: MI 93/2
Ashwin is back for another over. He's hoping to get either Sharma or Rayudu out but wait! There's absolute chaos! An over throw and such on the second delivery! Raina helps save the blushes as he saves it from going for a four! Good fielding from Chennai as the fielders restricted at least 3 four-attempts. Mumbai realy need to improve their run-rate!
OVER 12: MI 86/2
Looks like Badree is back to screw up things for Chennai as his first delivery of this over his pushed out for a four! The next few balls are controlled balls as Mumbai don't get much out from them.
OVER 11: MI 78/2
Badree is having a nightmare! First a drop-catch and then a mis-field! As he lets Ashwin's first delivery of the 11th over go for a four! Simmons is now OUT! He tried to go for another six but was caught out!
OVER 10: MI 69/1
Jadeja bowls his first ball where Simmons's effort almost gets caught as it's dropped by a fielder! He then thanks his Gods as he swings Jaddu's second delivery for a massive six!
OVER 9: MI 57/1
Ashwin up for his first over of the night. His spins are just amazing. His first-two deliveries get no reply from Mumbai Indians. His over finishes successfully. Not too many runs lost!
OVER 8: MI 54/1
Strategic timeout has been called.
Simmon is on fire !!keep on. !A birillent start . @mipaltan. #dilsemi #mivscsk #wankhedewinkhadefortresss!

— Rupesh Bhandari (@m_into_u) May 10, 2014
OVER 7: MI 49/1 
It's Mohit Sharma's turn to get his first over of the night. Good start as only 1 run is scored from the first ball. Sharma goes on to bowl a good over as he loses only 3 single runs from the over. Simmons has scored 25 up till now.
OVER 6: MI 46/1
Ravendra Jadeja on for his forst over of the night. First ball bowled well but his second delivery hit for a four by Simmons. Sir Jadeja then goes on to bowl well. Only the four a downer for him. Mumbai 46/1 after 7 Overs
OVER 5: Rayudu scores his first four of the match on Pandey's first delivery of the sixth over! Badree looks like he's still reeling from Simmons' two sixes as he dropped a catch to get Rayudu out! Six for Rayudu! Mumbai 42 for 1.
OVER 4: Wicketman Badree bowls his first without any reply, but his second delivery is smacked for a beautiful six by Simmons! LENDL SIMMONS IS ON FIRE, LADIES AND GENTLEMEN! HE HAS SCORED ANOTHER SIX! Badree looking helpless!
OVER 3: Pandey bowling really well as he keeps the Mumbai Indians batting duo at the score of 18! Only 2 runs from his over!
OVER 2: Gautam and Simmons doing well to control the game. Two fours scored in the over bowled by Badree! How Embarrassing! OUT Oh! But Badree has the last laugh as he gets Gautam out! Ambati Rayudu on for Gautam!
OVER 1: Simmons gets the first four of the match on the third ball! The over finishes 10 for no loss. First ball begins with a wide! Badree bowling really well to restrict Mumbai to 4 runs only in the first over!
ALL SET! Lendl Simmons and CM Gautam starting for MI!
Excited for the match of legends Mumbai vs Chennai #PepsiIPL2014 #MIvsCSK

— Hannah Pearson (@A_Merrikat) May 10, 2014
Chennai Super Kings wins the toss and elects to field.
IPL 2014 Schedule: All Match Fixtures and Complete Time Table of IPL 7