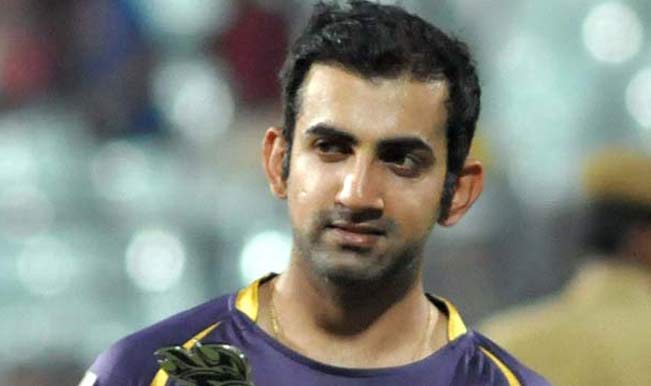 Mumbai Indians (MI) take on Kolkata Knight Riders (KKR) in the opening match of the IPL 2014 at Abu Dhabi. Defending champions Mumbai Indians lead head-to-head 10-2 against 2012 Champions Kolkata Knight Riders.
Kolkata Knight Riders displayed an all-round performance in form of Jacques Kallis and Manish Pandey posting timely half centuries. And their bowling department supported them equally with Sunil Narine and Morne Morkel becoming the pick of the bowlers. The much anticipated opening match between Kolkata Knight Riders and Mumbai Indians turned out to be an easy end for the KKR side.
Defending champions Mumbai Indians will have themselves to blame for the loss, as they let the KKR score easy runs in the last overs. While batting they never really looked to score this formidable target with no match winning partnerships. They will have a lot to take away from this match for their future games.
Kolkata Knight Riders win the match by 41 runs.
OVER 20: MI 122/7
OUT C M Gautam send back to pavilion on the last ball.
Needing 44 runs off 4 balls, Mumbai Indians have lost the match with only formalities to be completed. Mumhink bai Indians will have a lot to think after this match.
OVER 19: MI 117/6
OUT Harbhajan Singh cleaned up by Sunil Narine
OUT Corey Anderson clean bowled by Sunil Narine
OVER 18: MI 113/5
Piyush Chawla switching sides from Kings XI Punjab to KKR is doing a fantastic work in his second over. He is continuing the great work by Sunil Narine. MI needing 54 runs off 14 balls are inching towards the inevitable loss, provided the BIG GUY Pollard does some magic.
Sunil Narine maintains the perfect economy he is known for.
OVER 17: MI 109/4
Sunil Narine and Morne Morkel does the trick for Kolkata Knight Riders.  They have greatly choked the opposition into making mistakes.
OUT Rayudu stumped for 48 runs brilliantly by Uthappa.
 OVER 16: MI 106/4
What a great delivery to welcome Keiron Pollard for the match. And he does the crackling stuff again to the big guy.
Morne Morkel is the pacer to watch out for. Rayudu tries to dodge off Morkel but not been clean about it. They need 58 runs off 26 balls.
Anything is possible till the last ball is bowled but looks like the match is slowly drifting away from Mumbai Indians clutches.
LOL…Those cameras on the umpire's caps are quite pointless. Just got a great view of Rayudu's forehead. #IPL7

— Yash Sharma (@YashSharma) April 16, 2014
OUT Rohit Sharma succumbs to the mounting pressure of towering run rate and is dismissed.
OVER 15: MI 95/2
Sunil Narine seemed unlucky as the ball drifts off to a cheeky boundary.
Mumbai Indians needing many great overs if they want to come close to reaching the target. On the other hand KKR is doing a brilliant work with not conceding boundaries.
OVER 14: MI 86/7
Morne Morkel starts off his third over an is brilliant as ever. Needing 80 runs off 40 balls.
OVER 13: MI 83/2
Ambati Rayudu and Rohit Sharma will have to take chances if they have to make a match of the same. Already with a boundary, they need to keep the run rate going 12 above.
OVER 12: MI 71/2
The run rate is soaring high for Mumbai Indians.
OVER 11: MI 65/2
Will this be Jacques Kallis day as he bowls with good line.  After the fine knock of 72, the all rounder is doing great job for his side.
How Wonderfully the #politics Trends Disappered As #IPL7 Started….. something #IPL7 is doing Great..#iplt20 #PepsiIPL #IPL2014 #DilSeMI

— A Mumbai Indian (@IAm_DilSeMI) April 16, 2014
OVER 10: MI 54/2
Mumbai Indians needing another 111 runs off 62 balls to win, are in desperate search of boundaries. Singles and twos will not help as boundaries are must for each over.
Captain Rohit Sharma is the man for Mumbai Indians if they have to win the match. He starts off with two runs off the first ball. He takes another quick two runs off Shakib-Al-Hasan.
OVER 9: MI 47/2
At the strategic time out, Mumbai Indians are barely managing five runs per over.
Right now, MI is playing like Congress – already accepted their defeat. #IPL7 #MIvsKKR

— Shantanu Bhate (@bhatesc) April 16, 2014
OVER 8: MI 41/2
OUT Mumbai Indians lost their second wicket in form of Aditya Tare
Commentators just gave Sunil GavOscar. #MIvsKKR #IPL7

— Fun Intended (@sagarcasm) April 16, 2014
OVER 7: MI 38/0
At this stage, KKR struggled to put on the same score. With the pitch slowing down, the KKR have post a great total on board.
Tare and Rayudu stitches 8 run partnership and still have a long way to go. With every ball delivered, the run rate is skyrocketing. Currently closes to 10 runs per over.
OVER 6: MI 32/1
Rayudu blasts a FOUR off Shakib-Al-Hasan delivery.
MI need more than 9runs per over and going ahead with the current run rate that is close 5 will need to toil hard. Playing the 400th match in the seven editions of IPL, the inaugural match between MI vs KKR becomes all the more memorable.
KKR captain Gautam Gambhir going all out with the spin attack in form off Shakib-Al-Hasan taking the sixth over after successful over by Sunil Narine.
OVER 5: MI 25/1
The new man is Ambati Rayudu, who walks in for the loss of Mike Hussey.
OUT Sunil Narine makes a comeback and completely baffles Mike Hussey to clean bowled.
Unorthodox spinner Sunil Narine clobbered for a mighty SIX.
Mike Hussey is one of the greatest run chasers in the cricketing history. And he will have to do it again for MI to win the opener.
OVER 4: MI 17/0
Morne Morkel on fire as he gives one run in his second over.
The last over by Morne Morkel was great display of good line and length. The South African pacer is on song as Tare tries to hit him off to a boundary. Fails and stopped by the fielder at the boundary. The good thing about Morne Morkel is that he is not going for the pace. He is mixing up well for Mike Hussey and Tare and not becoming predictable.
OVER 3: MI 16/0
ye ambani ka nya agent thoda struggle kr rha h.#IPL7 #Hussey

— TumseNaHoPayee (@SugamShukla) April 16, 2014
Tare makes the fielder run hard as he takes two off the next ball of Vinay Kumar.
No change in bowling attack as Vinay Kumar comes for his second over. Young MI opener Aditya Tare is trying to figure the displined bowling of Vinay Kumar. And he dis figure him out. Targeting the leg side, Tare hits Vinay Kumar ofr a FOUR.
OVER 2: MI 9/0
KKR's Morne Morkel takes the second over in hand. Pretty sharp bowling by the South African pacer, who is constantly bowling great line and length. He has tied the MI openers with his impeccable bowling. The over turned out great for the KKR just giving one run off the over.
OVER 1: MI 8/1
Vinay Kumar bowls the wrong line and is punished by Tare for a FOUR.
Mumbai Openers Aditya Tare and Mike Hussey take the field for the team. While Vinay Kumar starts off a good bowling line. Three runs off four deliveries is a good way to start the attack for KKR.
End of First Innings
OVER 20: 163/5
KKR comes in hard at the Mumbai Indian bowling attack after a slow start. They post 163 after losing 5 overs.  Jacques Kallis and Manish Pandey score fine half centuries to give a high scoring total for Kolkata Knight Riders.
OVER 19: KKR 149/5
Malinga  takes his fourth wicket to remove Hasan.
Great innings by Kallis, scored 72. #MIvKKR #DilseMI #IPL7

— AkShAtA MumbaiIndian (@MenInBlueDvotee) April 16, 2014
Malinga does a good work to remove Kallis for a fine knock of 72. And walks in Shakib Al Hasan for KKR
OVER 18: KKR 144/3
Great fielding by Captain Rohit Sharma in the previous ball and take a simple catch to dismiss Uthappa.
But the party does not stop with Pandey's dismissal as Kallis hits another boundary. Umpires check in with the third umpire . Billy Bowden, the third umpire calls it SIX.
Robin Uthappa walks in after Malinga clean bowled Pandey for 64.
OVER 17: KKR 135/2
Already two fours off the over but Malinga strikes again. Pandey OUT
Well but for young Pandey, he seems to have found the groove as he hits Malinga for a FOUR. Malinga makes  a comeback but another one goes for a FOUR behind the keeper.
For the first off last four overs, Malinga starts off with a great slower delivery. Bowler with plenty of variations.
KKR are striking well with both the set batsmen in form of Kallis and Pandey.  Expected more of fireworks from these two players who must be feeling high on confidence after scoring half centuries.
OVER 16: KKR 125/1
Was disappointed to watch #IPL7 in Hindi on set max. Relived to find English commentary on six, but short lived, as I hear Rameez Raja…

— CJ (@Chiranjeev_jl) April 16, 2014
Manish Pandey joins the party with a FOUR off the first ball. Kallis comes back to strike and hits another FOUR off Pollard.
OVER 15: 110/1
Kallis hits off SIX  and follows it up with another SIX for the over. With this Kallis completes his half century.
Pragyan Ojha comes in for his final overs. Lot of noise on ground after the dropped catch of Kallis. And he returns the favour with a FOUR.
OVER 14: KKR 90/1
West Indian star Keiron Pollard called in for attack as Manish Pandey scores his half century.
OVER 13: KKR 86/1
Manish Pandey on his way to score the first fifty of IPL 2014. One short as he stands at 49.
Lasith Malinga takes charge and starts off with the perfect yorker. But the experienced campaigner Kallis pulls him out for a great shot FOUR.
OVER 12: KKR 78/1
KKR will have to up the scoring rate as this run rate might not harm their opponents. Manish Pandey is trying hard to clear bowlers off the boundary, but failing to do so. Pollard does good job at the boundary lines. And Manish Pandey scores a FOUR off Harbhajan Singh.
OVER 11: KKR 69/1
Lot of quick fielding by MI, as Manish Pandey shows aggressive play of match. He scores a FOUR off Pragyan Ojha.
OVER 10: KKR 63/1
He backs it up with a quick single. Great rotation work by both Kallis and Pandey.
Corey Anderson hit for another FOUR  by young Manish Pandey.
With the mere 6 runs per over, KKR will have to do something dramatic in coming overs.
OVER 9:  KKR 54/1 Strategic Time Out called
Kallis finally breaks the shackle with a fine boundary. With this KKR reaches the fifty score mark.
OVER 8: KKR 44/1
Veteran Kallis seemed to take forward for the Kolkata Knight Riders.
OVER 7: KKR 37/1
Manish Pandey is getting momentum as he hits Harbhajan Singh for a FOUR
Harbhajan Singh continues the great start by Mumbai Indians
OVER 6: KKR 31/1
KKR good at rotating strike.
Kallis takes another single
Pragyan Ojha brought into attack.
OVER 5: KKR 28/1
Another free run for KKR in form of WIDE.
Kallis pushes for a quick single.
Experience of Zaheer Khan coming handy, but too WIDE to add another run for KKR
Manish Pandey showing fine form for KKR
OVER  4: KKR 20/1
SIX by Manish Pandey.
Corey Anderson thwarted for the first boundary by Manish Pandey.
OVER 3: KKR 10/1
OVER 2: KKR 5/1
OUT Gautam Gambhir returns the pavilion for a duck.

And he strikes for the MI.
Lasith Malinga brought into attack.
OVER 1: KKR 1/0
KKR posts first run on the scoreboard, courtesy WIDE.
MI vs KKR is the 400th match in the history of IPL
Captain Gautam Gambhir on strike against pacer Zaheer Khan from MI to face the first ball of IPL 2014.
Kolkata Knight Riders openers Gautam Gambhir and Jacques Kallis take on the field.
Gautam Gambhir wins the toss for Kolkata Knight Riders and elects to bat first.
The first match of the tournament at Sheikh Zayed Stadium in Abu Dhabi for the UAE leg of IPL 2014 will launch the tournament with a bang. Mumbai Indians are not only the defending champions but also Champions League T20 title holder will look forward to adding the third straight title with the IPL 2014.
Kolkata Knight Riders who ended up 7th in the 2013 edition of IPL would like to redeem their chances in IPL 2014. Led by experienced and aggressive captain Gautam Gambhir, KKR is one of the most sought after team.
Catch the live score of Mumbai Indians vs Kolkata Knight Riders IPL 2014 match here
IPL 2014 Schedule: All Match Fixtures and Complete Time Table of IPL 7