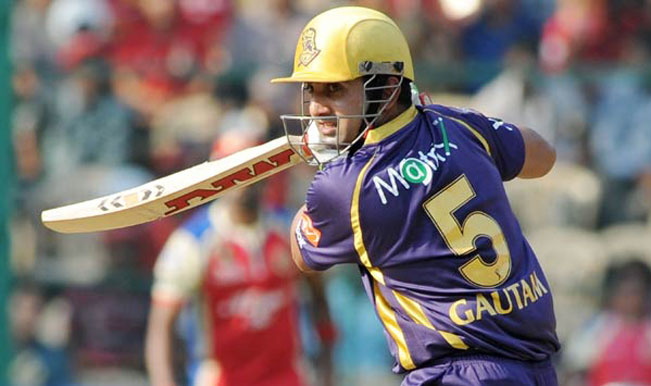 (Rajasthan Royals take on Kolkata Knight Riders in the 25th match of IPL 2014 at Sardar Patel Stadium in Ahmedabad on Monday. Catch Live Scores and Live Updates of the match here)
Rajasthan Royals take on Kolkata Knight Riders for a second time in IPL 2014 after an epic contest in their first meeting in the UAE leg of the tournament. The teams were so evenly matched against each other that the match was tied at the end of 20 overs play for both innings and even the Super Over was tied but Rajasthan Royals won on account of more boundaries scored.
The second meet between RR and KKR promises to be a cracker of a match as well with Indian fans having the benefit of the match being held in India.
Rajasthan Royals have been the smartest team in the tournament with the best utilization of team members and talent available while Kolkata Knight Riders has had a bumpy performance till now with star players yet to show their full potential.
Rajasthan Royals win by 10 runs
OVER 20: KKR 160/6
Shane Watson bowls a disaster No ball giving second FREE HIT of the match. Suryakumar Yadav manages a single. Needing 15 runs off 5 balls. Can Shane Watson win the match for Rajasthan Royals? or anything in for surprise. A single taken by Yadab brings dangerous Shakib-Al-Hasan on strike. Dot ball gets the maths down to 14 runs off three balls. Great bowling by Shane Watson as KKR need 13 runs off 2 balls. Another single and match is sealed by Rajasthan Royals. KKR need 12 runs off 1 delivery and and gets one single. Shane Watson win the match for Rajasthan Royals.
OVER 19: KKR 154/6
James Faulkner begins the 19th over with KKR requiring 24 runs off 12 deliveries. Faulkner comes to rescue with a dot ball and now KKR needs 23 of 10 balls. Suryakumar Yadav is one strike and gets single. All eyes on Shakib-Al-Hasan to hit those much required big shots off the park. Great fielding by Pravin Tambe saves definite boundary. Steve Smith comes in and saves single for his side. No big hit and the pressure clearly building pressure on KKR batsmen. And lo comes the relief as James Faulkner bowls a big No-Ball giving FREE HIT. Just a single on free hit does the damage control.
OVER 18: KKR 147/6
What a chaotic moment for Kolkata Knight Riders! They have an escalating run rate over 13 runs per over. KKR have got no one but themselves to blame for the situation. Needing 37 runs off 16 balls,  KKR look out of the race provided we get to see some lofty shots from the KKR batsmen. Can Shakib-Al-Hasan get those precious runs? He begins with a big SIX and would need to get few more. Need 30 runs off 14 balls, the figures look gettable. A wide follows is adding to the excitement. Tim Southee is hit for another FOUR. Need 25 runs off 13 balls. Catch spilled by Shane Watson and Shakib-Al-Hasan survives.
OVER 17: KKR 132/6
KKR and RR, the two sides are destined to give the most memorable matches of IPL. Who would have thought of such a turn of events. Requiring 42 runs from 21 balls, KKR have themselves to blame for the mess they have come into. At one time, it looked they have run away with the match, but RR pulled the strings well in time and has KKR choking.  Still KKR supporters pin their hope on Suryakumar Yadav and Shakib-Al-Hasan to do some damage control.
OVER 16: KKR 126/6
First delivery OUT as Pravin Tambe removes Manish Pandey and stumped by Sanju Samson. KKR needs 48 runs off 30 balls after they lost four wickets in six deliveries. Pravin Tambe removes Yusuf Pathan OUT caught and bowled by 41 year old Pravin Tambe. On hattrick ball, Pravin Tambe smells blood and gets his man out Ryan ten Doeschate OUT who does not look very happy with the decision. What a turnaround for Rajasthan Royals.
OVER 15: KKR 122/3
The first delivery by Shane Watson gets Gautam Gambhir OUT, caught brilliantly by Sanju Samson. Walks in Russell Arnold with whom Shane Watson had an altercation in the first innings. Robin Uthappa tries to slog sweep and is OUT, caught by Rajat Bhatia. Twin strike send both the KKR openers back to pavilion. And what a delivery to remove Russell OUT.
OVER 14: KKR 121/0
Kolkata Knight Riders with this opening partnership of 116 records the best in the history of IPL for KKR. Gautam Gambhir strikes James Faulkner for a FOUR and with that shot completes his well played 50. He is striking the ball at 165 and is magnificent form. A misfield adds another two runs to KKR total.
OVER 13: KKR 116/0
Kolkata Knight Riders are cruising towards the victory line. Depending on the two batting prowess, they seem to be in no danger. On the other hand RR are in deep trouble as Gautam Gambhir hits Rajat Bhatia for a SIX. He is brilliant with his shot selection. The slower ball by Bhatia is nudged down and is given leg-bye. Robin Uthappa hits Bhatia for another SIX of the over.
OVER 12: KKR 98/0
Brilliant batting display by Robin Uthappa and Gautam Gambhir as they played comfortably and scored runs around the park at will. Pravin Tambe has remained ineffective so far in the match as Gautam Gambhir is more destructive of two scoring 42runs off just 27 deliveries.
OVER 11: KKR 93/0
First ball gone for SIX by Robin Uthappa. He  amends for the last dry over with fine clear boundary. He straight away puts the pressure on the bowler. Robin Uthappa makes his half-century as Gautam Gambhir joins the party this over. He hits a FOUR.
OVER 10:  KKR 80/0
Rajat Bhatia continues with 96 required off 66 deliveries with all the KKR wickets intact. So very gettable. Gautam Gambhir is showing return of form with the way he is hitting the ball. The sweet sound of willow says it all for the former Indian opener. He tries to hit another but manages a single. quite a tidy over for RR so far with just 4 runs. Another single added.
OVER 9: KKR 75/0
Pravin Tambe come in for his second over. One of the most economical bowler in IPL 2014, he has not gone for many runs so far during the IPL stint in UAE. It will be a good test of his character as well on the Indians pitches. Gautam Gambhir almost got away off tambe delivery. Gambhir looks unstoppable as he hits Tambe for a FOUR. Expensive over by Pravin Tambe.
OVER 8: KKR 66/0
The required run rate is less than the current run rate for Kolkata Knight Riders. Rahul Tewatia is brought in by Shane Watson to break the partnership of Gautam and Robin Uthappa. Rajasthan Royals placed at third position look in trouble as the KKR openers continue to look settled. But a good over by Tewatia as he gives in only 5 overs. STRATEGIC TIME OUT called.
OVER 7: KKR 61/0
Rajasthan Royals will have to get the breakthrough as the match looks slipping. Medium pacer Rajat Bhatia comes in against his former franchise is hit by Robin Uthappa for 91 meters SIX. Runs are coming easy for KKR and the batsmen look comfortable with their shot selection. Especially Robin Uthappa who is promoted up the order. Already 10 runs off the over, Rajat Bhatia has been pretty expensive.
OVER 6: KKR 50/0
Tim Southee is back with his second over. KKR needs a close to 9 runs per over and are maintaining close to 8. Not bad considering they have all the wickets in hand. Free run by Southee with a no-ball due to height. Gambhir is using the clear mid-on and perfectly placing the Southee delivery anf hitting down the ground for a FOUR. He goes off-side for an inside out FOUR. Brilliant show by Gautam Gambhir and KKR. Could have been another f.our but cut down to two runs
OVER 5: KKR 39/0
Last match hero in the RR-KKR duel, James Faulkner is in to bowl the fifth over. He almost foxed Gautam Gambhir who got a leading edge and is lucky to survive. Faulkner was brilliant in that match where he was on hat-trick. He bowled superbly in the Super-Over as well. He has certainly stopped the easy run flow coming in this over as well.  Gautam Gambhir looking for a return in form, flicks one for a FOUR. Good strike by KKR captain. Dot ball follows.
OVER 4: KKR 31/0
Early introduction of spin attack from Rajasthan Royals side. Pravin Tambe comes in to bowl his first over and what a find he has been in this season of IPL 2014. Robin Uthappa is taking advantage of the lack of turn and clears the inner circle of fielders to get a FOUR. Good shot. He back the boundary by rotating his strike.
OVER 3: KKR 23/0
Shane Watson continues bowling in tandem with Tim Southee. He has been one of the best and genuine all-rounders in the modern cricket. Taking the new ball and leading from front, Shane Watson is one motivating captain. But all the brave act has a price as Robin Uthappa slices the lack in pace deliveries for successive boundaries. Very fine work by Uthaapa as he almost got third four had not gone straight to the fielder. A quick single to end the over.
OVER 2: KKR 13/0
New Zealand pacer Tim Southee is given the second over. Robin Uthappa plays and miss. He drives the next one straight to the fielder. Two dot balls is adding pressure to KKR's batting unit as a huge appeal by Tim Southee to get LBW is turned down and the first run of this over is scored. Gautam Gambhir hits the ball well in the covers to get three runs. He will have to play a goof knock and in the meantime Uthappa hits a FOUR.
OVER 1: KKR 5/0
KKR openers Robin Uthappa and captain Gautam Gambhir come to begin the big chase of 171 runs by Rajasthan Royals. And they face RR's captain Shane Watson who decides to go with the new ball. After two dot balls, Robin Uthappa send the third one flying off to a FOUR. Watson bowls a good one for his third dot ball and the next delivery had got Robin run out had it not been for the sloppy fielding that conceded an extra run.
End of The First Innings: Rajasthan Royals set a target of 171 at the loss of 6 wickets
OVER 20: RR 170/6
Vinay Kumar bowling his last over after being smacked by Shane Watson in his last over. He would be happy with the departure of Watson. He first gets Steve Simth OUT caught by Suryakumar Yadav. He takes down quick-hitter Stuart Binny OUT with a brilliant catch by Ryan ten Doeschate who scored a quickfire runs for the side. The drama continues with Rajat Bhatia hitting a SIX to set the target of 171 for Kolkata Knight Riders.
OVER 19: RR 159/4
Sunil Narine bowling his last over and Shane Watson trying to get one boundary and what a catch by Suryakumar Yadav to get Watson OUT. He manages to keep composure and is well balanced to take a blinder. He is surely giving teammate Cris Lynn a tough fight on getting the best catch of the tournament. Stuart Binny hits a SIX to complete the Narine over!
OVER 18: RR 150/3
There's no way you can fake pull out of your run up and still bowl. Disgraceful.

— Jimmy Neesham (@JimmyNeesh) May 5, 2014
SIX to start the eighteenth over. Shane Watson has so far been controlled only by Sunil Narine as rest of KKR bowlers looked out of shine. Sunil Narine gave just four in his last over and picked up set batsman. But till the time Shane Watson is one crease, RR is hopeful of great score. And some action provided by Russell who bowls after an unusual run-up taking, which does not go down too well to Watson. He seems angry and hits the next up in air and almost gets out. Looks the Jamaican has managed to make RR captain angry.
OVER 17: RR 139/3
Shane Watson is on strike and looks in murderous form. He takes a single and gives strike to Sanju Samson who tries to go Watson way and is caught by Manish Pandey. Sunil Narine gets his Sanju Samson OUT. Stuart Binny comes in place of the loss wicket. Sanju Samson made 37 off 31 deliveries.
OVER 16: RR 135/2
Vinay Kumar who has given 18 runs before this over is hammered right from the word go by Shane Watson. He hits him for a SIX and backs it up with FOUR. Is this the over Rajasthan Royals have been looking for. Shane Watson takes a single and is off strike. Vinay Kumar Should breathe a sigh of relief. Playing under the scorching sun, the RR batsmen look to make merry as Watson returns on strike to hit yet another SIX.
OVER 15: RR 116/2
The battle between Shane Watson and Sunil Narine is to watch out for. But in between hits a superb FOUR, brave Sanju Samson is taking chances against the mystery bowler. He looks to challenge the hyped Narine and showing aggressive game which is good news for Rajasthan Royals side. Somebody needs to take charge and Sanju Samson could be the player today.
OVER 14: RR 106/2
Gautam Gambhir tossed up the ball to Shakib who starts with a wide. It is very curious of the captain not to use his main bowler Sunil Narine in the start off the overs. Sunil has just had one over and not called back yet. Well never mind as Shakib gets his man, Karun OUT. Giving himself way too much of room, Karun is well sort of crease and gets stumped. STRATEGIC TIME OUT called. Shane Watson comes in to bat as Shakib gives free run in form of WIDE. Great spell by Shakib-Al-Hasan who gives only 25 runs in his four overs and takes 1 crucial wicket of Karun Nair.

OVER 13: RR 101/1
Ryan ten Doeschate continues after a tidy previous over by himself fetching just 5 runs. He is not very pacy but is mixing his deliveries well and great stop by KKR fielder who stopped a certain boundary had it crossed him. Both Sanju Samson and Karun will have to accelerate the scoring speed.Karun short of 10 runs of his half century is going for singles. But one of them need to take aerial route and so does Karun for a one bounce FOUR. Hundred comes for RR.
OVER 12: RR 92/1
KKR bowlers have maintained good bowling discipline. They have given jjust 24 runs off the last 26 balls. Brilliant effort by KKR. Umesh Yadav called back to take a quick wicket in the building pressure is what Kolkata is looking for. The Rajasthan Royals got a boundary more than 20 balls back It shows the superb bowling by KKR. But Karun looks in mood and clears one above the boundary line for 73 meters SIX. He run for a single.
OVER 11: RR 81/1
Yet another change in bowling attack by Gautam Gambhir with Ryan ten Doeschate. He replaces Russell who remained ineffective. After four quite deliveries,  Karun tries to hit a boundary but not being able to do so. Great bowling display by Ryan who gives another 5 runs after Hasan.
OVER 10: RR 76/1
KKR continue with Shakib-Al-Hasan who is doing a good job for KKR and giving just singles. But KKR will have to understand the importance of getting quick wickets. Because if the RR batsmen are set for another great partnership, they might be in danger of chasing a mammoth score. Hasan finishes a great over giving just 5 runs off it.
OVER 9: RR 71/1
Russell comes in for his second over. He is not look that effective as much his captain would have wanted him to be. He is nicely played around for quick singles and twos. The second ball goees for a FOUR followed it up by singles. They take eight runs off this over. With this over STRATEGIC TIME OUT is called. Both Rajasthan Royals and Kolkata Knight Riders have shown even-steven match till now. On one hand where RR is maintaining close to 8 runs per over, KKR would be happy not giving a flying start to the opposition.
OVER 8: RR 63/1
Sanju Samson and Karun Nair looking to rotate strikes and built in a partnership. They have got a good quick start by Rahane will have to bulit a good score for their side.
Royals giving Royal treatment to bowlers @rajasthanroyals Go for it…. #RRvsKKR #PepsiIPL #eit20 @SonyMAX

— Seemant Pandey (@PandeySeemant) May 5, 2014
OVER 7: RR 58/1
The fifth bowler introduced by Kolkata Knight Riders in form of Jamaican Russell who gives two runs off his two deliveries. The projected score currently looks at 216. A chance of run out as Gambhir gets the direct hit and Ajinkya Rahane OUT. Walks in Sanju Samson in place off Ajinkya Rahane. KKR finally get a wicket courtesy great fielding from their captain. Sanju Samsion and he gets his first boundary. Great FOUR.

OVER 6: RR 50/0
Gautam Gambhir brings in his trump card, Sunil Narine to turn the match around. He is brilliant with his second delivery proving too much for young Karun who cannot understand the mystery bowler's weapons. He tries to flick one coming into block and gets off a strike. A more experienced Ajinkya Rahane faces Sunil and hits a FOUR that races away from KKR fielders.
OVER 5: RR 44/0
Spin attack brought into action. Gambhir brings in Shakib-ul-Hasan to bring a hold on the Rajasthan batsmen. He is flicked by Ajinkya Rahane for a FOUR. He slog sweeps for another FOUR. Great show of batting by Rahane, who is going all out against the KKR bowlers. The use of spinner not helping the cause for Gambhir. They have already taken 11 runs off the over and it remains so.
OVER 4: RR 33/0
Unlike the trend in IPL 2014, KKR is not changing the bowlers very often. Gambhir gets Yadav for his successive second over. Two dot balls added pressure on Rahane, who hits a great shot over mid-wicket for a FOUR. He hits another that goes for the maximum, SIX. Rahane uses his wrists well to hit behind the bowler comfortably. What a flick! Good over for Rajasthan Royals taking 12 runs off the over.
OVER 3: RR 21/0
Both the Rajasthan Royals openers are playing fearlessly and confidently striking the ball. They are going  for twos and making KKR fielders work around the park. Great thinking by the RR batsman, not to only depend on big shots. Great Shot by Rahane but fetches no run. another great fielding by SuryaKumar Yadav stops a definite boundary. Such efforts are going to make the difference in the end. Rahane nudges for single.
OVER 2: RR 14/0
Umesh Yadav, another find for the Indian side is bowling exceptionally well for Rajasthan Royals takes the second over. Karun perfectly send the delivery from Umesh to nice boundary. He is not trying too hard, its just the sweet spot of the bat. and he hits yet another for a boundary, stopped well by KKR fielder Ryan. Karun is depending on the timing and is doing good. He is striking the ball well.
OVER 1: RR 5/0
Rajasthan Royal openers Ajinkya Rahane and rising star Karun Nair take field as KKR captain leads his purple-golden army in the revenge match against RR. Rahane does not boast of flattering strike rate but has been very consistent in his approach this IPL 2014. Vinay Kumar is taking the new ball and the first delivery is hit on the leg side for a FOUR by Rahane. What a start for Rajasthan Royals. Much better delivery by Vinay Kumar to which Rahane can only defend for no run. Rahane takes a quick single of the next ball. Karun Nair facing his first delivery and gets nor run.  He is talented kid still playing the under-19. Great show of line and length by Vinay Kumar. Last delivery in the first over gets no run.
Gautam Gambhir wins the toss and elects for the KKR to bowl first, Rajasthan Royals will set the target
Shane Watson and Gautam Gambhir walk out to the middle for the toss.
Toss Awaited
IPL 2014 Schedule: All Match Fixtures and Complete Time Table of IPL 7