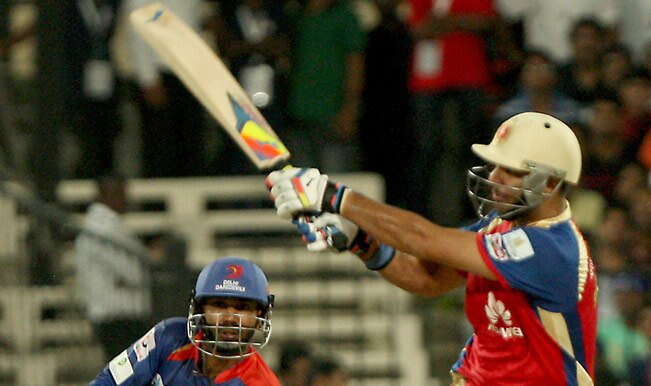 (Royal Challengers Bangalore take on Delhi Daredevils at M. Chinnaswamy Stadium in Bangalore for Match 38 of IPL 2014. Catch the Live Score and all the Live Updates here.)
Royal Challengers Bangalore take on Delhi Daredevils in Match 28 of IPL 2014 at Bangalore in a must-win match for RCB while all hope seems to have been lost for Delhi Daredevils who have won just 2 out of 9 games and are at the bottom of the points table with 4 points. RCB is at the penultimate position on the points table with 6 points from wins in 9 matches.
Yuvraj Singh, will hopefully continue playing brilliantly like he did in the last match with 83 runs and 4 wickets. We can live without him taking wickets but the hitting was just like the good old days when Yuvraj Singh would swing and the ball spent more time in the crowd rather than on the field with his huge 6s. Chris Gayle had a nasty fall and had to walk off the field in their last match against Rajasthan Royals.
Delhi Daredevils have been a rut that they have just been sinking deeper and deeper in the tournament since the UAE leg ended. In all the matches since the tournament came home, DD have lost all their matches with their last win coming against Mumbai Indians back in Sharjah. Kevin Pietersen needs to lead the team to victory to redeem themselves and they have been playing better after they altered their batting line up in their last match which they lost but they did put up a good fight and a much better performance from the batting.
OVER 1: RCB 1/0
JP Duminy starts off the bowling attack for Delhi Daredevils as Parthiv Patel and Chris Gayle open the batting for Royal Challengers Bangalore.
IPL 2014 Schedule: All Match Fixtures and Complete Time Table of IPL 7