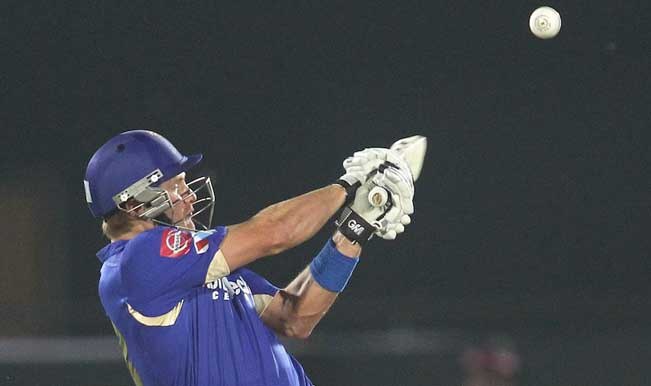 (Royal Challengers Bangalore take on Rajasthan Royals at M. Chinnaswamy Stadium in Bangalore for Match 35 of IPL 2014. Catch the Live Score and all the Live Updates here.)
Royal Challengers Bangalore take on Rajasthan Royals in a must-win game for the hosts after losing a string of matches, some close call but their points table position is not going up at a good rate. They have fallen through the ranks and now RCB is stuck in the bottom half of the points table looking in a rut that they just cannot get out of.
In the current situation, Bangalore has another 6 games to play in the league stage of IPL 2014 and they have to win 5 of these matches to secure a spot in the later stage of the tournament. Rajasthan Royals has been the best planned team and they have always had a modest team that gels well together to punch much above their weight and pull off some startling outcomes.
Rajasthan Royals have 5 victories and are the third spot in the points table and they will be looking at another win today to place themselves at a better position on the points table and almost secure a slot in the Playoffs.
OVER 10: RR 68/3
Sanju Samson comes out to replace Stuart Binny after the dual-strike over by Yuvraj Singh. Yuzvendra Chahal comes into the attack.
OVER 1: RR 6/0
Ajinkya Rahane and Karun open the batting for Rajasthan Royals as Albie Morkel comes into the attack to defend the Royal Challengers Bangalore total of 190 runs.
—END OF 1st INNINGS—
Royal Challengers Bangalore set a target of 191 runs for Rajasthan Royals to win.
OVER 20: RCB 190/5
AB de Villiers gets caught out but he has done his jobe out there as has Yuvraj Singh as he finally finds form in a crucial game with a stellar performance. Royal Challengers Bangalore give an explosive batting performance mainly by Yuvraj Singh and AB de Villiers rocket RCB to 190/5 after 20 overs.
OVER 10: RCB 57/3
Yuvraj Singh and AB de Villiers need to play a crucial role in stabilising and fortifying the Bangalore innings. Pravin Tambe has been performing consistently and has Chris Gayle's wicket in this match.
OVER 1: RCB 4/0
Kane Richardson comes into the attack to start the bowling for Rajasthan Royals. The crowd is in unison as they cheer Royal Challengers Bangalore on to win this match. Virat Kohli and Chris Gayle start off the batting for Royal Challengers Bangalore in a tight almost must-win match.
IPL 2014 Schedule: All Match Fixtures and Complete Time Table of IPL 7