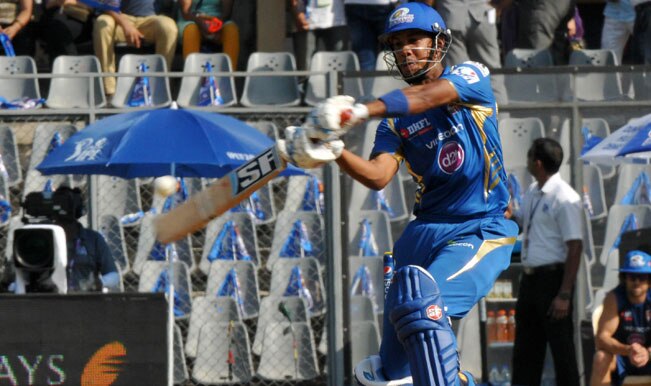 (Mumbai Indians take on Rajasthan Royals in Match 56 at Mumbai. Catch all the Live Score Updates and Live Cricket Action here.)
Mumbai Indians take on Rajasthan Royals in the Match 56 which is the last league match in IPL 2014. The numbers favour Rajasthan Royals in this match as they have 14 points from 13 games with a net run rate of 0.247 while Mumbai Indians has 12 points from 13 games with a net run rate of -0.086. What these numbers essentially mean is that Mumbai Indians can still make it to the playoffs with a win against Rajasthan Royals but it has to be a huge win.
Rajasthan Royals need to be defeated by 42 runs or Mumbai Indians has to finish the game within 14.3 overs for Mumbai Indians to qualify to the playoffs according to cricketcountry. If Rajasthan Royals wins or can restrict their loss to over 14.3 overs of Mumbai Indians batting innings or lose by less than 42 runs then Rajasthan Royals will retain their spot and go to the playoffs.
It will be nothing short of miraculous of Mumbai Indians can pull off a stunning victory and not only defeat Rajasthan Royals but also take the fourth spot on the points table and move on to the Playoffs especially after their dismal performance in the UAE leg of the IPL 2014.
For viewers in India, http://www.starsports.com/cricket/index.html and http://www.iplt20.com/ are broadcasting the match on mobile and internet.
In USA and Canada –www.willow.tv and Rogers would respectively broadcast the tournament. IPL Fans can watch the Live Streaming of Mumbai Indians vs Royal Challengers Bangalore IPL 2014 Match No. 27 on these sites.