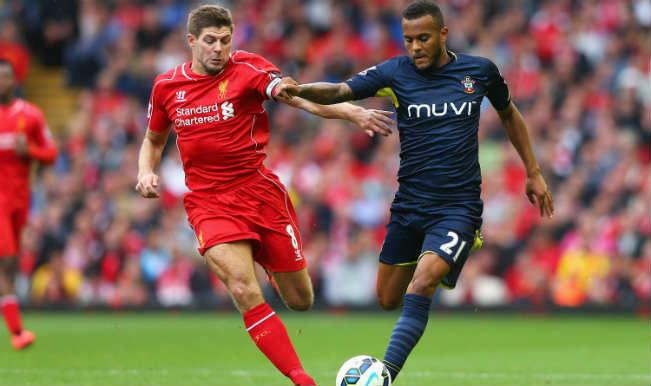 (The opening match for Liverpool in the Barclays Premier League 2014-15 begins by taking on Southampton at Anfield. Catch all the live updates here.)
FT: Liverpool win the match 2-1 against Southampton at Anfield. Raheem Sterling scores in the first half only for Clyne to equalise in the second. It was up to Daniel Sturridge to score the winner from a Raheem Sterling assist. Although Liverpool hardly looked convincing, it was still three points won in a very competitive second half.
90′: Four minutes of time is added before stoppage. Both teams are trying hard to achieve a favourale result. The possession stats are 56%-44%. The ball comes close to Liverpool's box but is headed away by Skrtel and Liverpool launch a failed counter-attack. The ball goes back into their own half and Mignolet kicks it into the other half. It won't be convincing win for Liverpool but but it will be three points earned.
88′: Pele gives the ball to Schneiderlein who heads it towards goal but it is blocked and goes to Shane Long who heads it again but this time it was wide. That was a real scare for Liverpool. Wonder how would Kop react if it was a goal.
85′: Another substitution: Davis off, Lloyd Isgrove on. Liverpool are now looking threatening again with just about ten minutes left, including extra stoppage time. Their pasing looks better. But Southampton are also giving a fight. This will be a close match in the final minutes. Both teams are looking good.
78′: GOOOAAALLL!!!! Sturridge scores. A Sterling pass of a header is poached in by Daniel Sturridge. Ricky Lambert has had an immediate indirect impact on Liverpool's play, while asking for direct crosses. Suddenly Liverpool look good again. No more tiki-taka!!!!
73′: Tadic is replaced by former Hull City striker Shane Long. Long was one of the highlights of Hull City last season, looking threatening on goal by mid-table standards. Meanwhile Liverpool are not much in control getting the ball but their slow passing not doing much. A Jordan Henderson shot is wide off the post. In the 76′ Ricky Lambert replaces Liverpool's off colour playmaker Coutinho.
71′: Ricky Lambert is training on the sidelines to play against his former side. Liverpool now look slow and aren't inventive in passing. A Coutinho cross is met by Sturridge's feet but he's offside. Even then the ball goes to Sterling who misses it. Liverpool are trying hard to pass but Southampton are breaking the flow.
66′: Suddenly Southampton seemed to have found rhythm and confidence. Liverpool have switched off. Southampton are passing well but a foul by Schneiderlain attracts a yellow card. The second of the game, if facts are right. The ball is strutted around and it goes out for a throw in. The ball goes to Ward Prowse who shoots is but the ball is deflected by a Liverpool defender. Liverpool gain possesion but an interception puts the ball back in Saints' possession who go to the Liverpool box and almost score a second. Liverpool need to get a lot of bodies to save themselves.
61′: Suddenly Liverpool look dreadful giving away balls easily. The Southampton players look revitalised. A quick intervention and the ball is in Southampton half. Coutinho falls in the penalty area and there is a shout for penalty which Referee Clattenberg ignores. Liverpool now seem to have found some calmness. But the ball is still in Southampton's possession. Ward Prowse shoot well but Mignolet saves.
56′: GOAAAAAALLLLLL!!!! Daniel Clyde scores. Southampton finally increase their pace and find some invention as a through ball is all that is needed and Clyde does the rest to shoot the ball past Mignolet. He scored after two years. That must feel special! Liverpool 1-1 Southampton
54′: The tempo of passing from both teams seems to have slowed down. The ball is in Liverpool's half and they slowly passing the ball around. Stop this stupid tiki-taka. Liverpool will never win a Premier League like this. Even Barcelona has now fallen to quick passing and lethal counter attacks. They are the norm now.
46′: The second half starts and Liverpool start dominating possession again. It seems like Brendan Rodgers will continue that kind of game for the season again. The ball then goes into Southampton's possession but they are not able to do much with it. This half story seems like a repeat of the first half. can Southampton improve and give Liverpool some challenge. Ronald Koeman must have been joking when he said Liverpool will have to fight for a win against his team. That certainly doesn't seem like the case.
HT: Liverpool lead Southampton 1-0. Sothampton haven't been convincing but so has the Liverpool goalkeeper Simon Mignolet. He has scrambled to get the ball most times except towards the end of the first half when he pulled off a great save and calmly collected the ball from the resulting corner. The Liverpool outfield, on the other hand, have been great, although not their best. The attacks have been good and the passes were fluent. Liverpool look poised to win their opening game.
43′: The Anfield stadium seems to have some empty seats. Wonder if it is Southampton's poor performance that was predicted. They have hardly looked threatening. Adam Lallana, a key playmaker is missing in their squad. Now, Liverpool are strutting around the ball in their own half. Are Liverpool waiting for half time now? They haven't played to their best but they've been threatening at least. Coutinho just made a wonderful dribble but was tackled before he could go into the box. The ball goes to the other half where Mignolet has to make a brilliant save to put the ball at the corner post. The corner is poor and falls straight in Mignolet's hands.
39′: Southampton and Liverpool have both given each other scares at regualr intervals but it is Anfield side which has looked more threatening. The only person who can cause a draw is Simon Mignolet. The Liverpool keeper hasn't been very convincing till now. A shot by Ward-Prowse though was well saved. Liverpool have had seven shots on goal to Saints' two and four on target to just one. The scoreline isn't surprising.

34′: Liverpol's Manquillo recieves a yellow card for a foul. The resulting free kick almost gets the better of  Mignolet at the top corner. The resulting corner is not very eventful, rather turning into a counter attack which is foiled in the midfield by Southampton.
30′: Victor Wanyama is injured in a a scuffle for the ball with Skrtel. He is taken off the field. The resulting throw eventually goes to Liverpool who strut around the field. Liverpool have slowed the passes. Missing Pochettino's style of play in Southampton. The Saints are looking quite poor till now. Wish Koeman will inspire them in the half time break.
23′: Mignolet gets a scare from Saints after the liverpool goalkeeper scrambles to save the ball. But the deadlock is not broken. The ball goes towards Jordan Henderson eventually who gives a long cross from Liverpool's half to Raheem Sterling who puts it in the net. GOAAAAALLLLL!!!! Sterling 23′
21′: Wanyama fouls and Liverpool are awarded the free kick in midfield. Ater a few seconds of fluent passing Sturridge gets the ball who shoots it towards Forster.
17′: The possession in the first 15 minutes was 69%-31% in favour of Liverpool. No wonder Liverpool have looked so dominant. Referee Clattenberg judges foul and Gerrard takes it. The ball is headed away by the defense. After a few minutes of yo-yoing n the two halves, the ball goes in Southampton's possession only for Liverpool to launch a failed counter attack with Sturridge leading it.
13′: Now Southampton have started attacking with some sweet fluent passing but the attack is foiled with Liverpool starting a counter with Sterling leading it. There is call for free kick just outside the box for a foul on Sterling but the referee doesn't listen. The ball is out for a throw in which Liverpool take and the ball falls towards Henderson who shoots blindly.
8′: Gerrard launches a lovely cross that falls just outside Sturridge is range while for some reason the ball is adjudged a corner, possibly because of a defender's touch. The corner taken bvy Steven Gerrard is good but the ball falls in the path Forster who calmly collects it. It will be a busy day for the Southampton goalkeeper if it goes on the way it is. A minute later there is another scare for the Saints when Liverpool come close to breaking the deadlock.
6′: Sturridge sends a superb through ball to Sterling but the shot is never taken by the latter. The bal;l goes out for a goal kick. The goal kick is taken and the ball is back in Liverpools's possession and in the Saints' half. Sturridge gets the ball and he shots it wide off the post while Forster is diving.
1′: The match kicks off with Liverpool attacking straight away. Dejan Lovren's first contribution in a Liverpool shirt is to deny a Southampton centre forward. Liverpool are wearing their traditional red home jersey while Southampton are wearing black. The match loook competitive with both sides enjoying possession, the home side having the ball a little more.
The team sheet is out. These are the two Line ups.
Liverpool: Mignolet, Manquillo, Johnson, Skrtel, Lovren, Gerrard, Lucas, Henderson, Coutinho, Sterling, Sturridge

Southampton: Forster, Clyne, Fonte, Yoshida, Bertrand, Wanyama, Schneiderlin, S Davis, Ward-Prowse, Tadic, Pelle
Southampton Football Club looked like a supermarket in this summer transfer transfer window. They lost 12 players in the past two months with seven players sold to other clubs, three of them to Liverpool. Dejan Lovren, last season's captain Adam Lallana and striker Ricky Lambert will face their former club in their very first match. It will also give important clues about the seriousness of Liverpool's title challenge, especially after they lost their EPL golden-boot winning striker Luis Suarez to Barcelona. (Watch the free live streaming of the Liverpool vs Southampton here.)
It will will also test the competitiveness of Southampton in the league after a flurry of exits, especially their manager Mauricio Pochettino to Tottenham Hotspur, who won his fist match yesterday in second half stoppage time. New signing Shane Long from Hull City and loanee from Chelsea Ryan Bertrand will be watched closely.
Liverpool is expected to win this encounter. Any slip ups by the Reds will be as shocking as Manchester United's loss yesterday, especially since they have become stronger at the expense of Southampton. But can The Saints' manager Ronald Koeman pull off a surprise against Brendan Rodger's team?
Live Telecast of Liverpool vs Southampton on Star Sports 4 and Star Sports HD2 at 6pm.