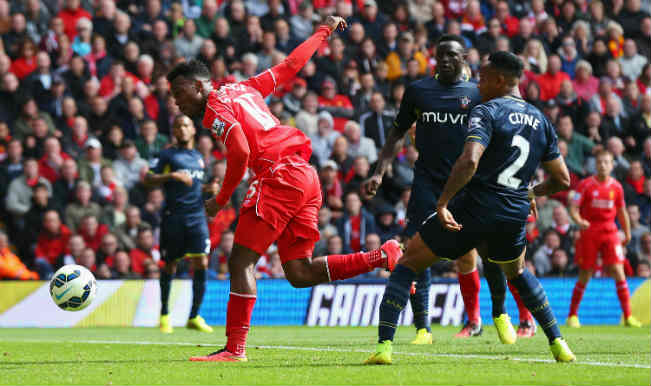 In a match where at two former Southampton players made their Liverpool debut against the Saints, it came down to Daniel Sturridge to win it 2-1 for Liverpool in a close match that saw both sides fighting for a win. Raheem Sterling performed true to his surname as he was another highlight of the match, receiving the Man of the match award for his performance after scoring a goal and assisting Liverpool.
Goals: Liverpool 2-1 Southampton
(Sterling 23′, Sturridge 79′)            (Clyne 52′)
For most part of the match it did feel like both the teams had lost some big player in the summer transfer window, although Liverpool dominated the first half. Liverpool lost their Golden-Boot winner Luis Suarez while Southampton lost almost their entire core with three of them, Dejan Lovren, Adam Lallana and Ricky Lambert went to Liverpool. Sturridge himself seemed inactive till the 80th minute. Liverpool were attacking but were pretty wasteful. It was up to Jordan Henderson to send a long pass to Raheem Sterling that split the Southampton defense. Then Sterling's job was to simply put the ball in the net which he did very calmly. Southampton were quite disappointing in the first half.
The second half turned out to be very exciting, especially after Nathaniel Clyne scored the equalizer. Manager ronald Koeman must have had some words of inspiration for the young Southampton side as they came all guns blazing. The equalizer energized the Saints and suddenly, Liverpool looked a little out of sorts. But almost against the run of play Liverpool scored.
Ricky Lambert was introduced just three minutes before and Liverpool started launching direct balls into the box. Henderson crossed the ball into the box towards Lambert whose shot was blocked but it went to Sterling who headed the ball towards Sturridge, who was just onside with the last man. He latched it into the net with the faintest of touches to make it 2-1 with just about 10 minutes left on the clock. But Southampton did not give up. They came close to scoring twice but Mignolet, who was scrappy near goal for most parts of the match, saved it. One of them was the save of the weekend when Schneiderlin unleashed a bullet from around 12 yeards towards the top corner only for Mignolet to save it.
The second half was truly entertaining and although Liverpool weren't the best, they still showed some great skills and fighting spits to win three points.
Match Statistics
Possession: Liverpool 56%-44% Southampton
Shots: Liverpool 12-12 Southampton
Shots on Target: Liverpool 5-6 Southampton
Yellow Cards: Liverpool (Manquillo) 1-2 Southampton (Schneiderlin, Davis)