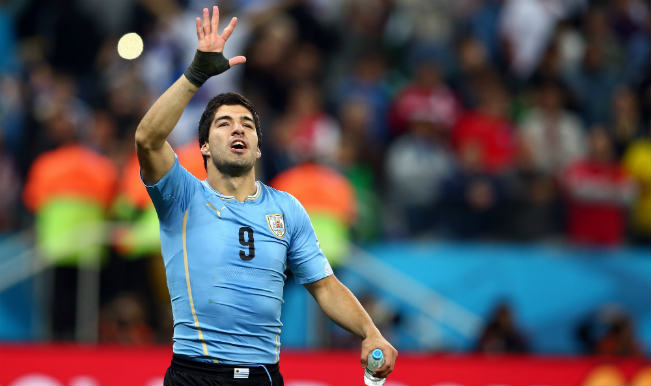 Luis Suarez has completed a £75 million move to Barcelona. The controversial striker is currently being remembered for his latest shenanigan - biting Italian defender Giorgio Chiellini. Let's have a look at the other four times the new Barcelona striker has got himself into hot water:
1) Suarez was dubbed 'the cannibal of Ajax' after he bit PSV Einhoven's Otman Bakkal shoulder in a Dutch league game in November 2010, months after a controversial handball at the World Cup. The referee did not immediately see the incident, but Suarez was later handed a seven game ban.
2) In April 2013, Suarez bit Chelsea's Branislav Ivanovic's arm in a Premier League for Liverpool. He was given a 10 game suspension for that offence.
3) The Uruguayan, considered one of the world's most devastating goalscorers, has also been in trouble over on the field comments. He hurled racial abuse at Manchester United's Patrice Evra during a Premier League game in October 2011. Suarez insisted the term he used was one often deployed in Uruguay. The English FA banned him for eight matches and fined him 40,000 pounds. He refused to shake hands with Evra when the two teams met later that season.
4) Suarez stopped a certain Ghanaian goal with his hand on the goal-line in the last minute of extra-time in the 2010 World Cup quarter-final. He was sent off but Asamoah Gyan's penalty was saved and the Ghanaians went lost the penalty shootout. "I made the save of the tournament," was Suarez's unrepentant comment after the match.
Click here to see the FIFA World Cup 2014 Brazil Schedule